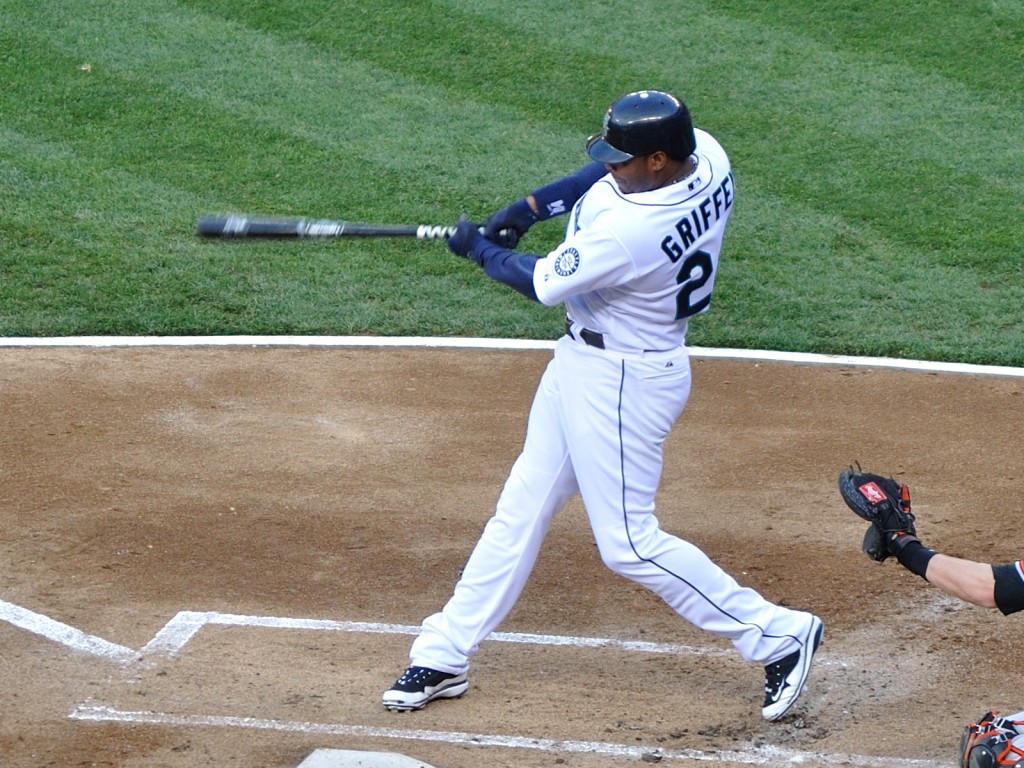 This is a guest blog post by Eric Kranz. Eric has been ruining franchises in online OOTP leagues for nearly a decade. His style of GM'ing can best be described as a mix between Sal Bando and Jack Zduriencik. You can follow his current attempt to resurrect the Brewers at gobl.obleague.com.
As a 34 year old lover of baseball, I grew up idolizing Ken Griffey Jr. It didn't matter that I was a lifelong, die-hard Brewers fan. The Kid was the coolest thing around. I had his jersey, his shoes (better than Jordan's ever were), his SNES games and went to see the Mariners every time they played at old County Stadium. I cheered for the Brewers, but I loved Ken Griffey Jr.
The recent kerfuffle surrounding his "only" getting 99% of the Hall of Fame vote sort of rekindled my interest in Griffey, and as is often the case when my interest in anything baseball is sparked, I decided to fire up Out of the Park Baseball 16. My thinking at first was "is it possible to get Griffey to 100% of the HoF vote?" I quickly realized that as amazing as OOTP 16 is, I wouldn't be able to get anything super useful by paying too close attention to the Hall of Fame vote.
So, I decided to run a simulation of a discussion that I am willing to bet all of us mid-30's baseball fans have had at one time or another; how great would Junior have been if he had stayed in Seattle and not gotten hurt? Inspired, I took to OOTP 16. I set up a league that started in 1989, turned off injuries and controlled the Mariners to ensure Griffey never left. I ran the sim through 2018 five times.
Fate and fortune robbed us of a real treasure.
Over his actual Hall of Fame career, Ken Griffey Jr. was one of the best to ever play the game, but not really in the discussion for say, Top 5 or even Top 25. He ranks 35th in position player bWAR over his career and even the defense he was famous for as a kid really peaked at 26, and he was a net negative defender the rest of his career. Here are the raw numbers:
Since I don't love any defensive metrics in real life I'm really going to just focus on his bat. After all, that's the reason he is in the Hall of Fame.
Additionally, I wanted to see how he did against his peers. For that, I looked to awards. In his actual career, Griffey was only league MVP once, never won a World Series and was not ever a series MVP. History could have been much different!

Griffey made the Hall in every sim. He averaged 95.2% of the vote, with a high of 98.5%. A healthy, Seattle bound Junior also has a significantly larger trophy case, as you would expect.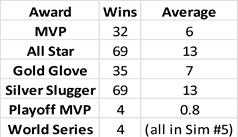 One of the things that really stood out to me was his MVP awards.  In most sims, these awards came after his age 30 season (2000), which was the first year he went to Cincinnati. In sim #1, Griffey actually had a whopping seven MVP awards between 2002 and 2009, losing out in 2005 due to what I can only assume is a suspension. Sadly, news doesn't archive well for all 20 years of the sim! For whatever reason, remembering it could not be injury, he only played in 36 games that year. This trend is found throughout his career. Griffey tended to simply get better with age, and didn't generally peak until his age 36-38 seasons. In fact, in one sim he put up a whopping 5 WAR in his age 39 season!
Let's dive into the raw numbers a bit.

Over a 22 year career, Griffey averaged 122 games played. That means when you look at his counting stats, he was only playing about 75% of each season on average. He still managed to put up 630 HR, 2781 hits, 524 doubles, 1,836 RBI. 753 home runs would put him third all time. In three of the five sims, he would be the Home Run King by a significant margin.  Looking at all-time leaderboards and comparing them to our simulation, we have a pretty solid argument that had Griffey stayed healthy, he'd be in the same conversation as Cobb, Ruth and Mays.  
Does this tell us a whole lot that we didn't already know? Probably not. Guys that stay healthy and have consistency in their careers tend to do better than if they were otherwise hurt, journeymen. Still, it's fun to put some potential numbers to the "what Griffey might have been" debate!
Congrats on the Hall, Junior.