When OOTP Developments CMO Rich Grisham recently had the unique opportunity to stop by the MLB Network studios, he came armed with the results of simulations involving Sonny Gray (New York Yankees), Mike Trout (Los Angeles Angels), and Justin Verlander (Detroit Tigers). (You can watch the full appearance on our YouTube channel.)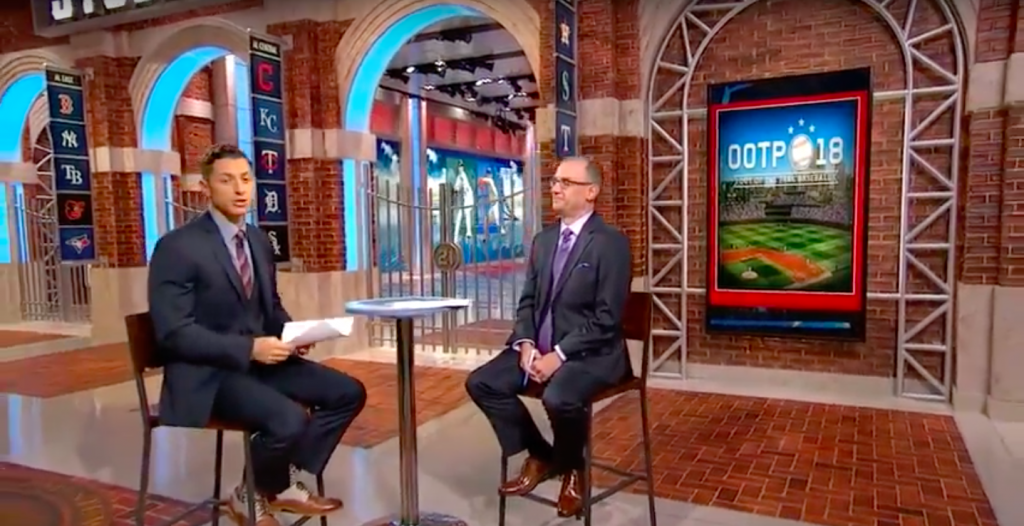 Of course, five minutes of TV time was only enough to give high-level details of those sims, so we thought we'd do a deeper dive into each one for you.
A tale of two Sonny Grays
The New York Yankees acquired Sonny Gray from the Oakland Athletics on July 31, but there were rumors during the preceding weeks that he could be headed to the Houston Astros. With that in mind, Grisham prepared two sims, one in which he stayed in Oakland and another in which he was sent to Houston.
Gray stays in Oakland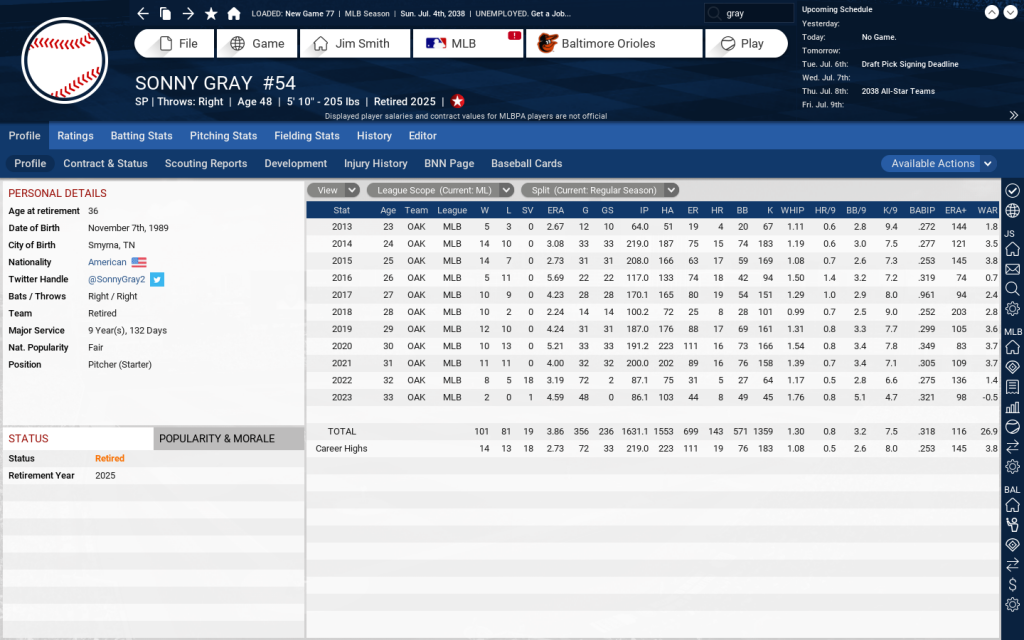 OOTP 18 believes that if Gray didn't leave Oakland this year, he would have spent the rest of his career there. While he finished 2017 with a pedestrian 10-9 record, with a 4.23 ERA, he got off to a fast start in 2018, posting a 10-2 record with a 2.24 ERA before an injury cut his season short. After that, he was a middle-to-back-of-the-pack starter and ended up in the bullpen in 2022, where he saved 18 games and had an 8-5 record (3.19 ERA).
He saved one game in 48 appearances the next year, before suffering a career-ending injury. For his career, he was 101-81, with 19 saves and a 3.86 ERA.
Gray heads to Houston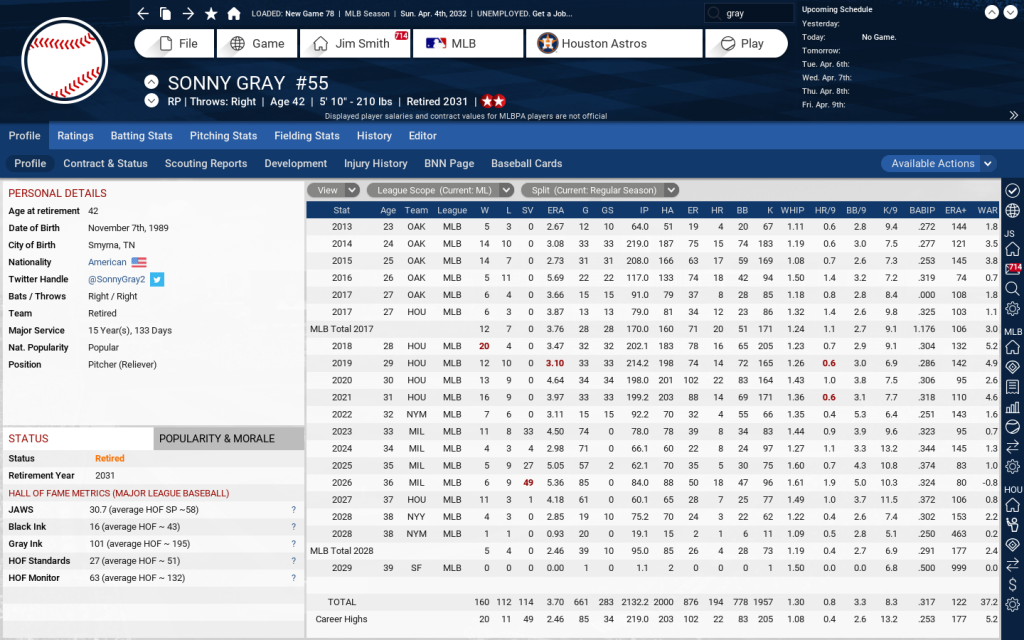 The second sim saw Gray being traded to Houston at the 2017 deadline, and he went on to a much better career. Houston lost the ALCS against the Cleveland Indians, 4-1 (they went on to win the World Series against the Los Angeles Dodgers, 4-2), in 2017, but Gray continued to pitch for them through 2022. He was an All-Star in 2018 and won 20 games, leading the American League.
After an injury-plagued 2022 with the New York Mets, Gray was moved to the bullpen with the Milwaukee Brewers, where he had a nice career through 2029. He even led the National League in saves with 49 in 2026 while playing for Milwaukee. Gray spent the rest of his career in the bullpen, but he only saved one game in 2027-2029, playing for Houston (again), both New York teams, and the San Francisco Giants before hanging up his cleats at the age of 39 in 2029.
Gray's lifetime record was 160-112, with 114 saves and a 3.70 ERA. He had a bit of Dennis Eckersley happening there!
Mike Trout, future OOTP Hall of Famer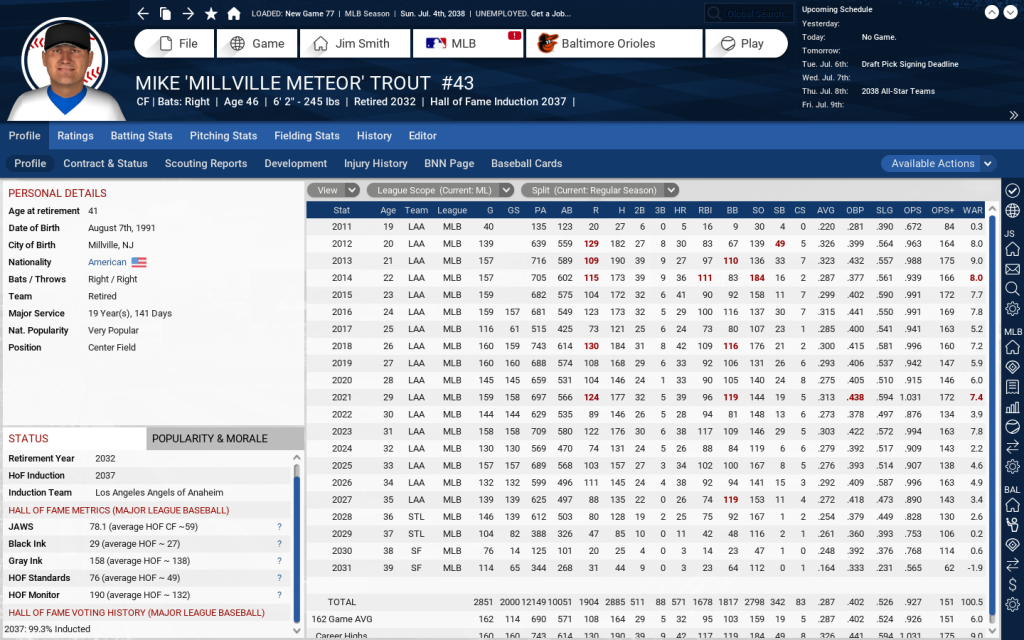 Unsurprisingly, OOTP 18 saw Mike Trout riding a stellar career into the OOTP Hall of Fame. He stayed with the Los Angeles Angels through 2027, a year in which he still mashed 26 home runs and posted a .272 batting average. He then signed with the St. Louis Cardinals and had one last hurrah the following year, with 25 home runs, before injuries began to take their toll.
His last three seasons, he played in 104, 76, and 114 games, hitting just 17 home runs total during those three years, the last two with the San Francisco Giants. He called it quits in 2032, finishing his career with 2885 hits, 571 HR, 1678 RBI, 342 SB, a slash line of .287 / .402 / .526, and career WAR of 100.5. He was a first-ballot OOTP Hall of Fame inductee in 2037 with 99.3% of the votes. (Yes, there will still be some miserly voters 20 years from now.)
Justin Verlander: the best is in the past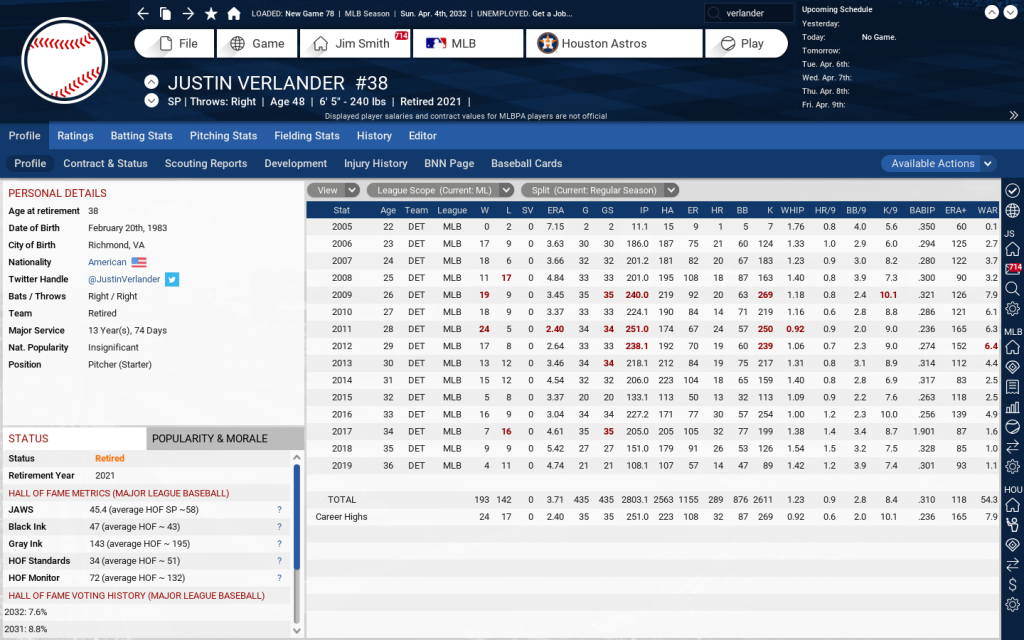 Many fans have wondered if Detroit Tigers starter Justin Verlander will have anything left in his tank this season and beyond, as he hits his mid-30s. Unfortunately, the answer to that is, "Very little." After leading the American League in losses and posting a 7-16 record, with a 4.61 ERA, in 2017, he went 9-9 (5.42) and 4-11 (4.74) in 2018 and 2019, respectively, before being diagnosed with a torn elbow ligament and hanging up his cleats.
He finished with a respectable 193-142 W-L record, with a 3.71 ERA and 2,611 strikeouts in 2,803.1 innings pitched. He remained a starter for the rest of his career, having appeared in 435 games by the time he was done. However, he was never able to get much traction with OOTP Hall of Fame voters.