The 2015 Major League Baseball playoffs have arrived, and the first stop involves the American League and National League Wild Card play-in games. We simmed tonight's game between the host New York Yankees and Houston Astros five times with Out of the Park Baseball 16's Simulation Module and compiled the results. You'll find the outcomes below.
Yes, we'll be simming tomorrow night's National League Wild Card play-in game between the Pittsburgh Pirates and Chicago Cubs, as well as the rest of the playoff series.
We started with the Sept. 1 roster update that we released not too long ago, and we relied on the handy Game Importance dropdown option that was added to an OOTP 16 build created just for simming the playoffs. It allows you to decide if the games you're simming are regular season, playoffs, or elimination, with the latter two options telling the AI to behave accordingly. While we won't be releasing an OOTP 16 update with that option included, it will be one of the new features in next year's OOTP 17, so consider this series of blog posts a sneak peek at what we have in store.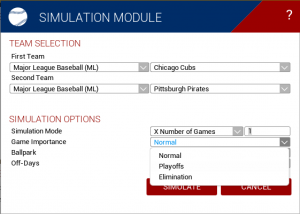 The New York Yankees are back in the playoffs for the first time since 2012 while the Houston Astros, like the Chicago Cubs, are seeing a strong minor league pipeline pay off with their first playoff berth in a decade.
OOTP sees New York coming out on top, but this could go either way, and both starters were capable of tossing some solid games, since three of the five games were low scoring. New York prevailed three times out of the five games, by an average score of 4.0 – 3.2, so we're giving them the edge.
Here's the overview of how the sims went. Click a sim number for more details.
| | | | | | |
| --- | --- | --- | --- | --- | --- |
| Game | New York Yankees | Houston Astros | Winning pitcher | Losing  pitcher | Save |
| | 4 | 1 | Masahiro Tanaka | Dallas Keuchel | Andrew Miller |
| | 1 | 3 | Dallas Keuchel | Masahiro Tanaka | Luke Gergerson |
| Sim 3 | 4 | 6 | Dallas Keuchel | Masahiro Tanaka | Luke Gergerson |
| Sim 4 | 9 | 5 | Masahiro Tanaka | Dallas Keuchel | none |
| | 2 | 1 | Masahiro Tanaka | Dallas Keuchel | Andrew Miller |
| Totals/Avg. | 20 / 4.0 | 16 / 3.2 | | | |