This year's National League Championship Series features two teams that are on the rise again after several down years. The Chicago Cubs haven't been in the playoffs since 2008 and famously haven't played in the World Series since 1945, with their only two championships happening in 1907 and 1908. And then there's that much-talked-about movie angle: A news headline in a certain popular film sequel says that Chicago has won the 2015 World Series.
Meanwhile, the New York Mets' previous postseason appearance was in 2006, and their last World Series appearance happened in 2000, when they lost a so-called "subway series" to the New York Yankees. Like Chicago, they have just a pair of world championships under their belts (1986 and 1969), but unlike their NLCS counterpart, they've only been around since 1962.
We've already simmed the ALCS and found that one possibly too close to call, although we're giving an oh-so-slight edge to the Toronto Blue Jays. As with the sims we ran for that prediction, we've simmed the NLCS ten times and have created a composite of the results. This time, the results were more clear-cut: We expect the Chicago Cubs to win, and we explain why below.
We used OOTP 16's Simulation Module to sim the series, but we were helped by a handy option that was added to a special internal build of the game: a Game Importance dropdown that tells the AI if it should treat the sims as if they're regular games or do-or-die affairs. It will be available to the public in next year's OOTP 17.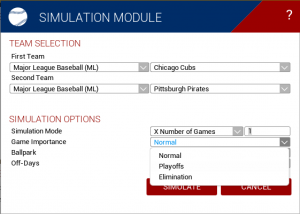 We're handing the NLCS to the Chicago Cubs. They won six of the ten simulated series, and overall they won 34 games, to 25 for New York. Look for this series to be low scoring, but Chicago has a clear edge in that department too: They scored 253 total runs (4.3 avg. per game) to 224 for New York (3.8 avg. per game). And since seven of the 10 sims went six or seven games, with only one sweep, look for this one to be a long series too, like the ALCS.
Notes of interest: In Sim 2, New York took a 2-1 series lead and Chicago came back for a 3-2 lead, but New York won the final two games, with Jacob deGrom besting Jon Lester in Game 7. In the fourth sim, Chicago was ahead 3-1 but was shut out by Matt Harvey and Noah Syndergaard in Games 5 and 6, and New York prevailed again in Game 7, 8-2. (We suppose that gives New York the edge in the intangible theatrics department.)
Here's the high level breakdown of the sims. Click a sim to see its team and player stats.
| | | | | |
| --- | --- | --- | --- | --- |
| Series | Chicago Cubs | New York Mets | Chicago Runs Scored / Avg. | New York Runs Scored / Avg. |
| Sim 1 | 4 | 1 | 28 / 5.6 | 14 / 2.8 |
| | 3 | 4 | 23 / 3.3 | 29 / 4.1 |
| Sim 3 | 4 | 1 | 28 / 5.6 | 18 / 3.6 |
| | 3 | 4 | 16 / 2.2 | 24 / 3.4 |
| Sim 5 | 4 | 2 | 29 / 4.8 | 23 / 3.8 |
| | 2 | 4 | 18 / 3.0 | 20 / 3.3 |
| Sim 7 | 4 | 3 | 32 / 4.6 | 21 / 3.0 |
| | 2 | 4 | 16 / 2.7 | 28 / 4.7 |
| Sim 9 | 4 | 0 | 22 / 5.5 | 9 / 2.3 |
| | 4 | 2 | 41 / 6.8 | 38 / 6.3 |
| Totals/Avg. | 34 / 3.4 | 25 / 2.5 | 253 / 4.3 | 224 / 3.8 |