The Toronto Blue Jays are in the American League Championship Series for the first time since 1993, thanks to a Game 5 ALDS victory over the Texas Rangers that featured one of the wildest innings in baseball playoff history. Meanwhile, the Kansas City Royals are in the ALCS for the second straight year and are seeking a repeat trip to the World Series.
(How'd we do with our ALDS picks? We were right on the money: We said Toronto and Kansas City would advance, and the majority of the series sims went five games. (Don't ask us about our NLDS predictions.))
As with the previous playoff series this year, we've run multiple sims to create a composite of the results, but this time we've done so ten times, and we're glad we did, because we saw some interesting results, as you'll see. A caveat: Due to circumstances beyond my control, I needed to be out of the office on Friday, so I'm simming, writing, and publishing on Thursday evening. I've set up both teams' rosters based on the information available to me right now, with some educated guesses made for things I don't know. (It's close to 7 PM Pacific time on Thursday night as I type this.)
We used OOTP 16's Simulation Module to sim the series, but we were helped by a handy option that was added to a special internal build of the game: a Game Importance dropdown that tells the AI if it should treat the sims as if they're regular games or do-or-die affairs. It will be available to the public in next year's OOTP 17.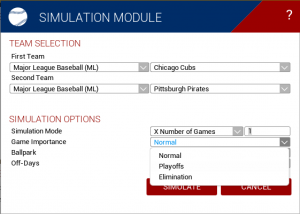 Too Close to Call?
After running the 10 sims, we have to admit the results had us stumped. When Toronto reeled off four straight series wins in sims three through six, with their high-powered offense on full display in three of them, we started to think they had the edge, but Kansas City took the last four sims. And since the clubs split the first two sims, they each had won five of ten simulated series.
Looking at potential tiebreakers, both teams won 29 games total, and the overall score differential was just nine runs, in favor of Kansas City. That's when we decided to run an eleventh sim that was won by Toronto, four games to three. It was a series that featured powerhouse offenses on both sides, with Kansas City scoring 46 runs (6.6 avg. per game) to Toronto's 37 (6.2 avg. per game). However, nearly half of Kansas City's scoring came during an astounding 20-7 victory in Game 1.
That final series also featured history in the making, as Toronto found themselves down three games to none but managed to knock out four straight victories to become the second team to ever rally from such a deficit and win a playoff series. (The 2004 Boston Red Sox were the first to do it, also in an ALCS.)
With that sim in the books, we decided to hand the edge to Toronto, but look for this to be a series that likely goes six or seven games and probably come down to an exciting finish. And given what we've seen so far in the playoffs, would you want anything less?
Here's the high level breakdown of the sims. Click a sim to see its team and player stats.
| | | | | |
| --- | --- | --- | --- | --- |
| Series | Toronto Blue Jays | Kansas City Royals | Toronto Runs Scored / Avg. | Kansas City Runs Scored / Avg. |
| Sim 1 | 4 | 3 | 29 / 4.1 | 35 / 7.0 |
| | 1 | 4 | 19 / 3.8 | 30 / 6.0 |
| Sim 3 | 4 | 2 | 34 / 5.7 | 29 / 4.8 |
| | 4 | 2 | 35 / 5.8 | 30 / 5.0 |
| Sim 5 | 4 | 1 | 18 / 3.6 | 14 / 2.8 |
| | 4 | 1 | 32 / 6.4 | 17 / 3.4 |
| Sim 7 | 2 | 4 | 37 / 6.2 | 38 / 6.3 |
| | 2 | 4 | 24 / 4.0 | 36 / 6.0 |
| Sim 9 | 2 | 4 | 19 / 3.2 | 17 / 2.8 |
| | 2 | 4 | 26 / 4.3 | 36 / 6.0 |
| Totals/Avg. | 29 / 2.9 | 29 / 2.9 | 273 / 4.7 | 282 / 4.9 |