Yes, Out of the Park Baseball will enter its 16th year with something it has never had before: An official license from Major League Baseball Advanced Media, which covers MLB.com and MiLB (Minor League Baseball). OOTP 16, which is available for pre-order now at $34.99, will have AL, NL, and MLB logos, as well as logos for all MLB and MiLB teams, all MiLB leagues, and even all historical MLB teams. (It will also offer Opening Day 2015 rosters new leagues, new owner goals, a  new managers and coaches system, and much more.)
Don't forget to check out the pre-order link above to learn about our awesome sweepstakes: You could score one of three $500 MLB.com Shop gift certificates. And everyone who pre-orders gets the game three days early, along with a free Steam key.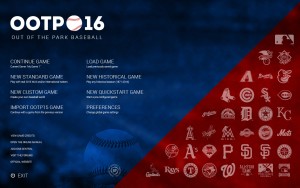 Markus Offers His Thoughts
So how'd this come about? I grabbed lead developer and game creator Markus Heinsohn for a few questions while he was taking a break from feverishly coding OOTP 16.
"Getting OOTP officially licensed has been in the back of my mind for a long time," he told me. "MLB.com has always known about us, and every so often they'd inquire about us getting a license, but it always seemed so daunting. We're not a major game developer, with our own legal department and things like that."
He continued: "However, sales of OOTP have steadily grown the past few years, and we've gotten to the point where I could finally ask, 'Well, what's involved in getting a license?' without fearing the dollar amount they would reply with.
"As it turns out, they had pretty reasonable terms, and they were easy to work with, so one thing led to another last year. By the fall of 2014 we were hammering out a contract, and over the winter we've worked with them closely to get approvals for our initial round of marketing and PR, including the pre-order newsletter, the press release, the OOTP 16 logo, and other things."
Just before he told me he had to return to work, he added: "We're also considering doing more around OOTP 16, depending on how the pre-orders shape up. That could include a bigger advertising push than we've ever done before, so we can reach more baseball fans who would love to run their own teams. We'll see how it goes."