Franchise Hockey Manager 2 features a completely overhauled and reworked game engine that has been built from the ground up.
In short, this is a massive step forward for the series, as the engine is the heart and soul of the game, which allows for the production of realistic results for every league.
HOW WAS IT CREATED?
The development team analyzed game data from many different levels of play to build an accurate statistical model of all the small events that come together to create a hockey game, from battles in the corners and faceoffs to breakaways and fights.
Combined with the information in our player database, this data let us create a match engine that produces accurate statistical results at all levels of play, from junior hockey to the highest professional level.
Because the new engine measures everything so precisely, game situations and coaching decisions will have a much more apparent effect on play.  If you've got a group of big, physical forwards, you can order them to dump the puck deep into their opponent's zone and follow up with aggressive forechecking, relying on their strength to win the ensuing battles for the puck.  Or, if your squad is built with speed in mind, skate the puck in and try to catch the defenders flatfooted.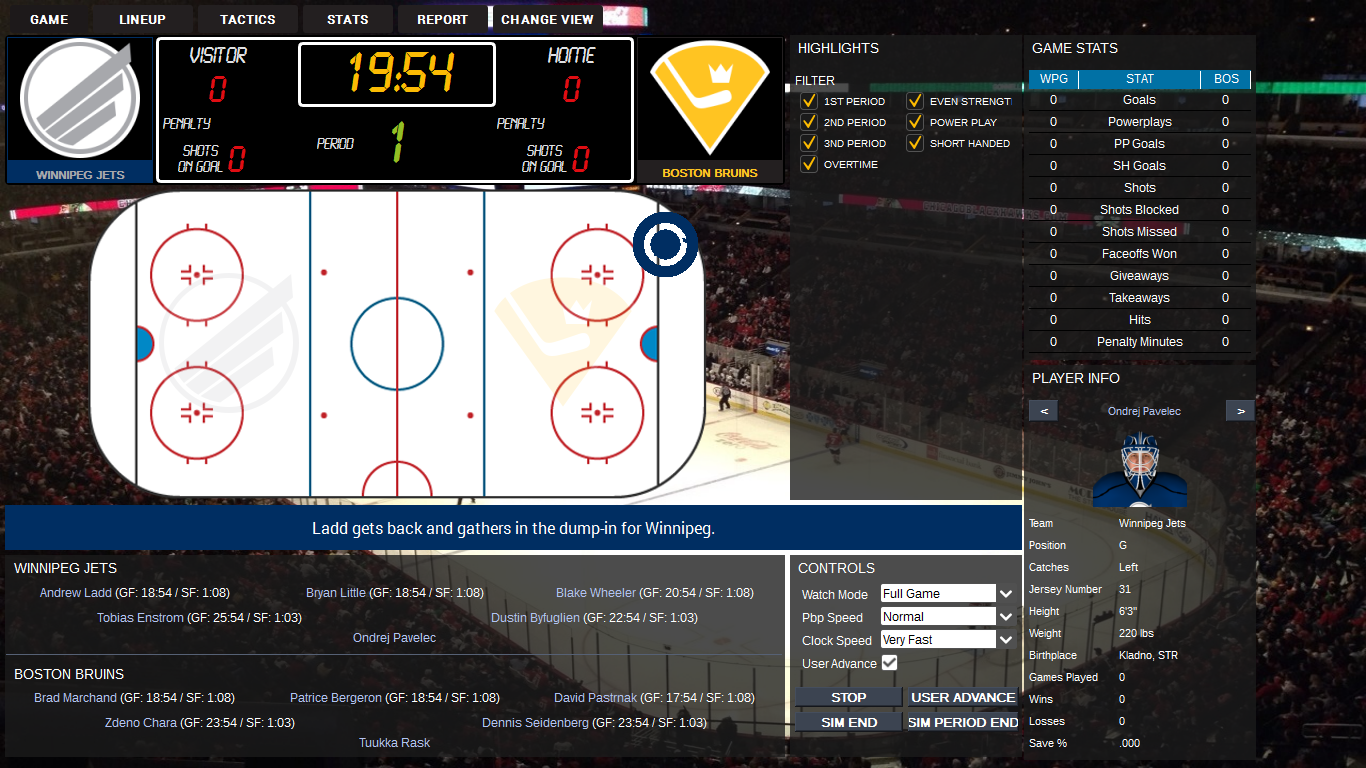 HOW DOES IT WORK?

The new match engine simulates every second of a game, always keeping track of which of the 24 zones on the ice the puck and all players are positioned. Every positioning, pass, shot and goal is based on real-life probabilities.
An on-ice display shows where the puck is at all times, while the play-by-play displays below, showing one line of text at a time as the game plays out. The display below the play-by-play shows the current players on ice for both teams, as well as their current levels of fatigue for both their current shift and the game as a whole.
In addition, markers go up on the ice to denote each shot. Is your team having trouble getting into the slot to get quality scoring chances? Is your penalty kill unit doing a good job keeping the shooters to the outside? You will be able to keep on top of all this and more.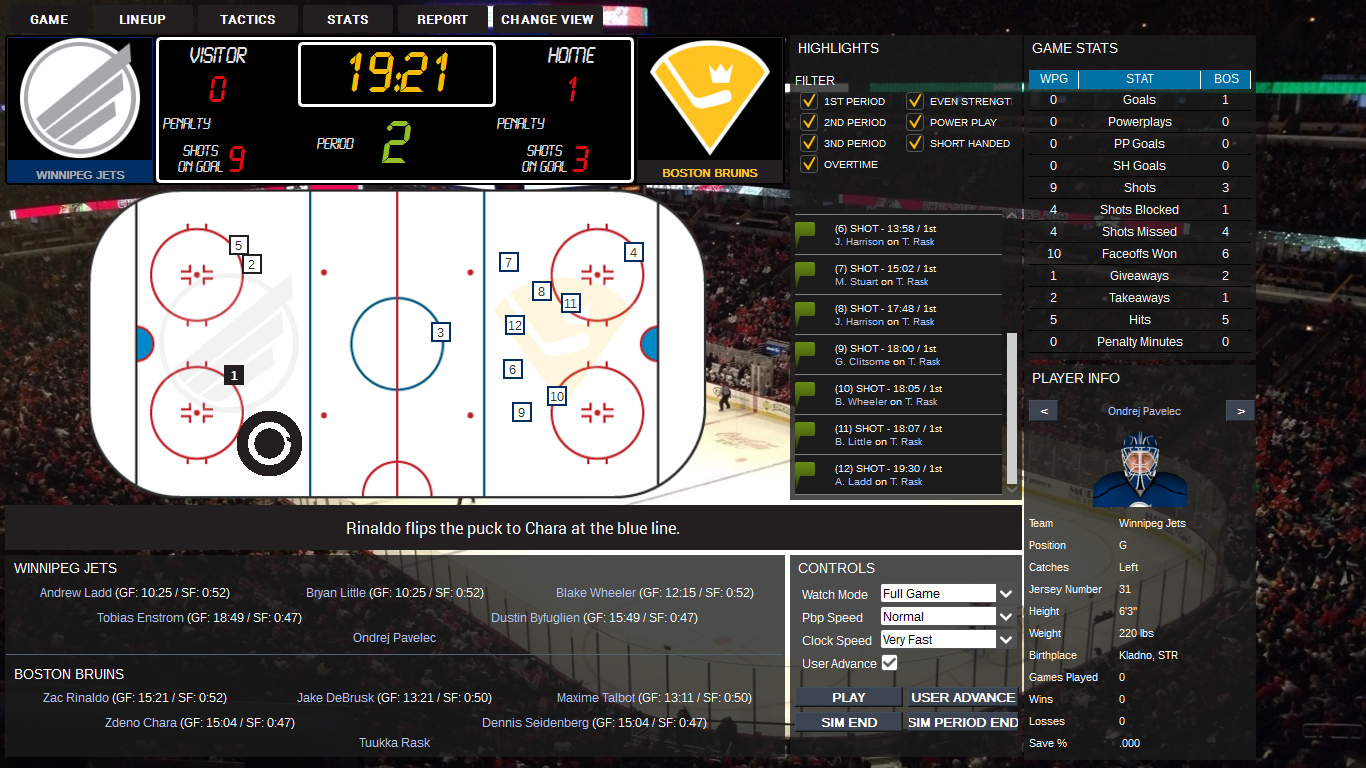 The detailed play-by-play system – all new for FHM 2 – will also help grow immersion in the ongoing game.
It's easy to get caught up in the excitement as you get the details of your team wheeling the puck around the zone down a goal late in the game, then finally scoring an equalizer with an extra attacker. On the flipside, you will feel the frustration when your normally reliable goaltender gives up a few goals in the first period and you have to decide whether or not to stick it out, or just concede that it's not his day and make a switch.
If things aren't going as planned, you can easily access your team tactics or lineup page to try to turn things around or modify your gameplan.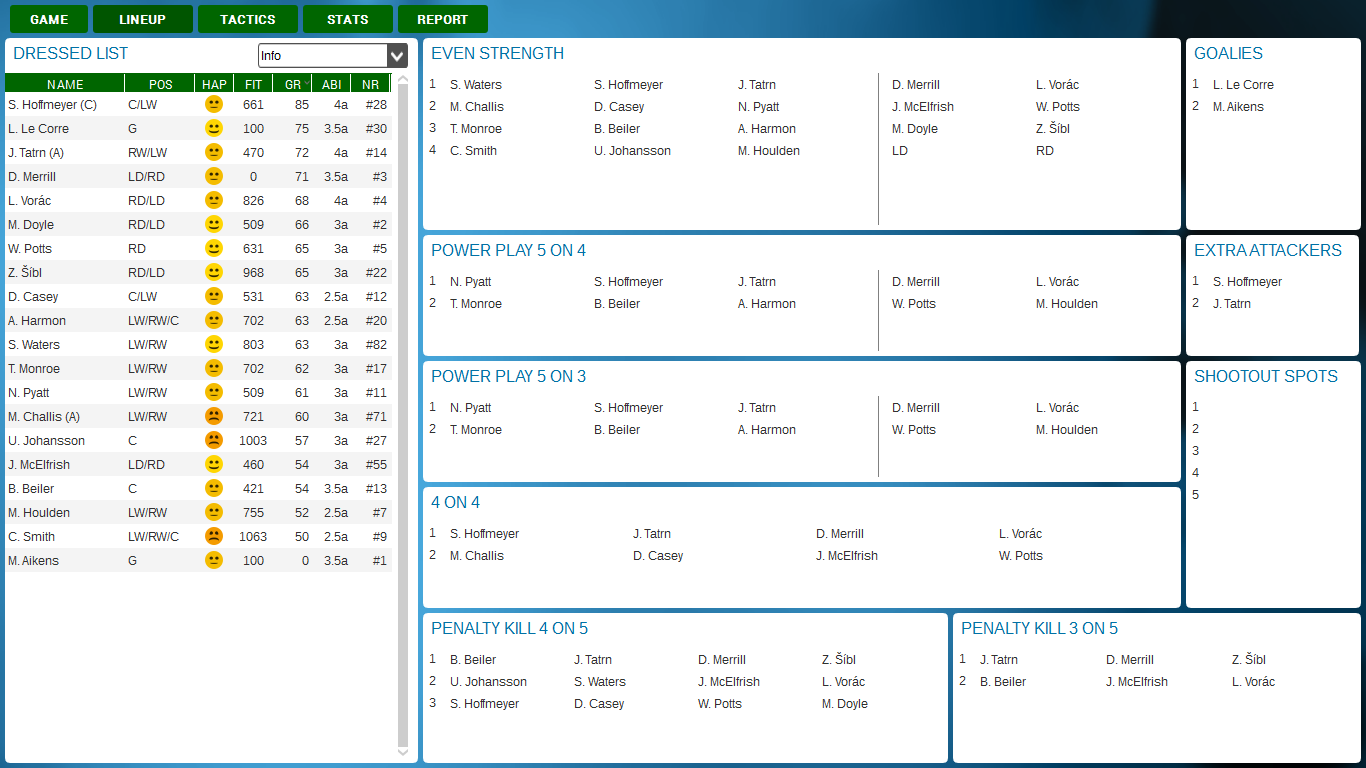 For those statheads amongst us, there are also a myriad of stats right at your fingertips as well to help guide your decision-making. Is your centre recently promoted to the 1st line pulling his weight offensively? Is your 4th line playing physically enough?
IT'S YOUR GAME, PLAY IT YOUR WAY
Not everyone plays a sports simulation game the same way, so with that in mind, Franchise Hockey Manager 2 features six unique game modes that should help satisfy every style of play – as well as some additional customization options.
Full Game: For those who like to view every single detail of every game, this is the mode for you. This will display every single event in the game as it unfolds and is the most in-depth and detailed game mode.
Estimated time to complete game: 60 to 80 minutes
Offense Zone Entry: This play-by-play mode will kick in any time either team crosses over the blue line. Games overall will be a bit shorter as neutral zone play will be quickly simulated through, but you won't miss a single shot on goal or offensive action, still keeping you quite immersed in the game action.
Estimated time to complete game: 40 minutes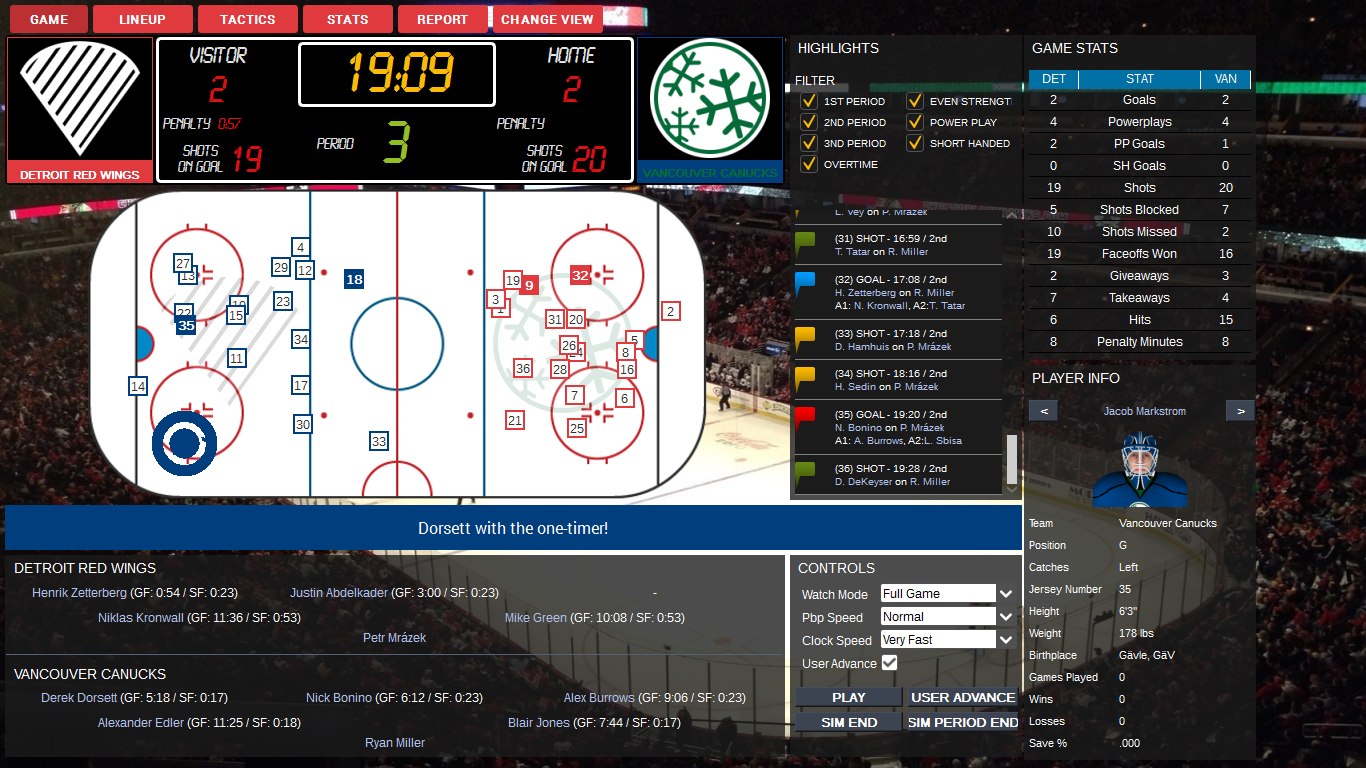 All Shots: Exactly like the title suggests, in this play-by-play mode the user will only see shots – whether they end up as goals, saves, misses or blocks. This mode allows users to get through games relatively quickly, while also getting a good sense of how the game is progressing.
Estimated time to complete game: 25 to 30 minutes.
Action Expanded: You won't miss a big moment in this mode, which shows all goals, all penalties, all breakaways, 50% of saves and 20% of shots missed or blocked.
Estimated time to complete game: 12 to 15 minutes
Action Condensed: This mode is a shorter version of Action Expanded, which shows all the same things as expanded, but only 30% of saves and 10% of misses and blocks.
Estimated time to complete game: 8 to 10 minutes
Scoring Summary: In a rush to finish a game but still want to see what happens? This is the game mode for you. Call it the equivalent of a sports show recap, this game mode will show you all the play-by-play leading up to goals.
Estimated time to complete game: 5 minutes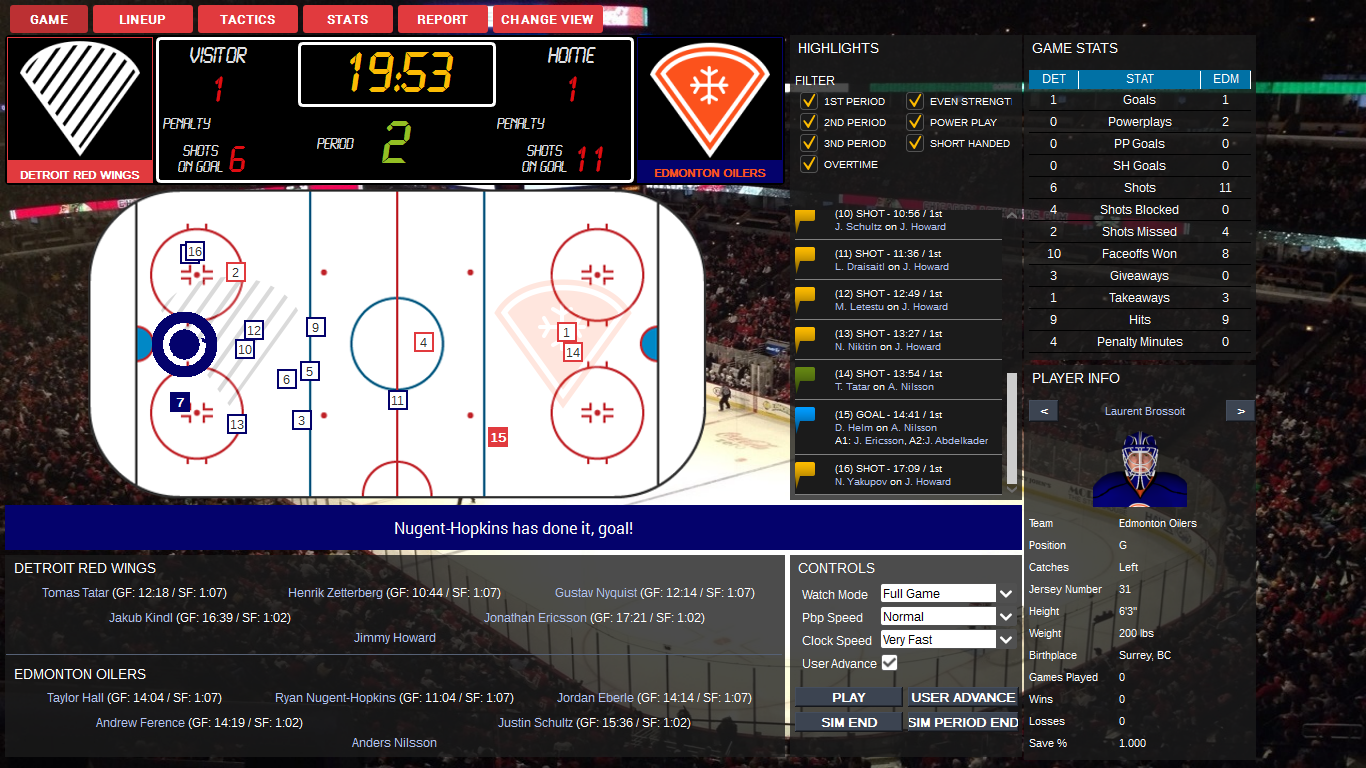 CUSTOMIZE YOUR IN-GAME EXPERIENCE
There are even more customization options for the in-game screens that allow you to play the game just how you want it.
For starters, the speed of the play-by-play can be set at varying speeds between "Very Slow" and "Very Fast." (Note: All above estimates on time to complete game are based on "Normal" play-by-play speed)
If you prefer to set your own pace, there's also a User Advance system that can be toggled on and off. In this mode, the game doesn't advance to the next line of play-by-play until you hit the spacebar or click the 'User Advance' button.
It's the perfect game mode for someone who might be dealing with some distractions while they play out a game and needs to divide their attention (But really, you will want to give your full attention to Franchise Hockey Manager 2!).
In addition, the game clock can be set to run from "very slow" to "very fast". Note, this does not impact the simulation results or overall length of actual played out game, it just dictates how quickly the clock moves down/the game is simulated in between play-by-play events.
In addition, to give each rink in the league a unique feel, the user can upload a different background image to be displayed at each arena.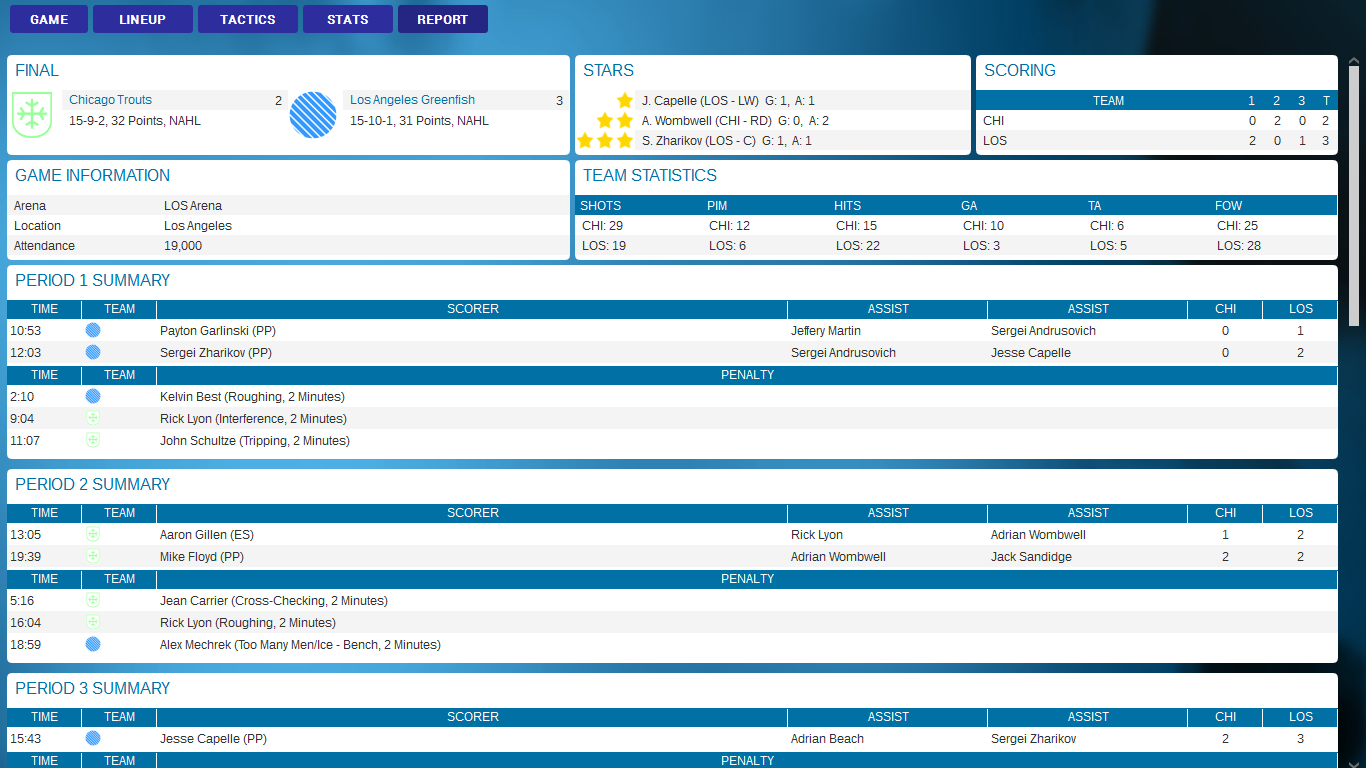 MIX AND MATCH
Can't figure out which game mode you prefer? Feel free to toggle between them as the game goes on.
Maybe you want to simply watch highlights from the first and second periods, but then jump in and watch the game unfold in detail for the 3rd? Or maybe you want to slow things down and switch to a user advance 'Full Game' mode to watch your team whenever you go on a powerplay, to see how your newly-designed tactic plays out?
The options to customize your in-game experience and tailor it to your preferences is in your hands in Franchise Hockey Manager 2.
It's your game, play it your way.