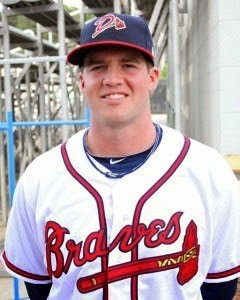 Like many players who aspire toward the big leagues, pitcher Zach Jadofsky pays a lot of attention to baseball's inner workings. As of August 2014, he's plying his trade with the A-ball Rome Braves and hoping to work his way up Atlanta's farm system. During his down time, of which there's plenty for a 24-year-old minor leaguer, he plays OOTP. (You can follow his adventures on Twitter.)
"I first discovered OOTP on my iPhone," Jadofsky recalls. "I got the app and the first year, I sold my minor leagues just to win it all, and I did, but it ruined my seasons moving forward. Then I decided to try the computer version and that's all it took to get me hooked."
He adds: "I enjoy games like MLB The Show, but this is a different kind of baseball game. OOTP is deep, and to succeed at it, you have to truly understand the game of baseball and not just press buttons to swing and throw. I used to start a franchise on my Xbox and then get tired of playing and simulate the rest of the season."

A 40-Year-Old Rookie, If That's What it Takes
Jadofsky plays in an online league with some friends and says the game's stories "help spice up" the action. "I had a starting pitcher get burned while cooking late in a playoff race," he says, "and one guy in our league said he was playing an historical season and a player got injured while throwing a boot at a cat out the window. I find it hilarious that stuff like that is included in the game."
As with some of our other interviewees who are currently playing baseball, like Cardinals pitcher Pat Neshek and Twins minor leaguer A.J. Pettersen (and such ex-players as Bryan Rekar and Curt Schilling), we had to ask Jadofsky if he has tried managing himself in OOTP. "When I joined my online league, the first thing I did was trade for myself," he says, "and as of right now, it's been pretty promising."
He continues: "We're three years into the league and I've only moved myself to AAA, but I'm progressing. A guy in the league asked me why I don't just put myself on the active roster, and I said I wanted it to be real when I made it on the roster. I'm definitely not releasing myself, so I could be a 40-year-old rookie if it turns out that way."
A Path to Pro Ball That Was Anything But Easy
Joining the Braves organization brought Jadofsky full circle in his baseball fandom. Growing up in Richmond, VA, he was a fan of the Richmond Braves, as well as the big league club in Atlanta, and later his family moved to Florida, where he picked up a number two team, the Tampa Bay Rays.
However, his path into pro baseball was not nearly as clean: With no scholarships nor walk-on invitations at any colleges, despite a good senior year of high school, Jadofsky played summer ball and was offered a scholarship at a junior college. Despite two good seasons there, however, he again found himself without any four-year college offers.
"That summer," he recalls, "I contacted coaches and went to all these tryouts to try to get noticed. I got a handful of scholarship offers and chose the University of West Florida, a Division II school. We ended the year 52-9 and won the Division II National Championship; I had an extremely successful postseason."
He wasn't drafted after his junior year, though, despite receiving a few letters from baseball teams, so Jadofsky made plans to play summer ball with the Woodstock River Bandits in the Valley League. What happened next could have occurred in a movie.
"I was late entering summer ball because of the national championship, so I left my home in Florida with a plan to get to the ballpark in Woodstock, VA, later that night. It was a 14-hour drive and I ended up getting there 30 minutes before game time.
"The coach asked if I could pitch that night. I said, 'Sure,' and got ready for the game. I threw one inning that night and that's all it took: I had a Braves scout come up to me after the game and ask if I wanted to sign a professional contract."
Jadofsky adds: "I'm extremely thankful and blessed to be where I am. I look back on it every now and then and say, 'I cannot believe I'm here.' It's just incredible!"