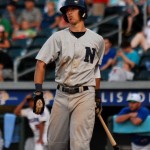 Travis Weaver, who plays shortstop for the independent Florence Freedom of the Frontier League, has been immersed in baseball since he was four years old, so he knows what he prefers from a management game. When he discovered Out of the Park Baseball last year after several years playing a competing game, he knew he had found what he was looking for.
"I was into baseball video games for computer when I was younger," he says. "I loved Baseball Pro 98, as well as High Heat Baseball 2000, while growing up. I then got into the Baseball Mogul series because I enjoy the management side as well."
He adds: "After playing Out of the Park Baseball, though, it blows Baseball Mogul out of the water. It's the only game that I will play now. The minor league and indie league details are what I truly love about OOTP."
Since Weaver is an independent minor leaguer himself, that makes sense. Unsurprisingly, he has managed himself in OOTP too. He recalls: "I was recently playing a season and of course I had myself as the starting shortstop. I believe I was playing for Amarillo and the owner kept telling me that he thought we needed to upgrade at the shortstop position."
He adds: "Of course I didn't want to trade myself, so I ignored him and kept myself in the starting lineup. I ended up hitting over .270 for that season. I always seem to ask for too much money, though, when it comes time for contract negotiations." He laughs.
Including Virtual Versions of Friends in the Action
Weaver says he likes to GM a variety of teams, from the minors to the majors. "I play a mix of leagues right now. I've been playing a lot with just the indie leagues since I'm in there. I like to start a season, pick a team, and then go out and sign all my buddies I've played with over the years and play out a season. I also enjoy playing the current Major League Baseball setup with my favorite team, the Cleveland Indians."
He adds: "I actually have an indie league going now where I added a new team to the independent Can-Am League and signed a bunch of my friends. I enjoy hockey as well, so I named them the Washington Capitals and went online to the forums and found jerseys and hats for them that look pretty cool!
"It's always cool to see guys you've played against or with getting traded or getting awards during the season when you're playing," Weaver continues. "I think that familiarity is one of the reasons I really enjoy playing with the indie leagues. One funny thing I saw was one of my buddies was opening up a cross-fit gym during the offseason. I'm not sure if it was Sam Judah, but it made me laugh because I could see him doing that, actually."
From Ohio to Florence, KY
Weaver grew up a Cleveland Indians fan in Ohio during the 1990s. He attended college at a small NAIA school in Virginia and from 2011 to 2014, he played for six independent minor league teams, including the Amarillo Sox and the now-defunct Newark Bears, where Rickey Henderson played a pair of seasons in his mid-40s.
Weaver is currently in his first season with the Florence Freedom and is hoping to get his shot at a contract with a Major League Baseball affiliate, so he can try for that proverbial cup of coffee in the big leagues. We wish him the best.