See my first post to find out how I've set up these ALCS and NLCS sims. And don't forget to follow us on Twitter and like us on Facebook to get the links to future articles as soon as they go up.
Giants Take 2-1 NLCS Lead With 4-3 Win
Center fielder Juan Perez doubled in a run and Giants starter Tim Hudson knocked in a pair with a bases-loaded single during a three-run fourth inning and the home team held off a comeback attempt by the Cardinals to win, 4-3, and take a 2-1 lead in the NLCS.
Hudson needed just 85 pitches to get through eight innings, allowing three runs on seven hits with no walks and five strikeouts. The Cardinals struck first in the top of the second inning as second baseman Kolten Wong doubled and came home on shortstop Daniel Descalso's single, but second baseman Joe Panik singled in a run in the third inning and third baseman Pablo Sandoval and right fielder Hunter Pence both singled to start the Giants' half of the fourth inning.
Two batters later, Perez knocked in Sandoval with a double that wasn't quite deep enough to score Pence too. Cardinals manager Mike Matheny then walked left fielder Travis Ishikawa to load the bases with one out and bring Hudson to the plate, but that strategy backfired when the pitcher scorched a ground ball past third baseman Matt Carpenter to plate Pence and Perez.
The Cardinals cut the Giants' lead to 4-2 in the fifth inning, when an error by Ishikawa allowed a run to score, and they scored their final run of the game in the eighth as center fielder Jon Jay tripled and came home on a sacrifice fly. The visitors attempted a final comeback against Giants closer Santiago Casilla in the top of the ninth with a pair of singles, but the rally failed.
The box score: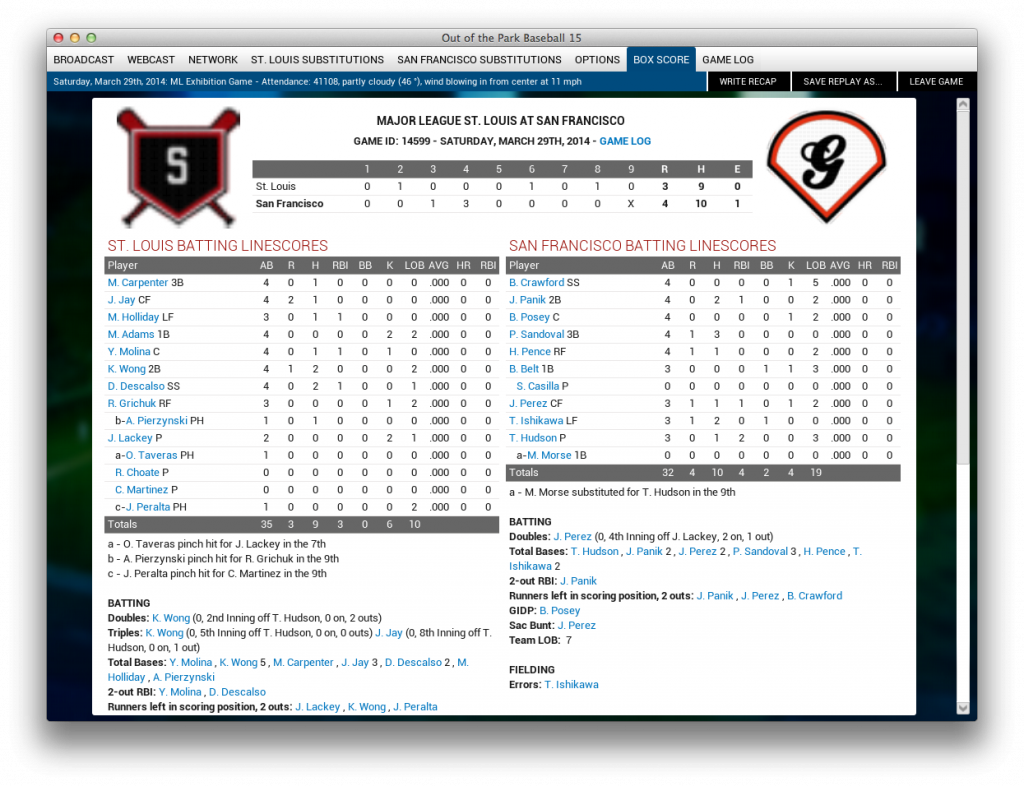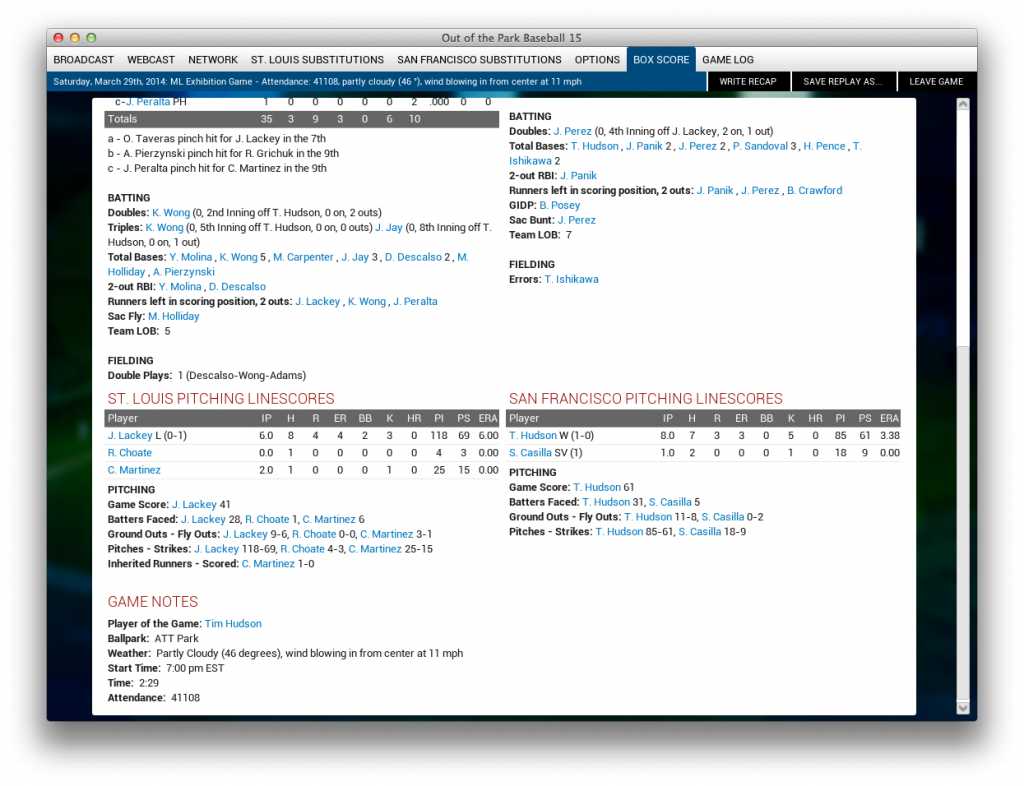 Orioles Survive Ferocious Royals Rally to Take 2-1 ALCS Lead
The first five innings of the third ALCS game between the Orioles and the Royals was scoreless, but the two teams made up for that with four wild frames that ended with a 6-5 Orioles victory as Baltimore took a 2-1 lead in the series.
The Orioles carried a 4-3 lead into the top of the ninth inning, which catcher Caleb Joseph led off with a double off Royals reliever Greg Holland; Joseph had been inserted as a defensive replacement for Nick Hundley. A wild pitch brought him to third during an eight-pitch at-bat by pinch hitter Kelly Johnson that ended in a walk. Holland then plunked third baseman Ryan Flaherty to load the bases with no outs.
Holland beared down, though, and struck out left fielder Alejandro De Aza and retired center fielder Adam Jones on an infield pop-out. DH Nelson Cruz then ran the count to 2-2 before stroking a single that scored a pair of runs.
In the bottom of the ninth, Baltimore manager Buck Showalter summoned closer Zach Britton to nail down the 6-3 lead, and the game seemed to be all but over as the first two batters grounded out. However, Britton lost a bit of control when he walked pinch hitter Alex Gordon, and Orioles second baseman Johnson booted an easy ground ball hit by first baseman Eric Hosmer, bringing DH Billy Butler to the plate.
Butler blooped the second pitch he saw just out of reach of Johnson for a single. With Gordon running on contact, he was able to race home without a throw. Catcher Salvador Perez followed that up with a smash past third baseman Flaherty to plate Hosmer and cut the Orioles' lead to just a run.
Yost had seen enough and took a long walk to the mound to bring in reliever Kevin Gausman, who coaxed a lazy fly ball out of left fielder Jarrod Dyson to preserve the win.
Royals starter Jeremy Guthrie and Orioles starter Wei-Yin Chen lasted through a sixth inning that saw the Orioles plate a small ball run with two singles sandwiched around runner-advancing groundouts, while the Royals used a walk, three singles, and a double steal to bring home a pair of runners.
However, Guthrie couldn't get out of the seventh after loading the bases on a double, a hit-by-pitch, and a walk. He then allowed a two-run single by Flaherty and was pulled from the game.
Meanwhile, Chen faced a pair of batters in the seventh, allowing a double to one of them before being yanked with 115 pitches thrown in the contest. Including Britton and Gausman in the ninth inning, the Orioles used five relievers to hold off the Royals.
The box score: