Welcome to the first walk-through of Franchise Hockey Manager 2.
Franchise Hockey Manager 2 is a very deep game, featuring 21 different leagues from across the world, and a historical mode allowing you to play any NHL season from 1931 to the present day!
When you first get started, there are a number of different things you can do. First, note 2 things: Number one, the Manual link.  Clicking on Manual will bring you to the online Manual of Franchise Hockey Manager 2, which teaches you the basics of the game including some keyboard shortcuts that can help you avoid lots of mouse clicks.
Second, check out the Preferences menu.  Franchise Hockey Manager 2 works in both windowed and fullscreen mode.  However, it needs at least a 1024 x 768 resolution to run correctly.  If you do not have this, you will have portions of the screens cut off that will make it more difficult to advance further in the game.  So you can either hide your dock bar/task bar, or consider running the game in fullscreen mode.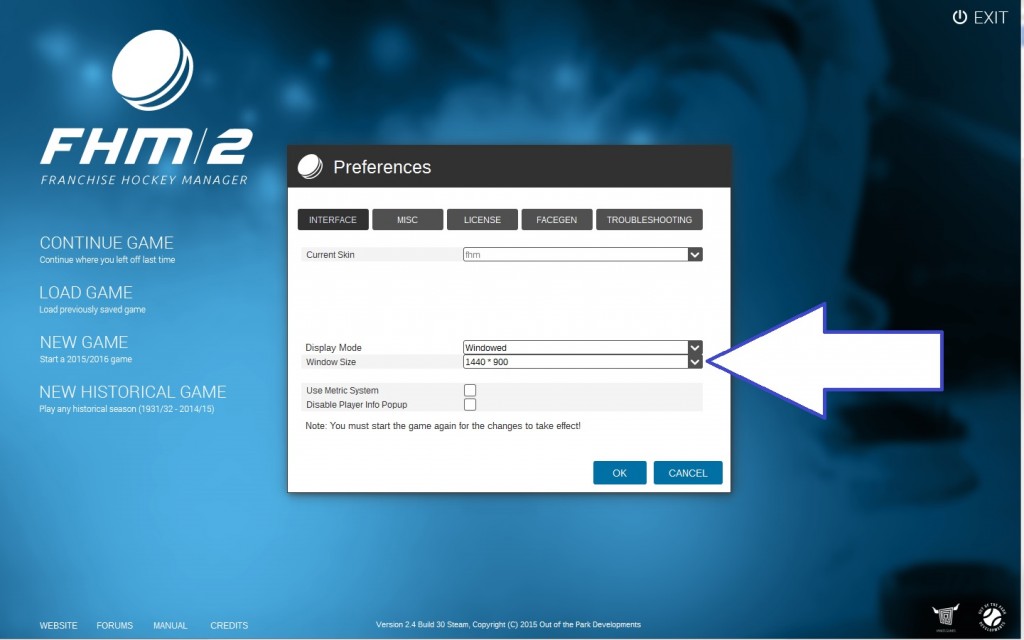 You are now ready to begin your journey as the G.M. as your favorite team!
When you click on New Game, you're greeted with a list of all possibly playable leagues. The National Hockey League and American Hockey League will always be on and cannot be changed.  You can select or deselect other leagues, however.  This has no bearing on the game as the leagues still exist, but just simply aren't playable. Turning some off may help speed up some of the simulating, so if you're not concerned with, for example, the Belfast Giants of the Elite Ice Hockey League, you should consider turning them off.
Next, you'll be given the options to set up your Manager.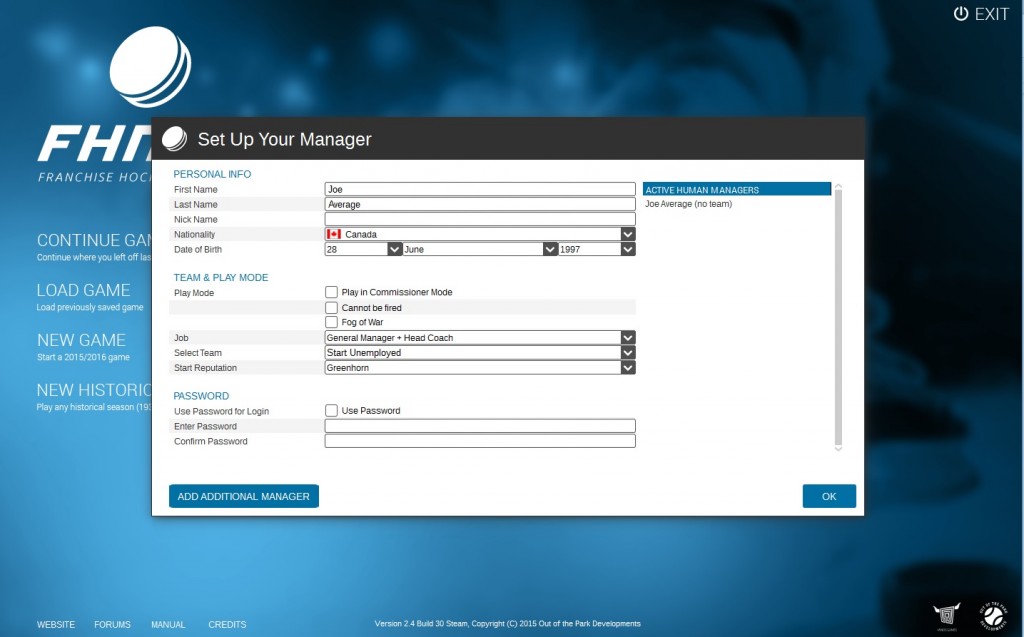 Most of the options are self explanatory, but it is here where you can make a couple of key choices that impact your game.  You can choose to give yourself the Commissioner Mode, which allows you to do things like expand the league and force trades. You can also choose whether or not you start the game with a job or wait until you get one offered to you.
For the purposes of this walkthrough, I am going to start as a GM of a Western Hockey League Team, the Brandon Wheat Kings.
When the game loads, the first thing you'll want to do is look at your roster.  This gives us a lot of important information.  You may notice along the bottom that the game notes how many people are currently on your roster and how many are dressed.
Teams in the Canadian Hockey League and in several European leagues as well also note how many foreigners are on the team, as the league only allows so many.  After some of the players names, you may see different designations in brackets.  These are important to know and understand.
When someone is listed with a (C) or an (A), it means the they are currently the team's Captain and Assistant Captains.  By right-clicking on their names, you can add or remove those designations  to anyone on the team.  An (F) means the player is a Foreigner, and can help you keep track of how many you can have on your team.  The letters (OA) indicates Over-Age, meaning the player is now technically over the age limit for the league, but each team is allowed to up to 3 players who can have this designation.  This is often used to help someone develop their talents further/give the team the extra bump they need to have a chance to win the league.
Last but not least, we have two designations that you will see in any league.  The first, (P) stands for protected – meaning the player can be sent down without fear of another team picking him up.  The last designation, (TB) you will only see on other teams roster.  TB indicates who is on that team's trade block.
Now, your roster is likely set, but maybe you aren't happy with a few players on your team; perhaps there's an interesting Free Agent.  You need to make sure you have you have space on your team's roster.  You can do this one of two ways. You can either send a player down by right-clicking and clicking the option with the arrow facing down "To ________", or you can place a player on the Trade Block and see if another team makes an offer.  You can also access this by clicking on their name and opening their player profile, then clicking on the Action Tab on the mid-right side.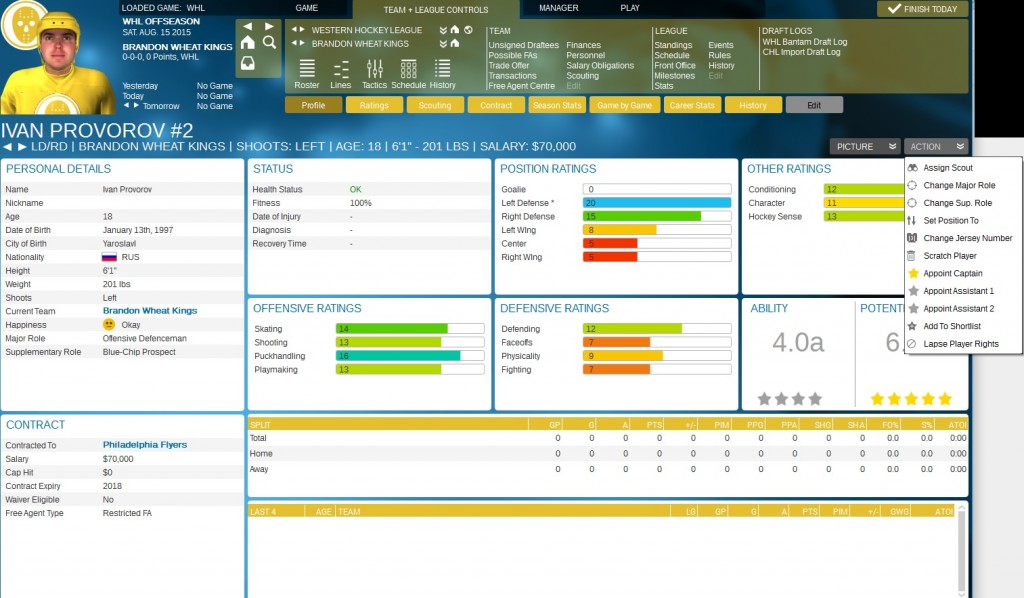 If you've made your adjustments and now want to sign someone, underneath the Team and League Controls Tab, you can click on "Free Agent Centre" to bring up a list of Free Agents that you can sign. I would suggest using the Filter Option to help narrow down what you're looking for, whether that is a Right Wing or a Left Defenseman, as well as the age you would most like them to be.
When you find the player, either right-click their name and offer them a contract, or click on their name and go to the Action tab.
When negotiating a contract, remember two things: be aware of your cap room and remember that this is a negotiation. You do not have to sign the player for what he wants. If you submit too low, you may not hit the minimum payment for your given league, and if you negotiate too long, a player may become frustrated with the process.  It is a delicate balance, but that's all part of the fun!
Before we advance for the day there is one more set of options we should look at: The Manager controls.  Like any good manager, you're going to want to delegate some tasks to your assistants, but you should choose carefully which ones. So at the top if you click the tab of Manager and then click Manager Options, you will get this screen.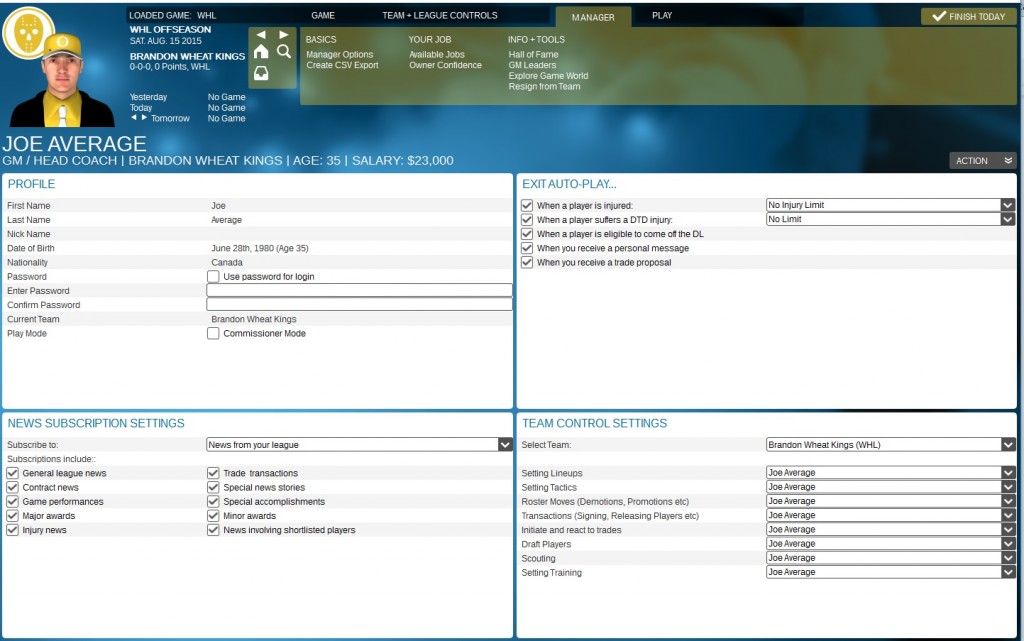 From this screen you can set and choose what you can control, from trades to tactics to line controls.  Choose wisely – but know that you can also change these any time you want.
Last but not least, you're done for the day and ready to move forward.  You have one of two options to advance; you can click either the "Finish Today" button found in the top right hand corner of the screen, or click the spacebar on your keyboard.  Either way, you've completed your first day as GM.
Good luck and we'll see you out on the ice!