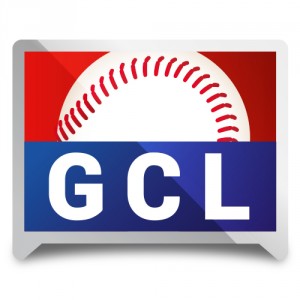 Yes, you can still pre-order OOTP 16 for PC/Mac or Linux and get it on March 20, three days before its release on March 23, along with a free Steam key. Pre-orders will be accepted through March 19.
The OOTP 16 Road to Release has started, too, with the first edition: A look at the MLB.com license.
Now about the Grand Championship League. Check out our recaps of the three Games 9s in Round 2; you'll find links to the other recaps in that round too. Our Round 2 preview has links to the Round 1 recaps. And if you want to see all the GCL blog posts, follow this link.
So what's in store for Round 3? Here's a look at the bracket: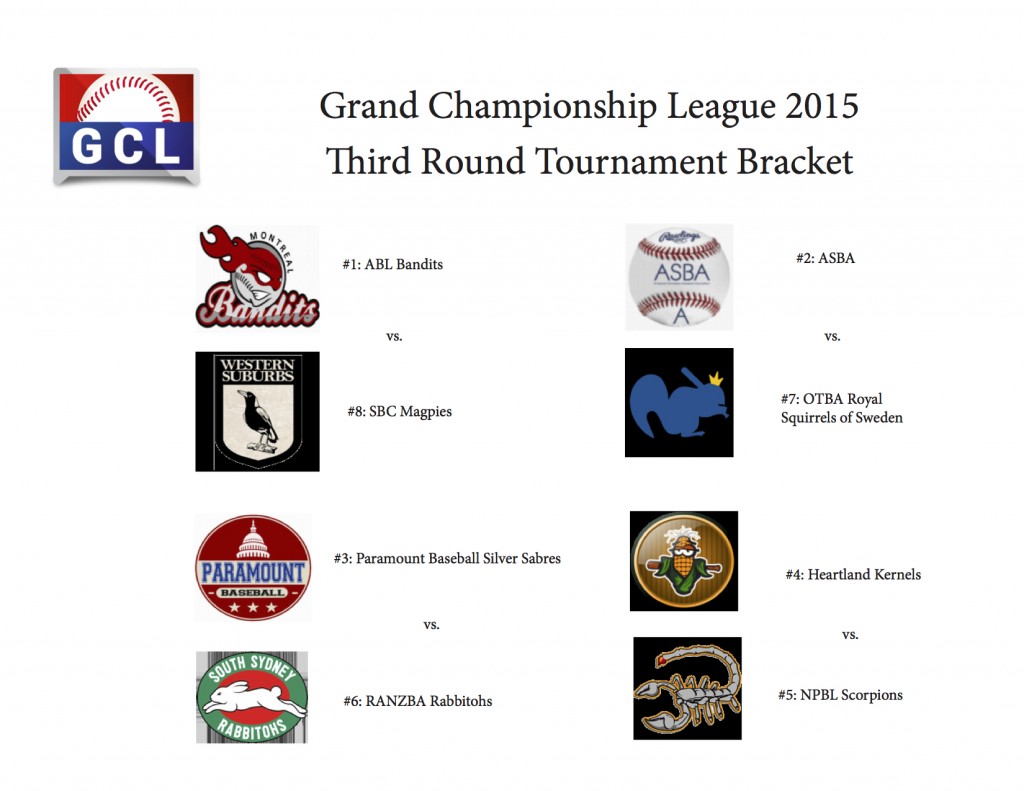 Commissioner Mike Branda offered his prediction for each series, and some of the GMs chimed in too.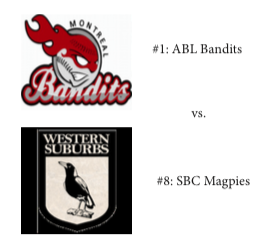 SBC entered the tournament ranked 29th and swept TTWB in one of the most shocking Round 1 upsets. In Round 2, they needed nine games but knocked off another top seed, taking out NBL.
ABL, who cruised to the top record in the GCL's regular season, downed their first round opponent in Round 1, but they struggled at times, leading Branda to predict them to be upset in Round 2. However, while they won Round 2, 5-2, they looked more convincing, and Branda thinks they've hit their stride now:
"Well, the ABL definitely proved me wrong. The first round was clearly just a case of the best team in the league falling asleep against a very weak opponent. They left no doubt in Round #2, and I think they leave no doubt here against the Magpies."
ABL, 5-2
SBC GM James Mathis had this to say about his team's chances: "After knocking off the #3 and #4 overall seeds, our Elite 8 reward is getting to face the tournament's top seed with our top two starters spent getting here, and ABL's rotation fully rested. That's a taller order on all accounts than we have faced thus far this tournament. At least we got the 'hitters' park' monkey off of our back as we went 3-2 in Coors Field to knock off NBL. Hopefully that gives our lineup some confidence going into Wrigley for the first 2 of this series.
"Our keys to the series will be:
"Stealing one of the first 2 in Wrigley. The ABL squad doesn't have any discernable weaknesses, but we think righties are a better match-up against them than lefties. Unfortunately, our two trusted right-handed starters won't be available until we get back to the friendly confines of Miller Park. Righty Alexander Fidjeland should be trustworthy, and wasn't awful in his start in the first series, but he continues to look like he's not right, and has the dreaded snowflake icon haunting him. He's been moved to the pen to pitch mop-up or in extra-extra innings. That leaves the two starts in Wrigley to worm-killing lefty Jose Rodriguez and shaky-so-far-in-the-playoffs Fred Powell.
"Jaime Valdes' cold bat gets hot. The lineup has come alive in the playoffs, but no thanks to RF and cleanup hitter Jaime Valdes, whose disappointing regular season has thus far carried over into the postseason. Expect to see him moved down in the lineup against right-handed starters.
"The bullpen continues to shut down opponents. The offensive resurgence (or maybe 'surgence,' if that's a word (Editor's note: No)) has been the story of the Magpies' two first round upsets, but the unsung hero has been a bullpen that has taken leads and throttled opponents into submission.
"Despite stark differences in records, SBC matched up well against its opponents in the first two rounds; that is decidedly not the case in the Elite Eight."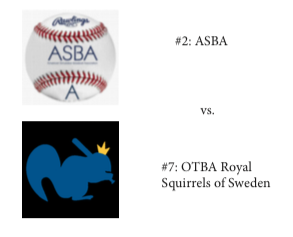 The Royal Squirrels were OOTP PR and Marketing Manager Brad Cook's pick from the beginning, just because of the name. (Sure, like on Cheers, when Diane picked football games based on which animal she preferred.) They came into the tournament the 28th seed and knocked off fifth-ranked The Show in eight games and then went the distance against BFIN in Round 2, winning the last two games in extra innings.
Meanwhile, ASBA entered the tournament ranked eighth, which shows the number of upsets that have happened along the way. They took a 4-0 lead against USBL in Round 1 and almost threw it away by losing four straight, but they pulled out a 2-1 nail biter in Game 9. In Round 2, they went back-and-forth against WBL before winning Game 9 with a three-run eighth inning rally.
Branda was unsure of the Royal Squirrel magic in rounds one and two, but now he's sold: "OTBA is looking like a team of destiny here. A dramatic Game 8 win in which it looked like they'd coast through to an eventual Game 9, and then another extra-innings win in the deciding game. ASBA had their own little Game 9 magic too with a late bomb from Rod Stokes to eventually win the series. Still, I watched that OTBA Game 8 when the bases were loaded and OTBA's season was on the line and they mowed down the competition. I can't deny the magic."
OTBA, 5-4
OTBA GM Nichola Reynolds said: "Now that we're facing a pitching-strong team, we've made a couple of minor adjustments to try to exploit their few pitching weaknesses. They tend to walk a few batters and give up the long ball but compensate by striking out a ton. We'll try to give the guys with power who like to walk more and strike out less a bit more playing time.
"Their offense isn't their strength and especially doesn't hit for a ton of power, so we'll try to use the pitchers on our staff who will completely shut down their power. I think we have a decent chance of winning if they're only hitting singles. They're also a prolific stealing team, so we'll need our strong defensive catchers to do their part. It'll be great to face a less explosive offense than BFIN, but they could surprise us.
"I'm seeing a lot of 1-0 games this round. Hopefully we can win 5 of them!"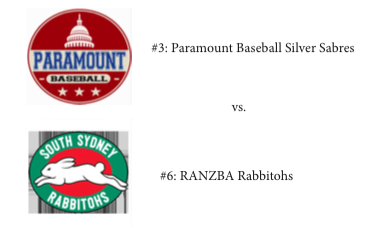 RANZBA came into the tournament as the 24th seed and knocked off 11th-ranked BSA in eight games in Round 1. Then they ran to a sweep of USOB in Round 2. Paramount devoured the PUB Meatballs in seven in Round 1 before needing another seven games to lay off Corporate in Round 2.
Who will win this one? How many punny comparisons will be made along the way? Branda said:
"During Game 1's chat, I said Paramount was my pick to win the GCL. So with no disrespect to the Rabbitohs, who probably had the most impressive Round 2 victory, I have to take Paramount here. I'll spot RANZBA 3 games."
Paramount, 5-3
Stefin Clapham, RANZBA GM, said: "The temptation to over-mange is always there, and I hope my opponent gets it!  I relaxin' and PWNing N00bs… no reason to adjust anything!"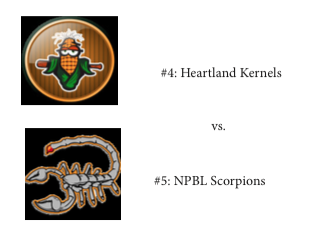 Heartland and NPBL came into the tournament ranked numbers 21 and 22, respectively. Both won their Round 1 series in nine games, and NPBL advanced to Round 3 with a 5-3 series win in Round 2, while Heartland cruised to a six-game victory.
Branda said: "Heartland took care of my own league pretty handily, and normally I'd say that means they are probably pretty legit. However, NPBL had to win 3 straight to survive against LBNA. I like riding the hot hand here."
NPBL, 5-1
Heartland GM Garrett Pack said: "Only change I will make is in the settings to have a strict rotation order to insure I get Jose Nunez as many starts as possible in the series. Besides that, I'm just going to continue to enjoy the streak of good luck!"
NPBL GM John Heinz had this to say: "No changes this round – mainly just lining up my starts so I can maximize Schoop and Hathaway. We're the underdog for the third straight series, so we're just going to keep plugging away at it!"