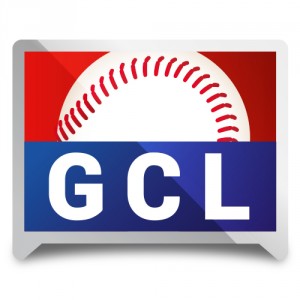 There's still time to pre-order OOTP 16 for PC/Mac or Linux and get it on March 20, three days before its release on March 23, along with a free Steam key. Pre-orders will be accepted through March 19.
The OOTP 16 Road to Release has started, too, with the first edition: A look at the MLB.com license.
Meanwhile, the Grand Championship League post-season tournament rolls forward with Round 3. Check out our Round 3 preview for the bracket showing the eight teams left, as well as links to previous recaps.
One team has advanced to the final four. Read on to find out what else happened in Games 5 and 6 of Round 3.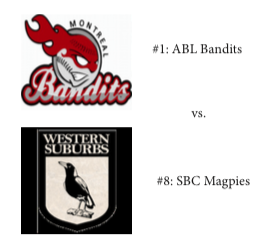 ABL, 4-2: Two-out home runs made the difference in Games 5 and 6. In Game 5, a two-out solo home run in the bottom of the eighth inning decided SBC's 3-2 victory. In Game 6, ABL broke a 4-4 tie on a two-out, two-run home run and then piled on four more runs en route to a 10-5 win.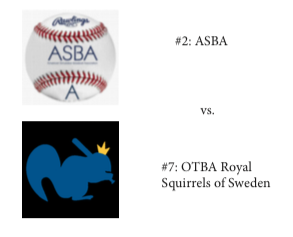 OTBA wins, 5-1: The Royal Squirrels went wild with five runs in the bottom of the sixth inning of Game 5, opening the frame with a walk, a double, and an intentional walk. After a fly-0ut, a double plated a pair of runs. Another intentional walk loaded the bases and backfired as a single and a double brought in three more. OTBA won, 6-3.
In Game 6, OTBA scored early and often, leading 4-2 after three innings en route to a 9-5 win and a trip to the tournament's fourth round. This is a team that entered the tournament ranked 28th — Aside from SBC, who were the 29th seed and are on the verge of losing their current series, OTBA is the lowest-ranked team still competing. Does Cinderella like to chitter?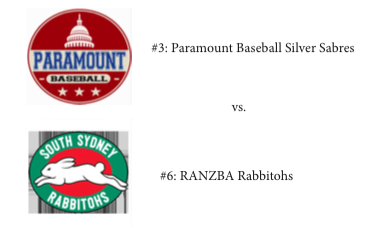 RANZBA, 4-2: The Rabbitohs put themselves on the verge of ending their series too with a 6-3 win in Game 5, but Paramount came back with a 9-1 win in Game 6 that kept them alive.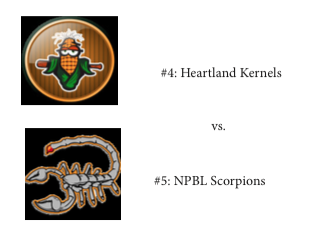 Heartland, 4-2: NPBL was losing, 4-1, heading into the bottom of the seventh inning in Game 5, but a double and a pair of errors with no outs brought in two runs, and then a first-pitch three-run home run two batters later sent them to a 6-4 win.
However, Heartland came back for a 6-5 win in Game 6 to put themselves on the brink of the final four. NPBL made the Kernels sweat, however, in the top of the 8th inning as a single and a double brought in a run and a two-run homer sliced Heartland's lead to just a run. However, the final batter of the frame struck out, and the Scorpions went 1-2-3 in the ninth.