Franchise Hockey Manager 3 is now available worldwide, so we thought we'd take it for a spin and highlight the major features that armchair hockey GMs have been anticipating the most. Like OOTP Developments' other games, FHM 3 offers a deep, authentic experience that you can explore any way you want, from a day-to-day, nuts-and-bolts GM view to a "sim a season in minutes and watch a world unfold" commissioner perspective.
Here's what you can look forward to. There's much more than this, of course, so please visit the official Franchise Hockey Manager 3 page to learn more and get your copy today.
Official NHL® license
Like Out of the Park Baseball and MLB Manager, FHM 3 features an official National Hockey League license that allows the game to feature NHL® logos and uniforms for all 30 teams. It's a feature that brings an exciting level of authenticity to the game.
Path to glory
Many people enjoy playing sports management games almost like role-playing games, where their in-game persona is a character who embarks on a series of adventures (i.e., seasons). FHM 3 has some fun with that concept with path to glory mode, which allows you to take over a lower level team and work your way up, the way real life managers do, or simply jump straight into the front office of an NHL® team.
However, even if you opt for the big time at the beginning, you'll start your career with low reputation and experience, both of which you'll need to improve over the coming seasons. After you complete a season, you receive a score that further improves your ratings. (You can also start unemployed and see which teams offer you jobs. They'll all be low-level clubs.)
When you get started, you have two sets of ratings, GM and head coach, that you can improve with an allotment of points, similar to how many RPGs have you set up your character at the beginning. (You can't save any of the points for later, so be sure you use them all.) Here's how that screen looks — all of the ratings are self-explanatory with the possible exception of self-preservation, which is your ability to talk your owner out of firing you when your team is doing poorly and he's mad at you.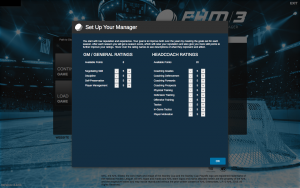 Note that path to glory mode also doesn't allow you to enable Commissioner Mode nor the "Cannot be fired" setting, so you can't edit teams and players to fix any problems you run into. If you make a series of decisions that lead to catastrophic consequences, be prepared for a possible pink slip.
If you prefer the old way of playing FHM, including the Commissioner Mode and "Cannot be fired" options, choose Sandbox mode in the beginning instead. Sandbox mode is also where you'll find historical play (any NHL® season from 1931 through 2015 and the 1972-1979 history of the World Hockey Association) as well as custom games, which let you create a fictional hockey world from scratch.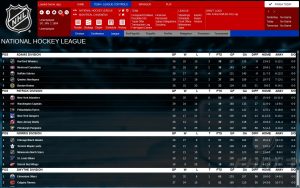 International play
If you start the game as the 2016-17 NHL® season is about to start, you'll notice that the World Cup of Hockey 2016 is underway and the qualifications for the 2018 winter games are being played in your game world. As in real life, you'll need to deal with the fact that some of your players may play for their countries of origin in those tournaments.
As country teams play through the tournaments, they can climb the international ranks as they can in real life. That means powerhouses can fall (feel free to play Al Michaels shouting "Do you believe in miracles?" when your country pulls off a major upset) and countries not known for their hockey prowess can shock the world.
The new tactical system
FHM 3 revamps the game's tactical system by giving you a user-friendly system that allows you to select from pre-built detailed systems. (OOTP fans will recognize the similarity to the pre-built strategies, such as small ball, available in that game.) There are four legs that hold up the tactical system table:
Tactics:

The foundation of the team's overall system: offensive, defensive, power play, and penalty killing. How you set up those four areas determines your team's style of play.
Tactical Roles:

The building blocks of tactics. Each tactic has a set of tactical roles that you have to fill in your team's first three lines and defensive pairs. Choose wisely because the best-planned system is no good if your players can't execute it. And if they struggle to execute it, they'll have a hard time with the next part of the tactical system.
Tactical Battle:

The series of battles within the war that take place every time your team takes the ice. These battles influence the game's outcome based on which team is better at implementing their tactical system.
Global Tactics:

This is where you set your team's particular tendencies, if you want to modify them. For example, you can tell your team to attempt shots at a certain spot in the net, if you think the other team's goalie has a certain weakness, but you'll run the risk of a higher percentage of shots missing the net entirely. You can also change when your team pulls its goalie and other settings.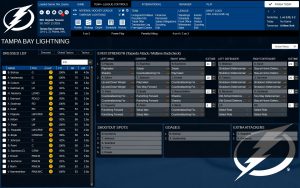 As in real life, your team needs time executing tactics to become familiar with them. If you install a slower, hard-hitting style and then decide to pull off a couple trades mid-season so you can switch to a faster-paced, finesse style, be prepared for your players to struggle for a while. They won't forget the old system, though, so you can always switch back. Players stuck in a system they don't know well will be upset for a while, which will slightly hurt his ratings. And if your Player Motivation rating as a head coach isn't very good, that will hurt too.
During games, the tactical roles you've set up have some effects on the opposition. For example, players in the Goon and Enforcer roles will reduce the bravery rating of the other team's players, unless they've countered with their own Goon and Enforcer players.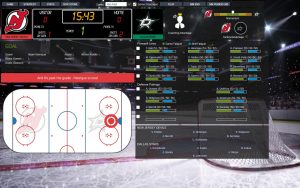 As the action in a game progresses, you can make adjustments to your players' tactical roles if you feel that you're losing the tactical battle. Just like in real life, your coaching decisions can hurt a really good team's play or elevate a mediocre team beyond its skill level. If you can maintain a tactical advantage over your opponent, your players will enjoy a significant boost to their abilities.
Time to hit the ice
We've just scratched the surface here, between explaining the major new features and talking about everything in the game, so please visit the official Franchise Hockey Manager 3 page to learn more and get your copy today.