Wayne "The Great One" Gretzky is without a doubt one of the greatest players to ever lace up the skates in the National Hockey League. While he came to prominence several years after Gretzky had already established himself as a star, Mario Lemieux is also often in the conversation of greatest of all time.
These two players were competitors throughout their careers (although were linemates during the 1987 Canada Cup), but what if they had gotten the chance to be on the same team in the long term? And even further, what if Lemieux was added to the already stacked Oilers squads of the 80s? It's one of the greatest NHL dynasties of all time, with Edmonton winning five Stanley Cups in the span of only seven years – a feat that seems quite unlikely to ever happen again in today's league.
So how much of an offensive force would the Oilers be with both Gretzky and Lemieux? Could the Oilers equal, or better, their dynasty? Read on to find out!
Not only is Franchise Hockey Manager 2's historical mode a great way to relive, replay or recreate history, it's also a wonderful opportunity to play out any sort of 'what if?' scenarios you can come up with as a hockey fan.
I started this simulation in 1984/85, which was Lemieux's first year in the league. But instead of him being on Pittsburgh, I used the editor in 'commissioner' mode to edit #66 onto the Oilers. As luck would have it, the Oilers even decided to use #66 and #99 on the same line, with Lemieux sliding over to LW, Gretzky at C and Jari Kurri at RW.
The Great One is Even Greater
In real life, Wayne Gretzky played in 1,487 NHL games, amassing 894 goals and 1,963 assists and 2,857 points – which all still stand as all-time records.
In this alternate universe with Lemieux by his side, #99 had an even better career. He played fewer games overall at 1,455, but poured in 1,117 goals, had 1,898 assists and cracked another huge milestone with 3,015 points.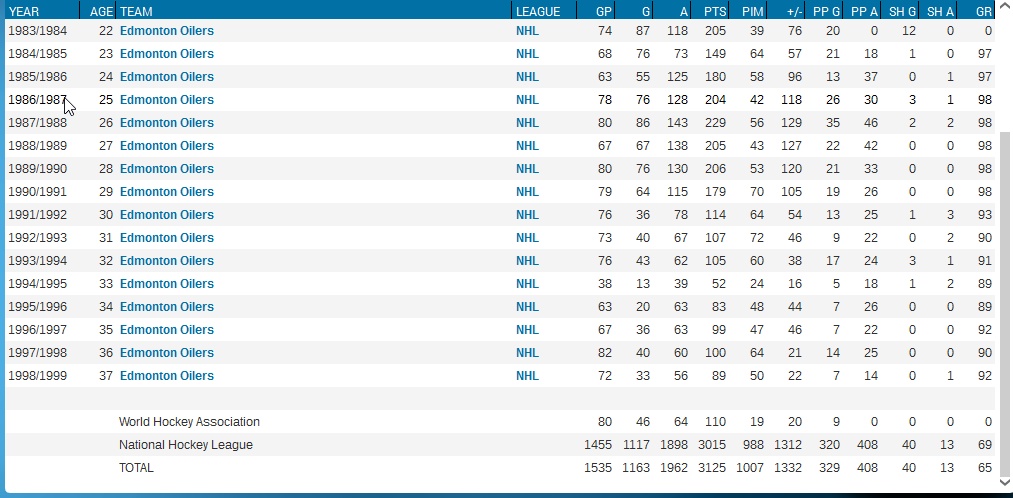 In real life Wayne cracked the 200-point milestone five times, but in this simulation with the help of Lemieux he was able to get over 200 on six different occasions, his best coming in 1987/88 with 229 points – better than his real-life best of 215.
Super Mario Stays Healthy and Keeps Scoring
In real life, Lemieux had 690 goals, 1,033 assists and 1,723 points. Of course, he also was plagued by health problems through his career, playing in only 915 of a possible 1,428 NHL games.
In our FHM 2 simulation he was able to stay much healthier. He did have some seasons where he missed time with various injuries, but the big difference would be no three years off due to a first retirement (screw you cancer, we've got no time for you here in FHM2!).
As a result, Lemieux played in 1,595 games, tallied 1,144 goals (1st all-time just ahead of Gretzky), and added 1,431 assists (second all-time behind Gretzky) for 2,575 points (second all-time behind Gretzky)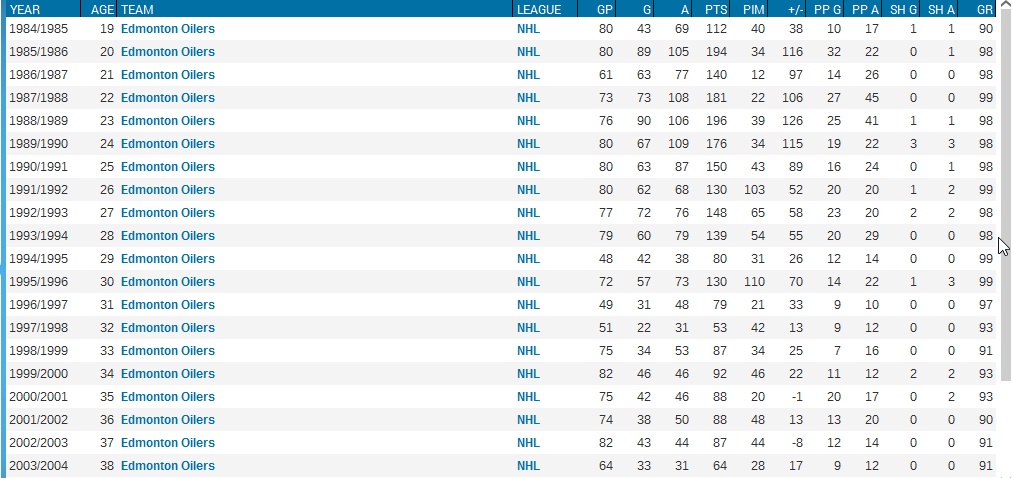 There's No 'I' in Team
Both players stayed in Edmonton throughout their careers – no trade to LA for Gretzky this time around. It's obvious that Lemieux and Gretzky playing on the same line their whole careers would have produced some unbelievable levels of scoring for both men.
But in the end, would it lead to more championships or a long-lasting dynasty?
The real-life Oilers won five Stanley Cups between 83-90, and with Lemieux and Gretzky together, things were even better in the City of Champions.
With a rookie Lemieux in the lineup, the 1984-85 Oilers won their second consecutive Stanley Cup, just like in real-life.
1985-1986 brought a conference finals loss to Minnesota after a dominant 134 point regular season, but the Oilers would then go on to win three consecutive championships in 87, 88 and 89.
The new decade was brought in with a conference final loss to Detroit in 1990, and another championship followed in 1991.
Detroit again knocked out Edmonton in 1992 in the conference final and division final playoff exits followed to Calgary and then Winnipeg in subsequent years in 1993 and 1994.
1995-96 brought the first opening round playoff loss during this dynasty, to Los Angeles, but it was oddly a harbinger of better things to come. The team bounced back with yet another Stanley Cup win in 1996-1997.
Gretzky retired two years later, but for all intents and purposes the 1997 season marked the end of the dynasty.
With Lemieux and Gretzky in the lineup, the Oilers amassed an incredible seven Stanley Cup victories over 13 seasons between 1984-1985 and 1996-1997. In total counting the 1983-1984 championship that occurred prior to this simulation starting, it was eight championships in 14 years. So more 'down' years than the 5-in-7 of the real-life Oilers, but a much more dominant and long-standing dynasty with two of the era's greatest offensive stars playing together.

Even when the Oilers weren't winning the Stanley Cup, the team was nothing short of dominant. Between the strongest years of the dynasty, 1985 and 1993, the team finished with fewer than 120 points only once, and had a 72-7-1 mark for 145 points in 1988/1989.
But what about the Penguins?
For this 'what if?' I quite simply just moved Mario over to the Oilers. There was no trade or package going back to the Penguins, so needless to say taking their franchise player out of their lineup would have a big impact. In real life the Lemieux-led Penguins won the Stanley Cup in 1991 and 1992.
While they fielded some strong and respectable teams in this simulation, without Mario there were no Cups. As of 2007 the Franchise was still looking for its first. But Sidney Crosby is coming off a monster sophomore season, so maybe there is hope after all.
Life after Gretzky
In real life, the Oilers won one more Stanley Cup in 1990 after Gretzky was traded to the Kings.
In this simulation, The Great One hung up the skates after the 1999 season – having spent his entire career with Edmonton.
Lemieux would go on to play seven more seasons in Edmonton and while he put up strong numbers personally, the team never had near the success as they did with #66 and #99 together – with no more Stanley Cup wins.
Still though, it was undeniable the impact these two players had together. Need further proof, check out the award history that is littered with both their names: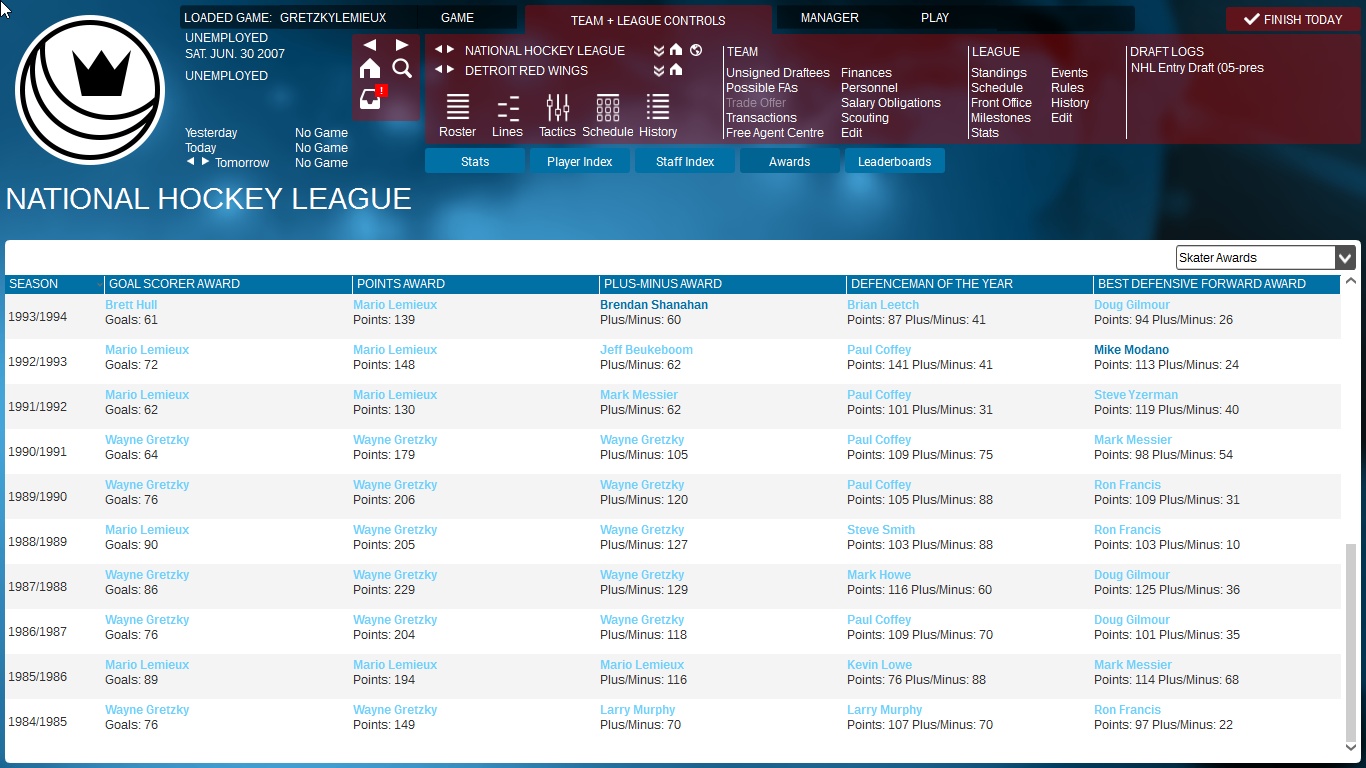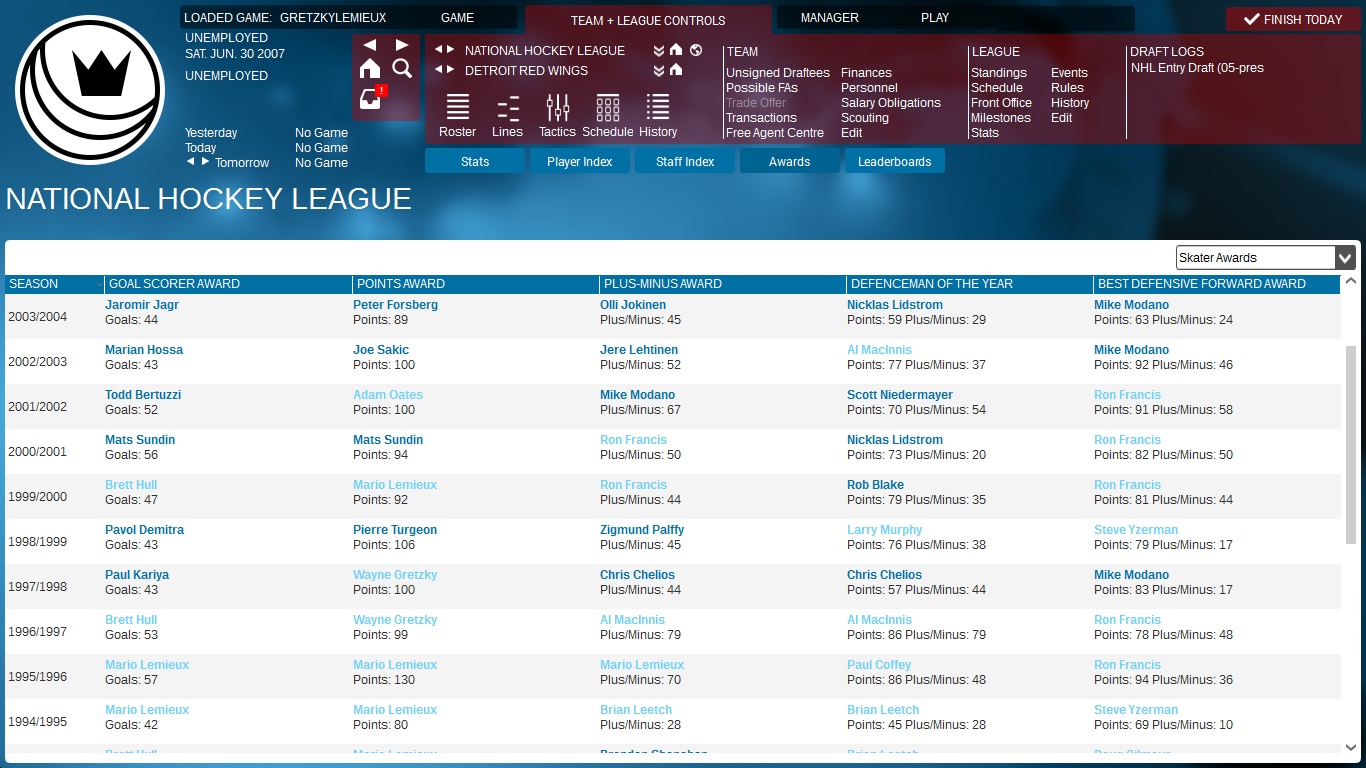 With Gretzky gone, an aging Mark Messier moved up to take over first line centre duties and Lemieux remained on the wing where he had made his mark over the past 15 years. They were joined by a variety of right wingers over the years, including Peter Bondra and Trevor Linden. It was a far cry from Lemieux-Gretzky-Kurri.
The Lemieux-led Oilers missed the playoffs in 2001, 2003, 2004, 2006 and 2007, leaving no doubt that the dynasty was now over.
Want to play through your own what-ifs? Franchise Hockey Manager 2 is available for US$39.99 and in addition to historical play, allows you to play in the modern day NHL (or one of 21 leagues in the game), or create your own custom league.
For more information or to order, click here.