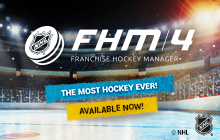 As the latest National Hockey League® season gets underway, we thought we'd see what might be in store by simulating the 2017-18 campaign, including the playoffs. Our friends at the NHL Network joined in the fun by mentioning our work on their flagship NHL Tonight show — you can see the entire clip on YouTube.
So what does the season have in store? Read on to find out.
Eastern Conference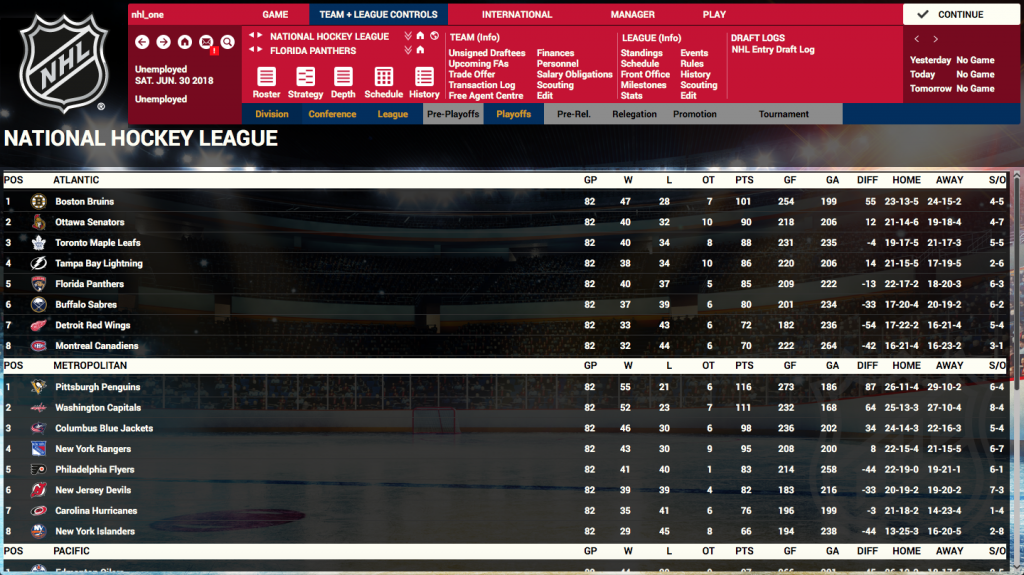 The Boston Bruins took the Atlantic Division with a 47-28-7 record, good for 101 points, while the Pittsburgh Penguins led the Metropolitan Division with a 55-21-6 record and 116 points.
The Washington Capitals (52-23-7, 111), Columbus Blue Jackets (46-30-6, 98), New York Rangers (43-30-9, 95), Ottawa Senators (40-32-10, 90), Toronto Maple Leafs (40-34-8, 88), and Tampa Bay Lightning (38-34-10, 86) rounded out the rest of the playoff teams. The Florida Panthers missed the playoffs by one point, but it wasn't for a lack of trying: they won their final three games, including a 3-2 shootout win to close out the season.
Western Conference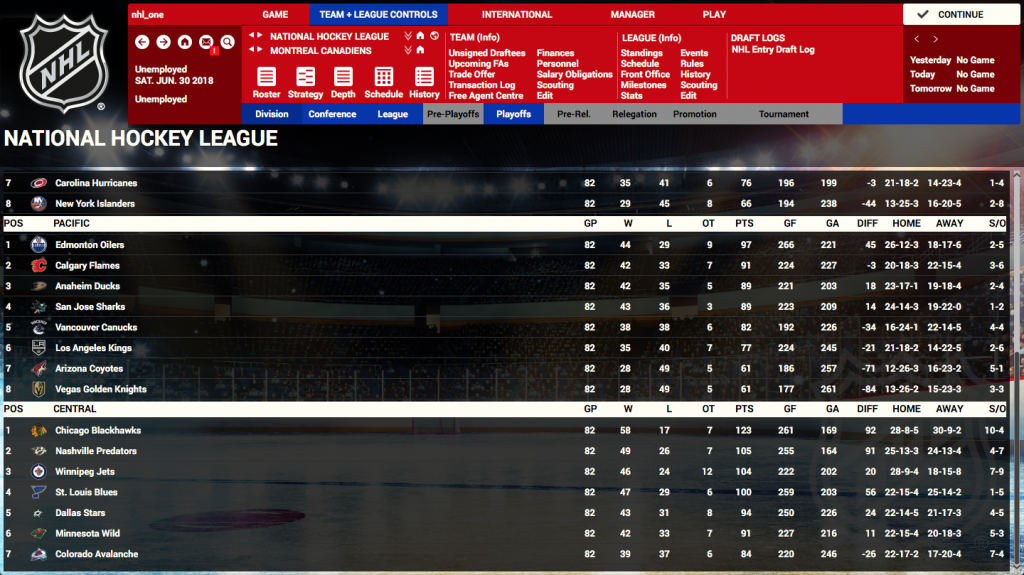 The Edmonton Oilers took the top spot in the Pacific Division with their 44-29-9 record and 97 points, while the Chicago Blackhawks topped the Central Division with an amazing 58-17-7 record and 123 points. The Pacific Division's weakness meant that Edmonton had the fifth slot heading into the playoffs.
The other playoff teams included the Nashville Predators (49-26-7, 105), Winnipeg Jets (46-24-12, 104), St. Louis Blues (47-29-6, 100), Dallas Stars (43-31-8, 94), Calgary Flames (42-33-7, 91), and Anaheim Ducks (42-35-5, 89). Anaheim lost eight of their final nine games but still managed to get into the playoffs. Unsurprisingly, the new Vegas Golden Knights expansion team had a poor season, with a 28-49-5 record, good for 61 points, but they tied the Arizona Coyotes for worst record in the league.
Top players
Wayne Simmonds of the Philadelphia Flyers led the league in goals with 43 while Edmonton's Connor McDavid took the top assists mark with 70, along with the most points (108).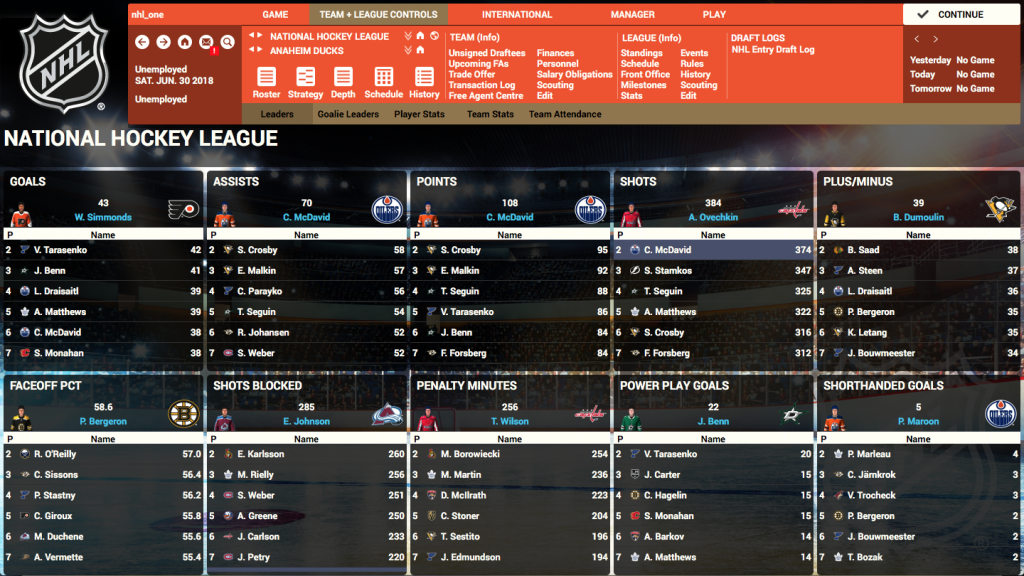 The individual award winners were:
Art Ross Trophy (most points): Connor McDavid, Edmonton (108 points)
Hart Memorial Trophy (MVP): Connor McDavid, Edmonton
James Norris Memorial Trophy (best defenseman): Roman Josi, Nashville (63 points)
Maurice Richard Trophy (most goals): Wayne Simmonds, Philadelphia (43 goals)
Calder Memorial Trophy (top rookie): Nico Hischier, New Jersey (51 points)
Frank J. Selke Trophy (best defensive forward): Patrice Bergeron, Boston
Vezina Trophy (top goaltender): Matt Murray, Pittsburgh (2.19 GAA/.914 Save %)
Conn Smythe Trophy (Playoffs MVP): Sidney Crosby, Pittsburgh (32 points despite Pittsburgh losing in the final)
Lady Byng Memorial Trophy (best sportsmanship): Johnny Gaudreau, Calgary
Bill Masterton Memorial Trophy (perseverance): Henrik Zetterberg, Detroit
The playoffs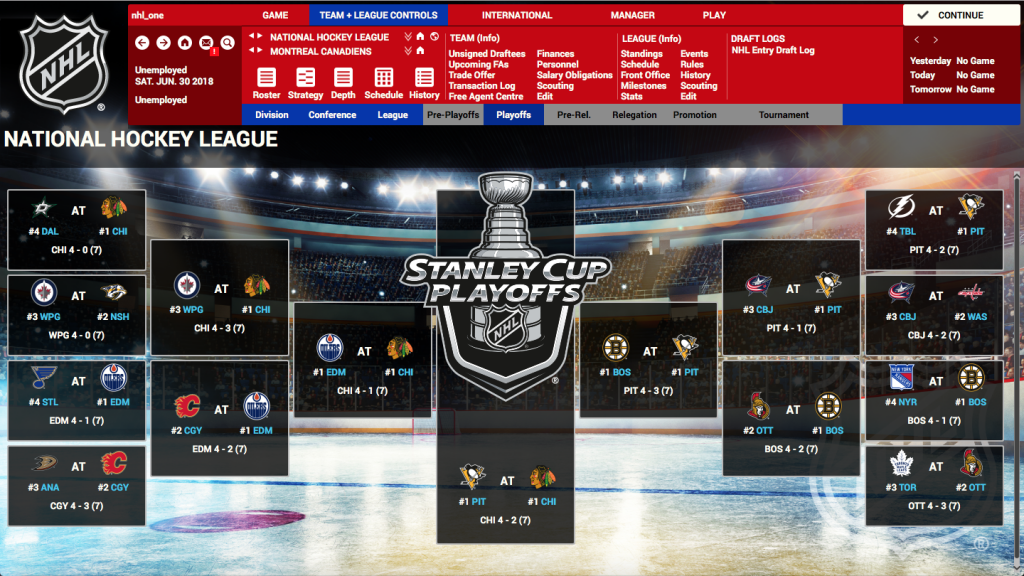 The first round of the playoffs was largely uneventful, as Chicago swept Dallas, Winnipeg blanked Nashville, Edmonton took out St. Louis in five, and Boston did the same to New York. Calgary went back-and-forth with Anaheim before prevailing in seven games, thanks to a 3-0 shutout in Game 7, while Ottawa also needed seven games to dispatch Toronto in another seesaw match-up.
Pittsburgh prevailed over Tampa Bay in six games while Columbus did the same with Washington.
In the second round, Edmonton knocked off Calgary in six games. They started the series with a pair of losses before reeling off two thrilling overtime wins and then pulling off two one-goal victories. Edmonton went on to face Chicago, who defeated Winnipeg in five games, in the conference final, but lost in five games.
The Eastern Conference's second round saw Pittsburgh down Columbus in five while Boston beat Ottawa in six. That conference final was more exciting than its counterpart in the west, as Pittsburgh opened with two wins before losing three straight, including an overtime loss. In Game 6, Pittsburgh made a pair of first-period goals stand up in a 2-1 win, and Game 7 saw them pull off a 4-2 win for a berth in the Stanley Cup® Final.
Pittsburgh opened the final round strong on the road with a 4-1 victory that saw four players score goals and Sidney Crosby pick up a pair of assists. However, Chicago dominated them in Games 2 and 3, winning by 5-2 and 4-1 scores, respectively, before using goals by Patrick Kane and Jonathan Toews to stand up for a 2-0 win in Game 4.
Facing do-or-die in Game 5, Pittsburgh knocked in three second-period goals en route to a 4-2 win. In Game 6, Pittsburgh emerged from the first period with a 2-1 lead, but Chicago knotted it up in the second period and a scoreless third sent the game to overtime, where Chicago won the opening face-off and managed a quick strike score that dashed Pittsburgh's hopes for a three-peat. Chicago won their seventh Cup in 14 appearances.