You can trade for, sign, draft and develop the best and most talented players, but that's only part of the challenge in Franchise Hockey Manager 2.
In order to truly reach full potential, you will need to put in place the optimal strategies to get the most out of your players. Or, if general managing is more your thing, you'll have to have faith in your coaches and assistants to do the work for you – setting tactics isn't something forced upon you if you're less of a micro-manager.
The tactics system and the entire game engine in Franchise Hockey Manager 2 has been rewritten (more on the game engine itself in the next blog). It is now far more robust, detailed and it provides far more depth, better immersion and a much more realistic hockey simulation experience.
The new tactics engine works primarily on two levels: zone assignment and tactical choices.  These are made at the line level, as each one of a team's lines gets a template associated with it that specifies their tactical settings.
These can of course be modified throughout the season, or tailored in specific ways to match up in the best way possible against specific opponents.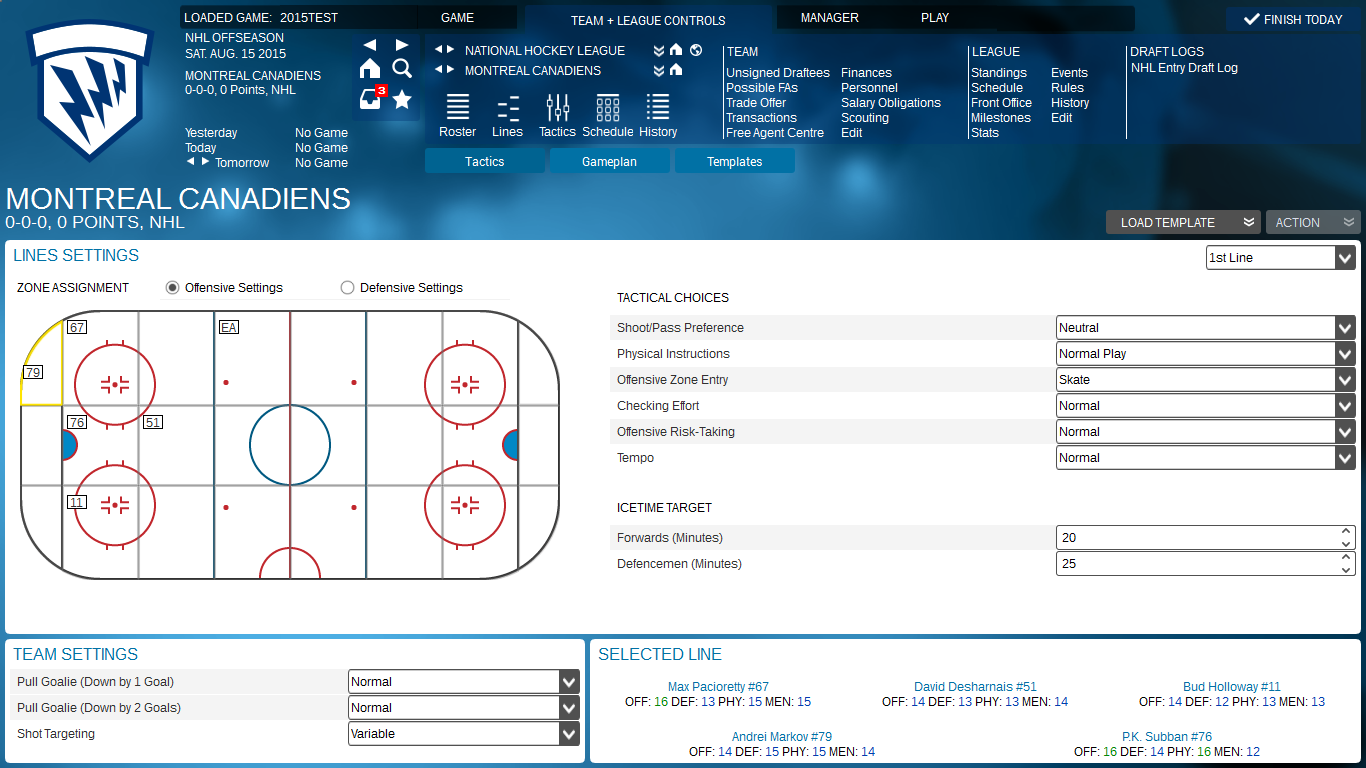 WHAT IS ZONE ASSIGNMENT?
Zone assignment determines where each player on a line should be located with the puck in a given situation – where it is on the ice, and who controls it.
The location of players impacts their ability to influence the outcome of a play. The ratings of players who are supposed to be near the current location of the puck or its destination will be incorporated into determining the next thing that happens in the game.
For example, if the LW and LD are both assigned to come back to the corner on their side when the other team has the puck there, the double-teaming means a better chance of separating the puck carrier from the puck.
But if the puck carrier decides to cycle the puck back up the boards, it will be easier for him to complete the pass to a teammate waiting there, since he'll presumably be unguarded.
If the LW had been assigned to stay along the mid-boards, he'd be in position to lower the chance of that pass being completed, but then the LD would be alone with the puck carrier and there would be less chance of taking the puck away from him.  If a team is shorthanded, their opponents will find it easier to move the puck, since the shorthanded defenders are spread more thinly across the ice.
So depending on the players on your roster, you can go to efforts to make your tactics work in your favor.
Have an offensive defenseman who is a talented scorer? Set up his zone assignments to have him pinch in to the play when your team has the puck in the offensive zone – that is, if you're willing to accept the fact that your club might be caught in more odd man rushes if he can't get back in time.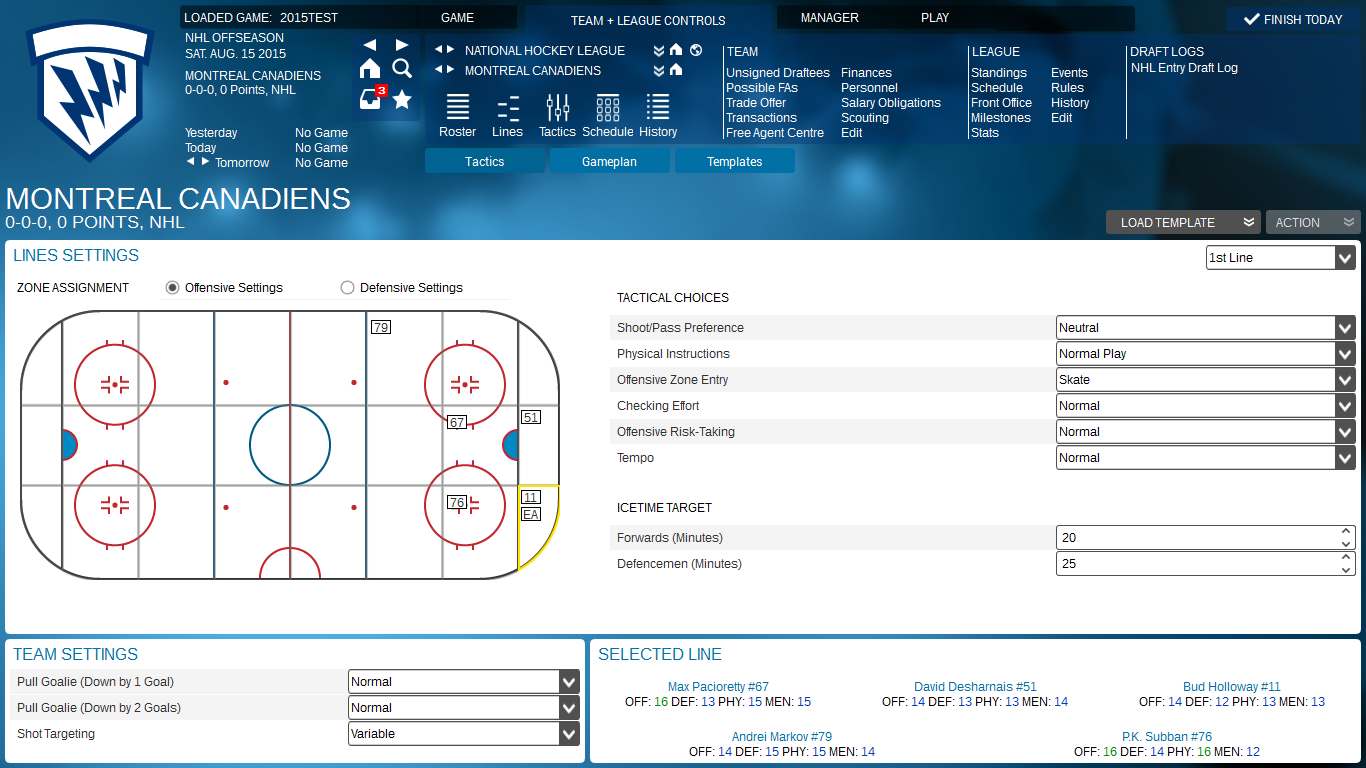 Have a forward with punishing physical skills? Set up his zone assignments to send him into the corners more often and to pursue the puck carrier in the offensive zone.
How about a forward who is strong in screening and shot tipping? Send him to the front of the net any time the puck goes to the point and you'll be setting that player up for success!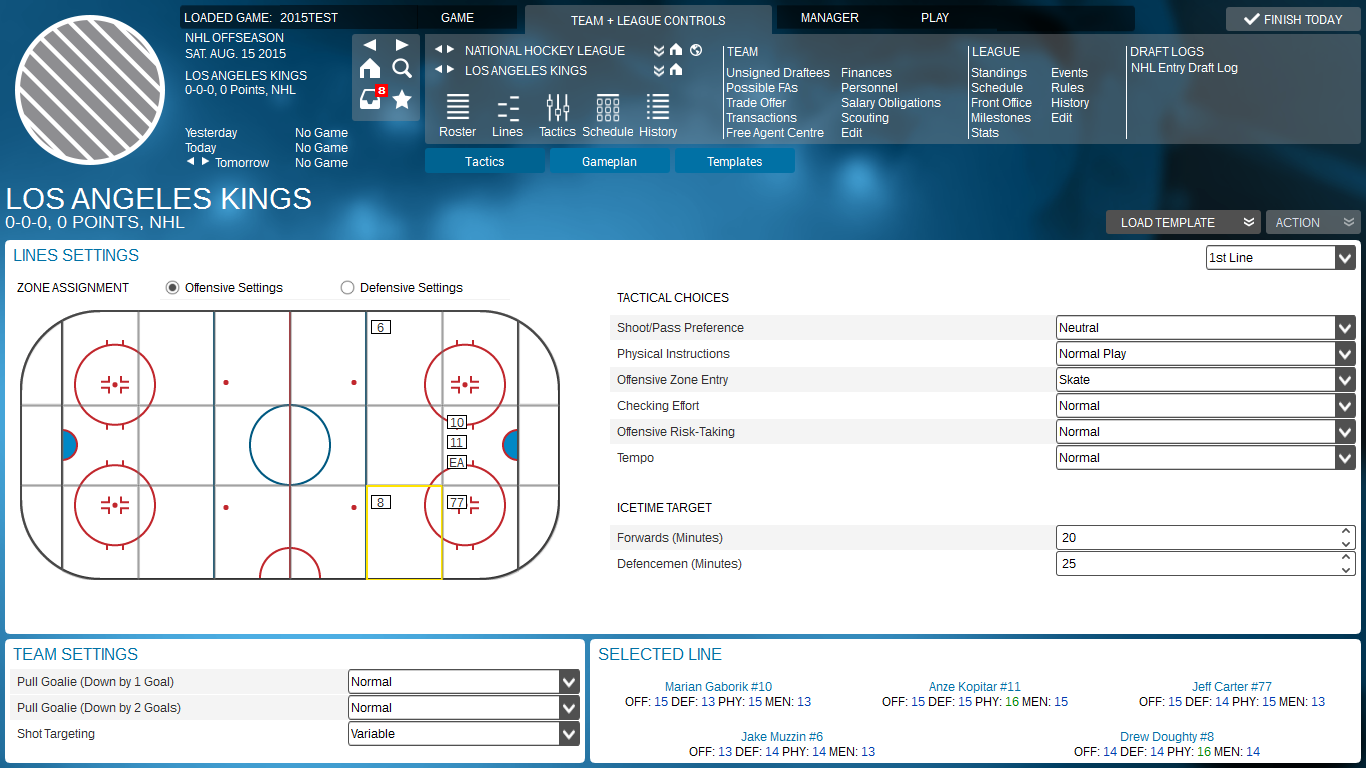 With the zone assignments system, the options are truly endless for those who like to control the small details of their hockey franchise.
WHAT ARE TACTICAL CHOICES?
Tactical choices influence player behaviour and there are a number of options available. Lines can be set to shoot at the first opportunity or pass to set up a better one; dump, pass, or skate on zone entry; take more or fewer offensive risks, and a variety of other settings.
These choices interact with the match engine to change player choices and results. For example, a player approaching the opposing blue line with the puck will probably dump it in if that's what he's been told to do, or a line told to slow the tempo of the game down will do things like hold on to the puck a little longer before making a play.
Naturally, the players have minds of their own and won't always follow your instructions, but you can give them a push in the direction you desire.
In addition to the zone assignments and tactical choices, the user has a few additional settings to work with, that determine things like when to pull a goalie or where on the goalie to target shots.
Don't forget to do your homework before a game to find out where the opposing goalie is weakest and where your shooters might have the most luck!
You can also dictate roughly how much ice time you want each of your lines to receive.
Your first line centre may be your best scorer, but does he have the stamina to play 20+ minutes per game? Or will you have to rely a bit more on your scrappy, but largely untalented 4th line?
The game will have a number of default tactics to begin with, designed to model basic hockey strategies. The standard defensive tactical template, for example, is based on a 1-2-2 forechecking system with somewhat conservative offensive tendencies.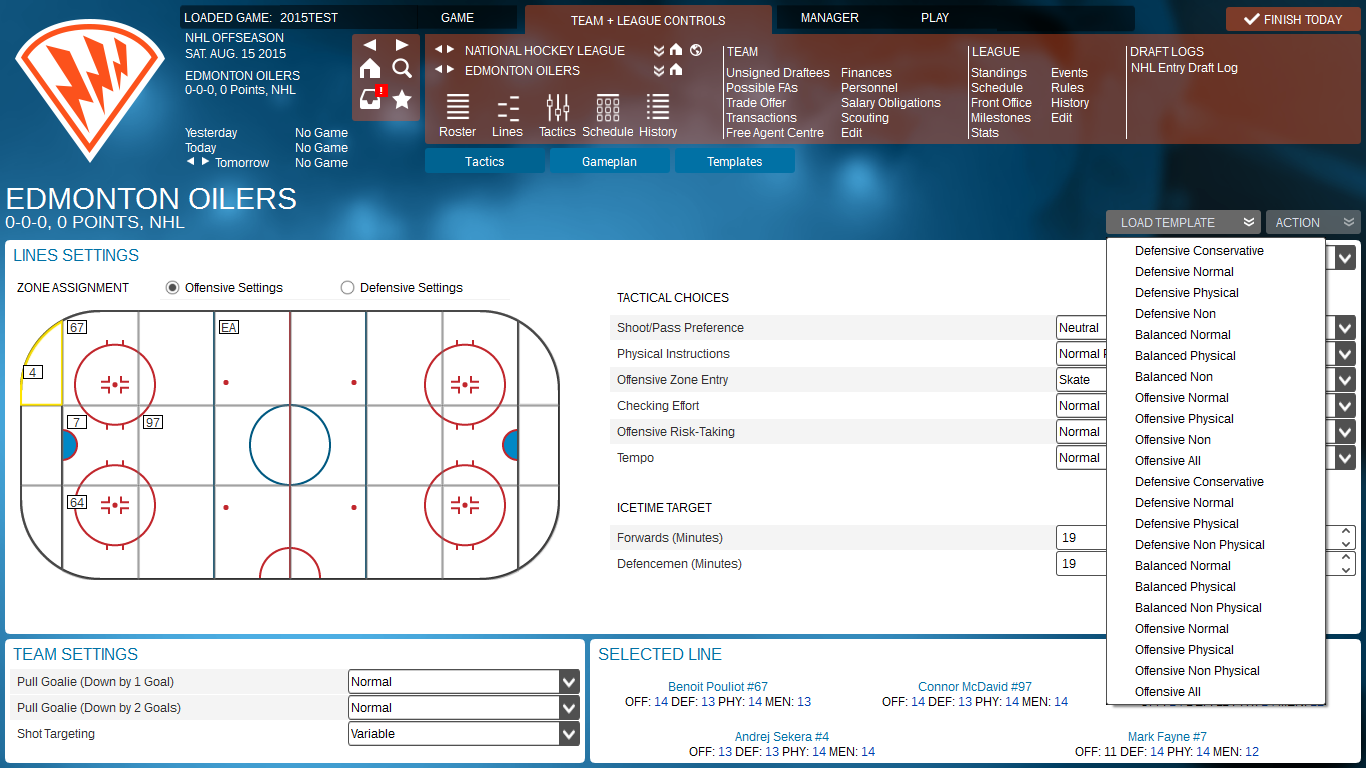 CREATE COMPLETELY CUSTOM GAMEPLAN TEMPLATES
The user can modify tactics as they wish, create new ones, and save them as a new template that can then be exported to a file to be shared with others, who can add it to their game via the import function.
Want to create your own absolute all-out blitz of an offensive attack that will be used late in the game if you're down a goal to press for an equalizer?
Or an extra cautious, stay-at-home type template to help further protect a big lead?
Those options and more will be available to you with different tactics templates.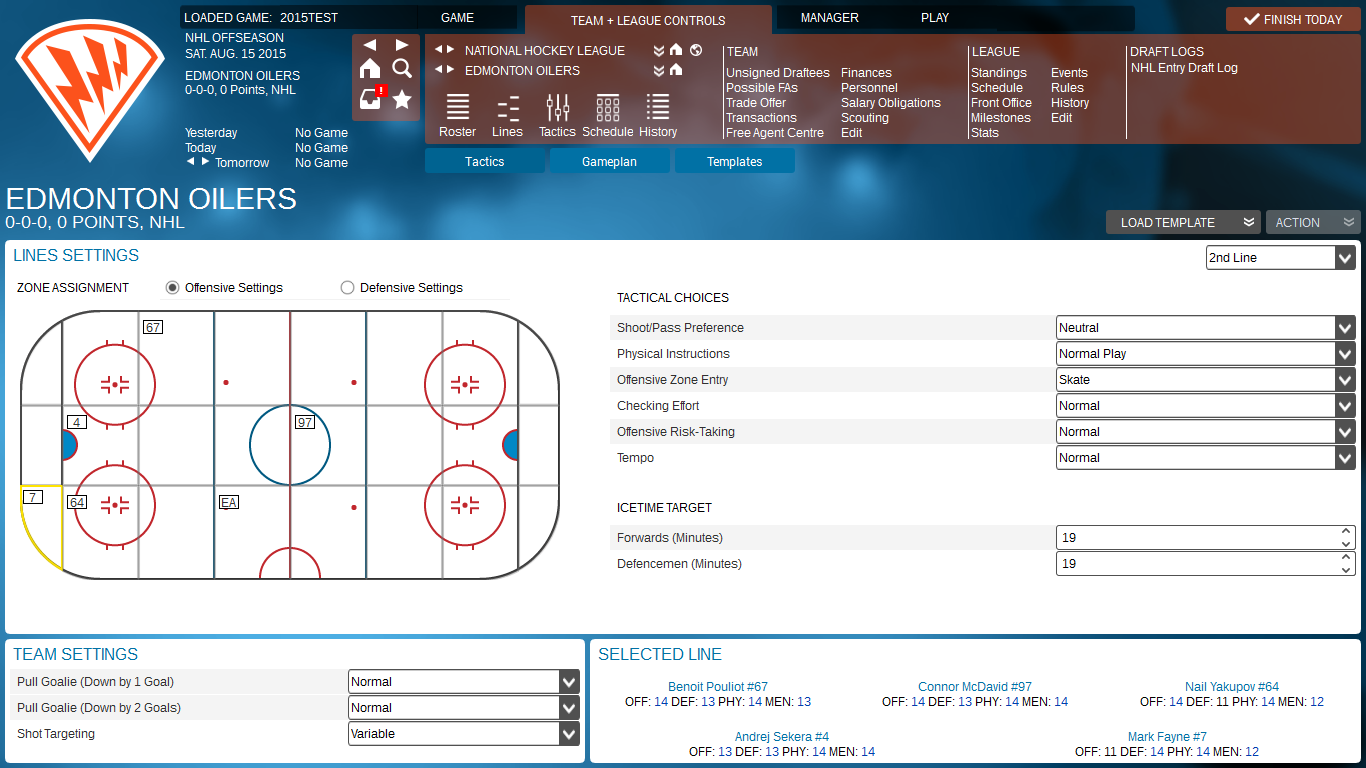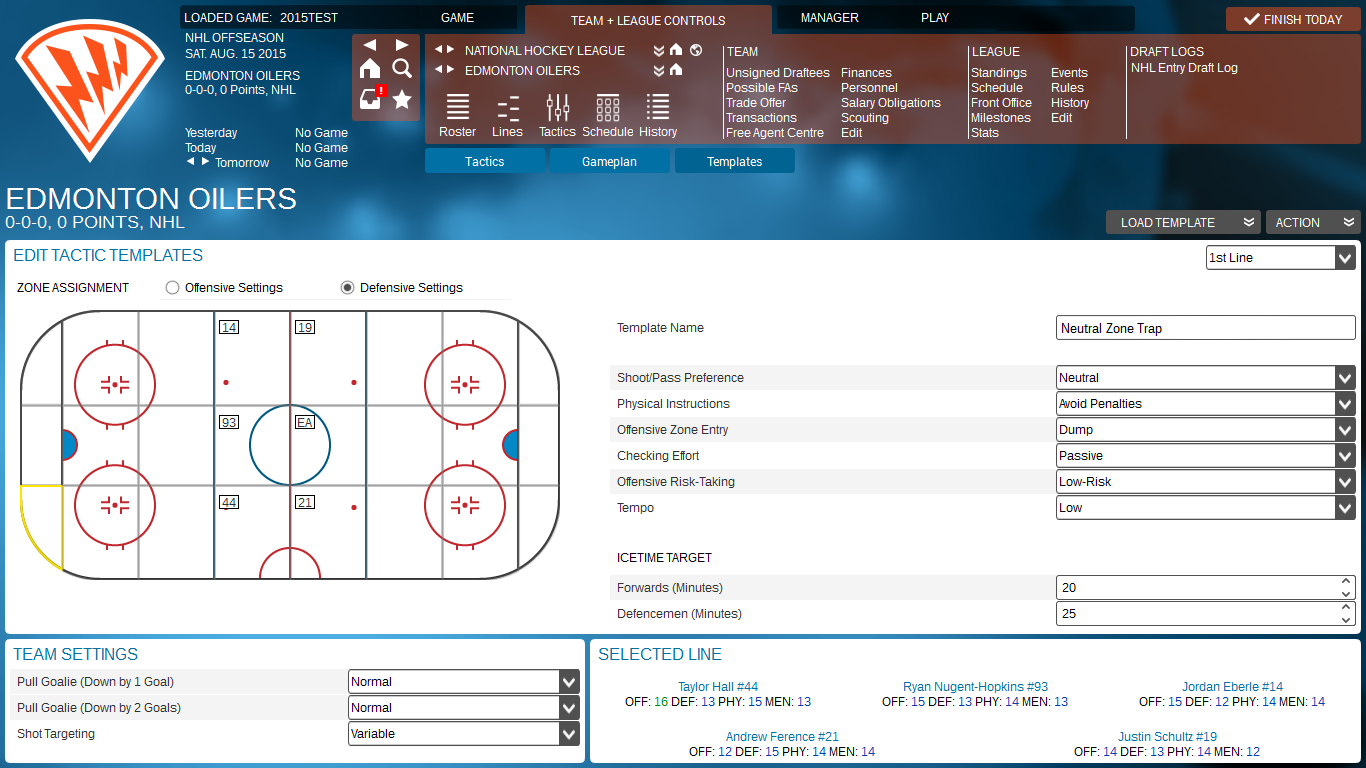 There are no limits to how many tactic templates the user can create, so feel free to mix and match different tactics until you come up with what really works best for your team in all different situations.
TACTIC GAMEPLAN – A PLAN FOR EVERY SITUATION
And of course, to become a top-level coach in Franchise Hockey Manager 2, you will have to adapt your team's gameplan and tactics to how the game is progressing. That's where the tactic gameplan comes into play.
A team nursing a two-goal lead in the third period is certainly going to play differently than one in a tie game. But what about if you have that two-goal lead in the first period? Will you be the type of manager to go for the jugular and try to encourage your players to stay aggressive and put the game out of reach? Or is it time to take things more conservatively and sit on the lead?
You can set up a specific gameplan that reflects the exact way you want your team to play in different circumstances, based on the tactic templates you have created, or the default options that already exist.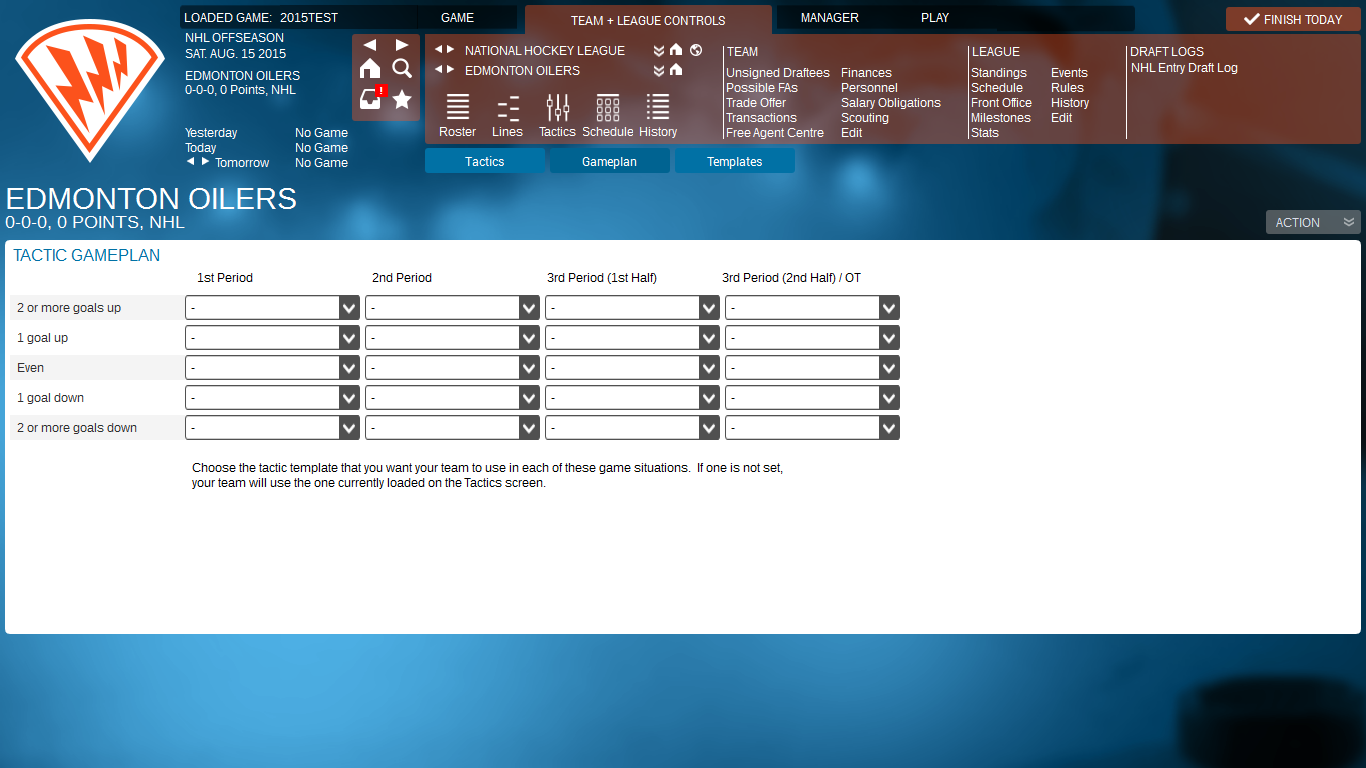 Tactics will also have a significant effect on overall and individual results, so setting ones that complement your players could be what it takes to get your team to the next level. Or setting tactics and zone assignments that are counterproductive could very well be what leads your team to underachieve and costs you your job!
Franchise Hockey Manager 2 will feature unparalleled depth and realism and will put you as close as you could ever get to being a professional hockey coach or general manager, without ever leaving your living room.