Sean Lahman's name is well-known to many long-time players of Out of the Park Baseball, thanks to his popular database of historical player statistics that the game uses, as well as the exposure he gave OOTP during its early years. We wanted to learn more about how the database came about, and how he got involved with OOTP and sims in general, so we dropped him a line.
"I started with a table top game called Statis-Pro Baseball, which was put out by the Avalon Hill game company," he recalls. "My parents gave it to me as a Christmas present in 1981, when I was 13. I played a lot of solo games, and joined some play-by-mail leagues as well. In high school, there were groups of us who played Strat-o-matic baseball (and football), and I was infatuated with these type of simulations. I bought just about every one that I could find, and with a friend even made some of our own."
He adds: "I was a fan of the earliest computer games, particularly Earl Weaver Baseball, and the scores of other games that came out in the 1980s and 1990s. Odds are that if I heard of it, I probably played it. Console games tended to rely less on statistical simulation and more on hand-eye coordination, so my interest in those never really took off."
The desire to tinker with home-brewed baseball sims is what led to the creation of his database. "It started because I was a gamer, and I needed data to create my own player cards," he says. "I started by creating a spreadsheet with player statistics from one season, typing them in from my dog-eared copy of the baseball encyclopedia. I did not set out to create a digital version of the encyclopedia, but that's what happened."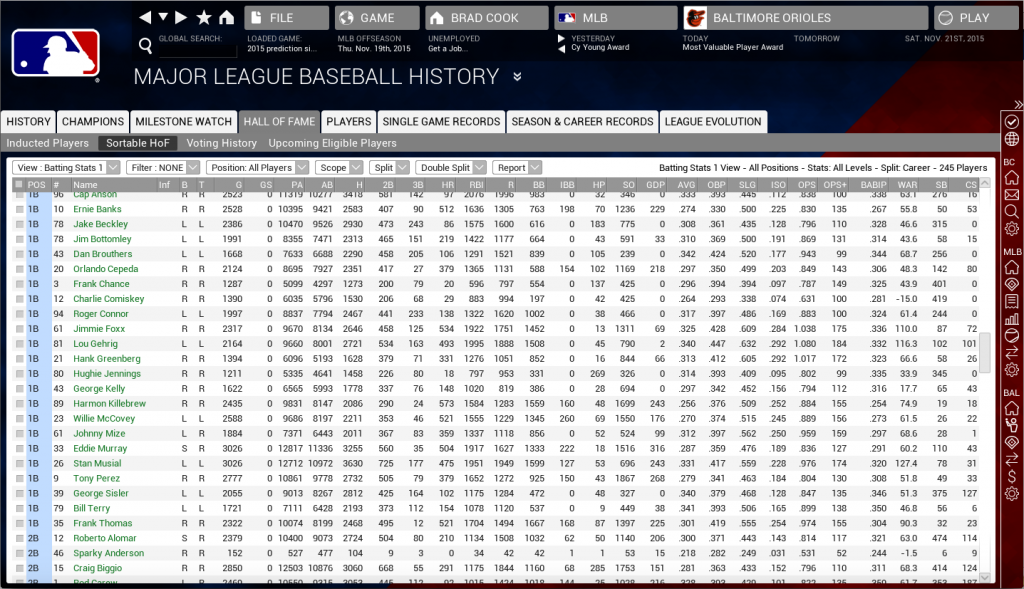 Building Complete Historical Stats
The further back one goes in baseball's history, the less complete the record-keeping was, but that didn't deter Lahman as he dove into his project. "I spent a lot of time at the Research Library at the Hall of Fame in Cooperstown, and more time than I'd care to admit looking at newspaper accounts on microfilm at various public libraries," he says. "Some of that stuff is available on the Internet now, but there's a lot of valuable information in file cabinets and desk drawers across the country.
"However, my efforts have been meager compared to the giants of baseball research, primarily the work of Pete Palmer. He's the one who meticulously built the data that appears in most of the printed encyclopedias published in the last forty years, from Total Baseball to the ESPN encyclopedias to Baseball-Reference.com. All of us build on his lifetime of work. And the researchers with the Society for American Baseball Research (SABR) have done great work to fill in the gaps in the record, documenting things like Hall of Fame ballot totals and so forth."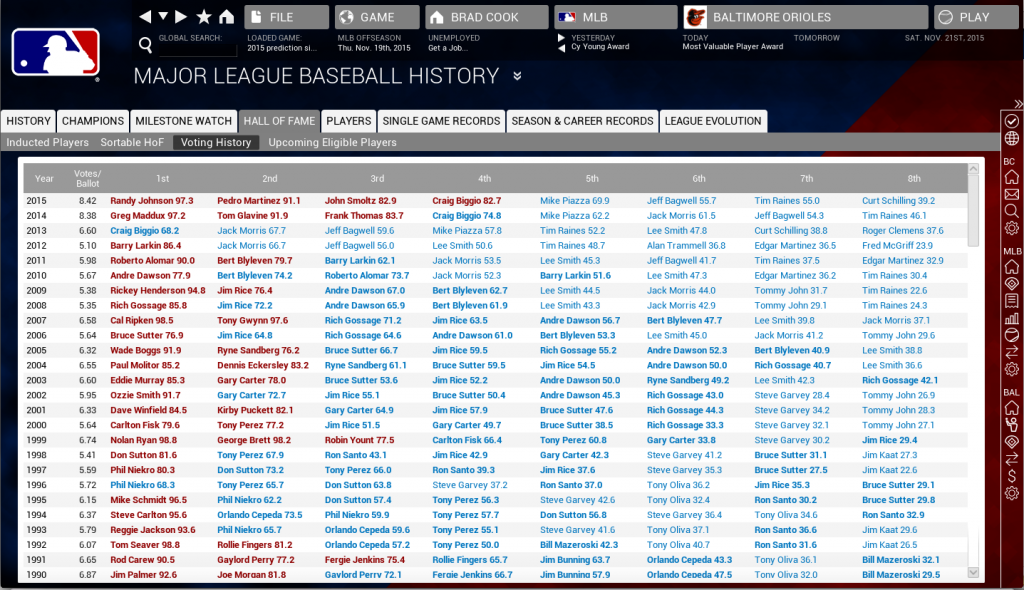 Today, he's the database specialist for the Rochester Democrat and Chronicle newspaper, but he continues to work on baseball statistics in his spare time. "Much of my work these days is focused on reconstructing minor league statistics, which have never really been compiled into a single source," he says. "Working with some expert researchers from SABR, we've digitized almost all of the minor league stats back to the mid-1950s, and we're continuing to work our way back in time — this data is added to baseball-reference in batches a few times a year."
He adds: "I've also devoted a lot of my energies to curating an archive of reference sources, like the early Spalding guides, that are the best record of 19th century baseball as it was played."
Enter OOTP
Asked how the relationship between him and OOTP came about, Lahman replies: "I got an email from a kid in Germany named Markus one day in 1998. He said he was working on a baseball game and asked if I would take a look at it. I said sure, expecting to see something very rudimentary. But when he sent me a demo of the game, I was blown away within about 15 seconds. It had some glitches at that point, but the concept was fully realized, and the simulation engine was really robust. And he clearly understood the most important piece, which so many of the other sims at the time were missing: the ability to have a game that you could play pitch-by-pitch, or zoom out and do seasons at a time."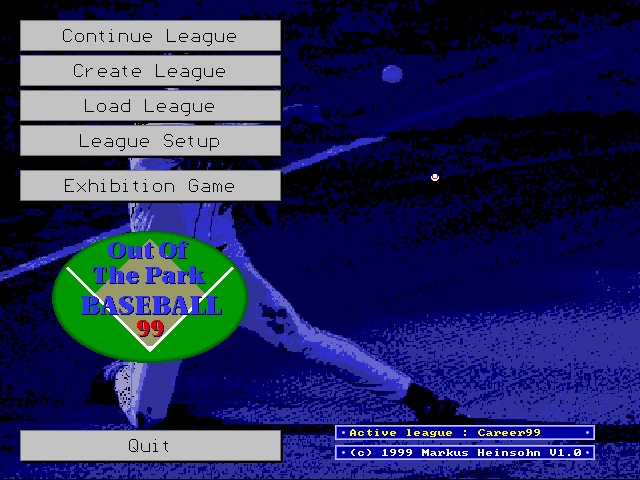 Lahman continues: "My baseball website was pretty popular — this was before MLB or ESPN were online — and I offered to help him with marketing. I also had the capability to produce CDs, which was not a trivial task at the time. And of course, the idea of downloading a game was impossible. It was a hit from day one."
He notes that he "never really stopped" playing OOTP since trying out that initial demo. "I have it on my phone now, which is great," he says, but he continues to play the computer game too, mostly to recreate interesting historical scenarios. He explains: "For example, what would a team that had a bunch of great base stealers look like, a mid-1980s lineup with Rickey Henderson, Tim Raines, and Vince Coleman? Or how would things play out if the Big Red Machine didn't dump all of their aging stars?"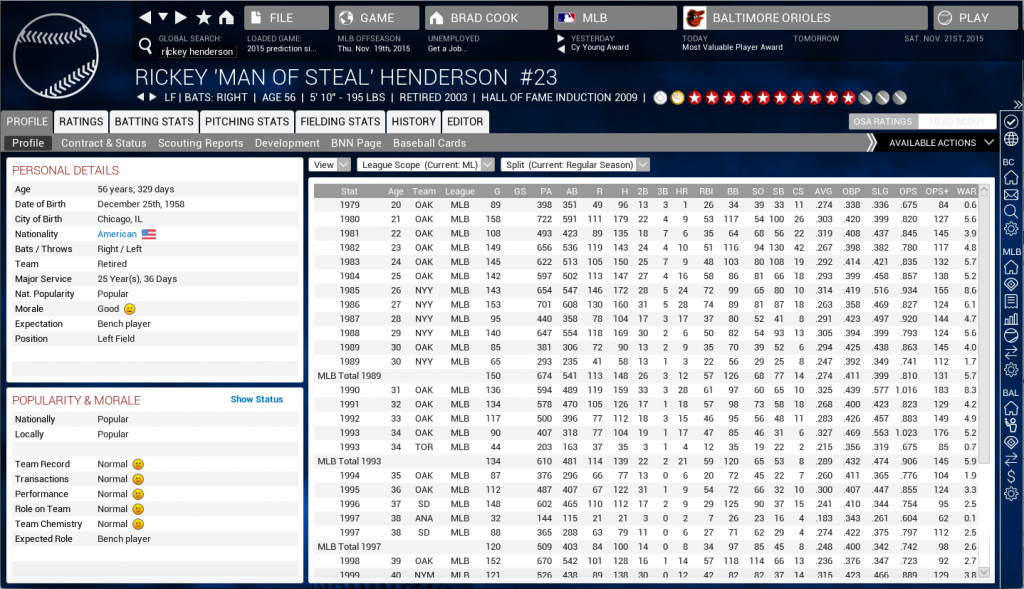 He adds: "I think OOTP does a great job of simulating history, because it lets you take these alternate timelines in plausible directions."
When it comes to his personal baseball history, Lahman says: "I'm a lifelong Reds fan. My highlight as a fan was being in the ballpark (but leaving early) the night Tom Browning threw his perfect game."