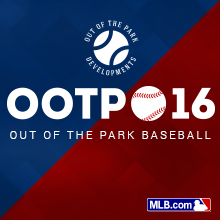 Our pre-order newsletter announced that three fans would score their choice of a $500 MLB.com gift certificate or Amazon.com gift card, and we're thrilled to announce the lucky winners: Ryan Carlson, Gary Gross, and Kyle Phelps. All three agreed to answer some questions about their love of OOTP and baseball; the Q&As are below.
The contest may be over, but you can still pre-order OOTP 16 for PC/Mac or Linux and get it 3 days before its worldwide release in March. You'll also get a free Steam key.
Ryan Carlson
Q: When did you first discover OOTP and why did you start playing it?
I have been a fan of OOTP baseball since its inception. I am sure a lot of people say that, but I have the media to prove it. 🙂
Q: Why do you continue to play OOTP?
I play the game year-round, sometimes as an off-season baseball fix. I always have a game running that I have micro-managed since launch. Sometimes I boot it up to project lifetime stats for a new up-and-comer. Other times I play it just to see if I can make a deal work or acquire a specific player or replicate a real life transaction and see how OOTP handles it. Not even kidding, I launched the game just last evening to play through a couple seasons as the Cubs, just to pacify myself for OOTP 16.
Q: Any anecdotes from playing the game?
OOTP 15 with the Chicago Cubs, my favorite team. I work the season flipping prospects for proven young talent. I replicate the draft of Kris Bryant through Hankins. Make the move for Price to top the rotation and sign Weiters and Lester in the off-season. Go on to win the 2015 World Series. BOOM!
Q: What are you looking forward to most in OOTP 16?
The MLB licensing is undeniably exciting for OOTP 16. It's well-deserved. OOTP has the been the product that best represents MLB for years and is finally getting the proper alignment, in my opinion. Along with the licensing, I am excited about the team goals. The idea of working in an environment that is increasingly "micro-managed" will bring a more realistic feel to GMing in the game, which I could not be more excited about. That, coupled with the advanced finances and reporting, will really add to the GM aspect of the game that I love. For me, there is nothing more appealing than advanced available information that is impacted by the game and in turn impacts the game itself.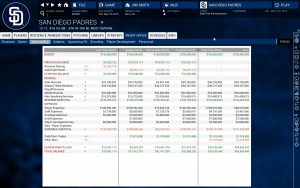 Q: Which baseball team is your favorite and how long have you been rooting for them?
I have been rooting for the Cubs for as long as I can remember. I have fond memories of rushing off the bus after school to catch the last few innings of a day game and see my favorite player of all time, Ryne Sandberg, get an at-bat or two. Playing wiffle-ball in the backyard and mimicking all the players' stances and pitchers' deliveries. Mark Grace's extended stance and flat bat. Dawson's tall, intimidating plate prowess. Sandberg's fundamentally sound approach. Man … anyone else wanna head out back and play some wiffle-ball? Ghost-runner on second!
Gary Gross
Q: When did you first discover OOTP and why did you start playing it?
Last November, I received an email offering me the opportunity to purchase OOTP at an introductory price. I had been a 15-year player of Baseball Mogul and I thought that it was the best baseball game going, but after reading about OOTP in the email and the attractive price, I thought I would try it. Was I ever surprised. The level of detail and sophistication of OOTP has just astounded me and OOTP is now my benchmark for the best baseball game.
Q: Any anecdotes from playing the game?
I have never been a fan of baseball computer games where you play the actual ballgame. Being the General Manager has always been my thing. Over the fifteen years using Baseball Mogul (a fine game with less detail than OOTP), I was the GM of the St. Louis Cardinals from 1901 to 2041, during which time I won over 51 world Series, playing at the most difficult level of the game. One of the best things about the game involved my Dad, who was a Cardinals farm hand in 1934 before receiving his release because of a torn knee ligament late in his first minor league season. I cloned a really good player, renamed him Harold Gross, and inserted him into the game. My "Dad" went on to play over 25 years and made the Hall of Fame. Before my Dad died in 2008 at age 93, I showed him "his" statistics and achievements in the computer baseball game. He smiled and said, "If only it had been true." It was not a statement of regret so much as a statement that he gave it his best try.
I started playing OOTP in November, 2014, again with the 1901 St. Louis Cardinals, made a couple of trades, and won the 1901 World Series. I have just started the 1903 season and look forward to fighting the Pittsburgh Pirates again for the National League pennant. I think my biggest challenge in the game is to negotiate trades with AI General Managers who are less than thrilled about trading good players.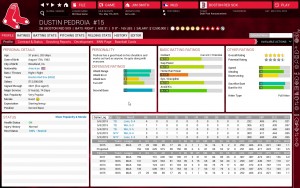 Q: Why do you continue to play OOTP?
I plan on continuing with OOTP because it is a challenge to succeed, it's fun to play, and it offers the greatest representation of what it takes to be an actual big league general manager. It is much more difficult than Baseball Mogul, both in detail and in the competitive mode. I hope I am able to play through 2041 again and I plan to drop my Dad into the game during the year he would have turned eighteen. Right now, I am still learning about the game and have been greatly assisted by the terrific help section. After reading over the important information on setting up the program, I was up and playing in no time. It is a great game, a great challenge, and most importantly, fun to play.
Q: What are you looking forward to most in OOTP 16?
I understand that OOTP 16 will now have the official logos and uniforms of the MLB teams, which will certainly enhance the game. In reading over the list of improvements in the game, I look forward especially to the improved Team Finances and reporting, redesigned Manager and Coaches System, the Pennant Chase screen, and the new Team Owner Goals. Computer games such as OOTP can never be static games, and continual improvements to enhance the user experience and a more realistic environment are two examples of a company that never rests on its laurels. This seems to be the trademark of OOTP.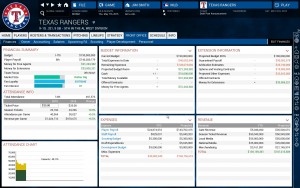 Q: Which baseball team is your favorite and how long have you been rooting for them?
I have been a lifelong (73 years and counting) fan of baseball and the St. Louis Cardinals. I remember going to my first game at about age 7 or 8 at Sportsman's Park (Busch Stadium #1) with my Dad. We were able then to see not only the Cardinals, but the St. Louis Browns. I do remember seeing Satchel Paige and of course my all-time favorite Cardinal player is Stan Musial.
Kyle Phelps
Q: When did you first discover OOTP and why did you start playing it?
I discovered OOTP by just searching the Internet. I used to simulate MVP Baseball all the time and was wanting something updated. I found myself always simulating and building teams instead of playing out the games. As a kid, I collected baseball cards my whole childhood. I would always invent games comparing stats and keep track of standings. When I found OOTP, I was immediately addicted. I think my first version was OOTP 13, but I had played a few demos before.
Q: Why do you continue to play OOTP?
The game is addicting! There are so many scenarios to play out. I love the ability to customize. I mainly play the current MLB set up, but historical is fun too. I like how much Markus allows us to make the game our way: Customizing favorite logos, jerseys, etc. I wish all video games were made this way. What really impresses is me is how much Markus listens to us fans for suggestions on how to improve the game.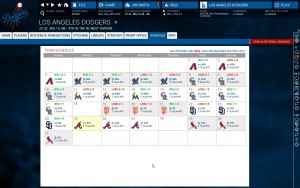 I also have gotten my good friend Chris into the game. We constantly are discussing the building of teams and our successes, and most often failures. He loves baseball as much as I do and we can both talk stats for days upon days. He and I used to play MVP baseball back all night and record all of our stats in notebooks. OOTP does that for us, which makes the experience so much better!
Q: Any anecdotes from playing the game?
Geez! It seems that I always have terrible luck with the game. I start out strong and fade, or I'm just a really bad team at the start (my Minnesota Twins). Probably my highlight was running a season with the Pittsburgh Pirates. I lost the division lead late in the season and felt everything slipping away. With the season all but over, Andrew McCutchen hit a home run in extra innings to win the game. That was our springboard to the playoffs. Unfortunately, I lost in the wild card play-in game and the next season the team had massive injuries and fell to the bottom of the NL Central.
Q: What are you looking forward to most in OOTP 16?
I am looking forward to the MLB license. I can't wait to see the Pennant Chase screen, the All-Star voting, the new awards system, and the toolbar display of how epic or pathetic a player it is. Honestly, though, my favorite thing that I'm looking forward to is getting the Twins back into the playoffs and the World Series. Being a GM and in baseball has always been a dream, and OOTP lets me live that fantasy out!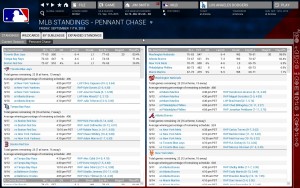 Q: Which baseball team is your favorite and how long have you been rooting for them?
My favorite team is the Minnesota Twins. I have been rooting for them ever since I can remember. My most memorable moment of being a fan was in 1991. I was in 3rd grade and sick on the day of the first playoff game between the Twins and the Blue Jays. I remember my mom letting me stay home from school. I was never allowed to watch TV while sick, but this one time she let me. It made my life! The Twins won the game, later the pennant, and eventually the World Series. I will always remember Kirby Puckett's catch in Game 6 while scaling the wall and his home run to send it to Game 7. I remember my Dad calling that home run before it happened.