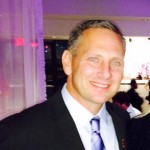 Chris Calciano, an area scout for the Boston Red Sox since 2007, remembers it well: "I took a college catcher with a big arm and absolutely no bat in the back of the top 10 rounds and converted him to a reliever," he says. "After three or four minor league seasons, he made his debut and he pitched to a sub 3.00 ERA for parts of five major league seasons. He peaked as a 7th inning guy for a year or so."
He recalls another story that didn't end so well: "I had a young phenomenal center fielder who flew through the system and was hitting in the three hole as a 21-year-old. He played for three weeks and was leading the team in every key offensive category until he collided with my right fielder … career-ending injury!"
Wondering who those players were and why their stories aren't immediately familiar? That's because Calciano is relating the highs and lows of managing a virtual team in Out of the Park Baseball, which has had him hooked since 2008, despite his day job for an MLB club. Like many OOTP players, he cut his teeth on Micro League Baseball during the 80s and later moved on to Pursue the Pennant before finally diving headfirst into a pair of online OOTP leagues, Pioneers of the Diamond and Major League Baseball Dreams.
"I enjoy playing OOTP," he says. "The online league play is tremendous. It helps during that slow time of year from after the World Series until pitchers and catchers report!"
He adds: "The two online leagues I have been involved with keep things very close to MLB in terms of rules and the way financials are handled. There are ridiculous bidding wars on the international free agents at times. I know I got sucked into a #4 type starter who I believed would put me over the top — Instead, less than two years later, I was packaging prospects with him to unload the contract!"
Representing the Real World in the Digital One
So, how well does OOTP represent the scouting process compared to real life? "I like the basic structure of the tools, grades, and projection in the scouting system," Calciano says. "I do, however, think a way of incorporating multiple evaluators giving reports and grades, as well as a deeper personality structure for prospects, would greatly enhance that aspect of the game. Make-up is critical in the process as far as a young player potentially reaching or even exceeding his ceiling. Increasing its role would enhance the true feel."
Given the increasing focus on sabermetrics in recent years, we were also curious how Calciano feels about that trend. He explains: "When you look at the complete picture of the prospect, performance certainly needs to have its place. Data needs to be understood, but at the same time we can't walk away from interesting prospects with tools, athleticism, and projection that may not have all clicked yet."
He adds: "The stats compiled for high school and college players is a very small sample size and the competition many amateurs face is fairly weak. These are some of the reasons scouting departments trust their scouts' guts, instincts, and evaluations when it comes time to make difficult decisions on player selection. More than anything, I think statistics help us ask questions that bring a focus to a particular area of a player's skillset."
Growing Up With the Sport
"I've been passionate about baseball since I was very young," Calciano says. "I was fortunate to grow up in a great sports town at a time when all of the major sports teams were at or near the top of the league. Having a chance to see guys like Schmidt, Carlton, and Rose play so much was a true treat."
He adds: "But I always appreciated the history of the game as well: Ted Williams, Lou Gehrig, Roberto Clemente, and Willie Mays were players I loved to read up on. The Philadelphia Phillies will always have a place in my heart as the team my entire family has had roller coaster rides with for decades, but my favorite team is the Boston Red Sox."
Calciano played baseball too from a young age and made it as far as a utility infielder in an independent minor league, but when he had the chance to take a grad assistantship, he was happy to leave his playing days behind. That opportunity led to a Division I assistant coaching position, and he spent 12 years, five as an assistant and seven as a head coach, at the college level.
Along the way, he made connections with various people throughout the game, and eventually he decided to transition to scouting. He recalls: "When I walked into Fenway Park for the first time during the interview process and met the people running baseball operations, I knew instantly that was where I wanted to be."