In part 1 of this series, we talked about the process involved with setting up an expansion team. Now let's look at how our expansion teams make out now that they have been drafted (spoiler alert: it's not pretty!)
I had taken the helm of the Las Vegas Aces and shortly after the expansion draft, this is how the team was shaping up:
Part of my strategy in taking on the Aces, however, was to keep salary somewhat low and then be an active player in free agency to try to shore up the lineup. It's why I passed on drafting David Clarkson and his troublesome contract – although the Quebec Nordiques had no problem quickly snapping him up. At any rate, some quick moves were in order: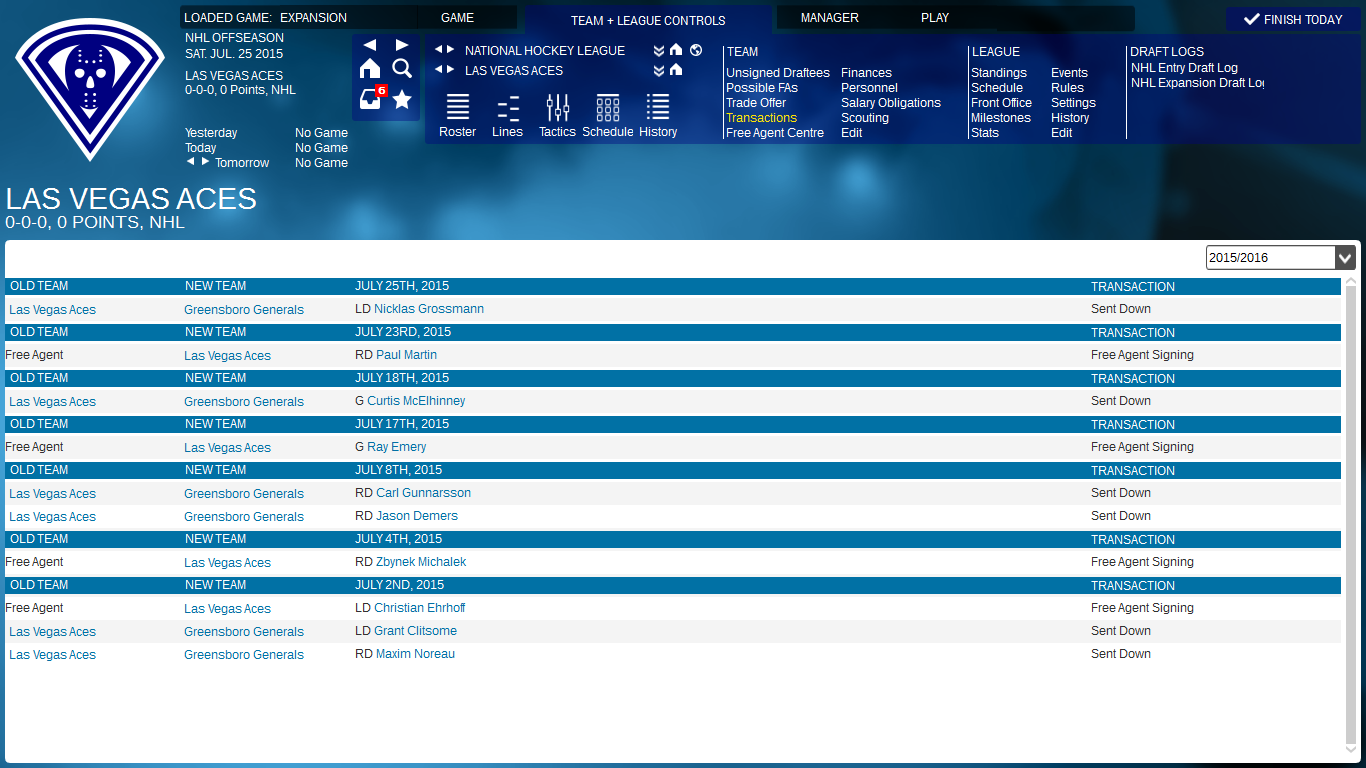 Much to my chagrin, I wasn't able to bolster the team quite the way I had hoped. Free agency proved to be more of a challenge than anticipated. I attempted to lure in some young, talented restricted free agents, but their original teams kept them in the fold by matching my offers.
I also offered some contracts to some unrestricted free agents, but had some of them spurned me for other teams (maybe the desert heat and gambling of Vegas isn't for them?). In Franchise Hockey Manager 2, to simulate the quick free agent action once free agency begins, you'll often see a slew of signings in the first days once the 'frenzy' opens … And the Las Vegas Aces came out on the wrong end of a few of these transactions, with some free agents even preferring my initial offer, but then coming back a day or two later to say they had been wooed by another club. Before I knew it or had time to react, they were suited up with my rivals, including the new Quebec franchise signing a couple of my targets right from under my nose!
I had planned to simply turn over control of the Las Vegas team to AI to simulate the season and I decided to do it within free agency too. In those few days I saw that where I thought I was aggressive in free agency, the AI controlling the Las Vegas franchise was even more so, going after several more new additions to bolster the Aces and the team's AHL squad (as each expansion NHL team also gets an AHL and ECHL affiliate):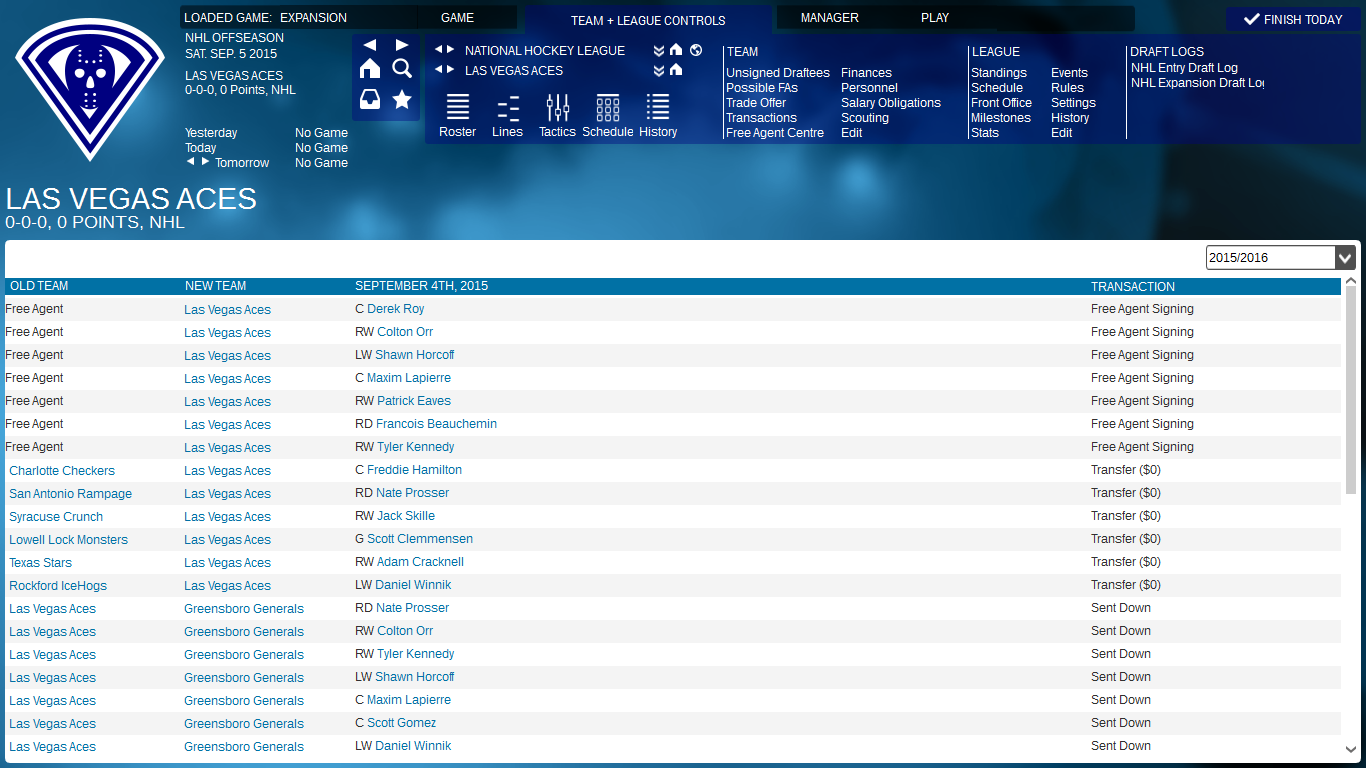 The rival Quebec Nordiques were also quite busy in free agency, signing a number of players. This is what their team looked like after their expansion draft and free agency spending: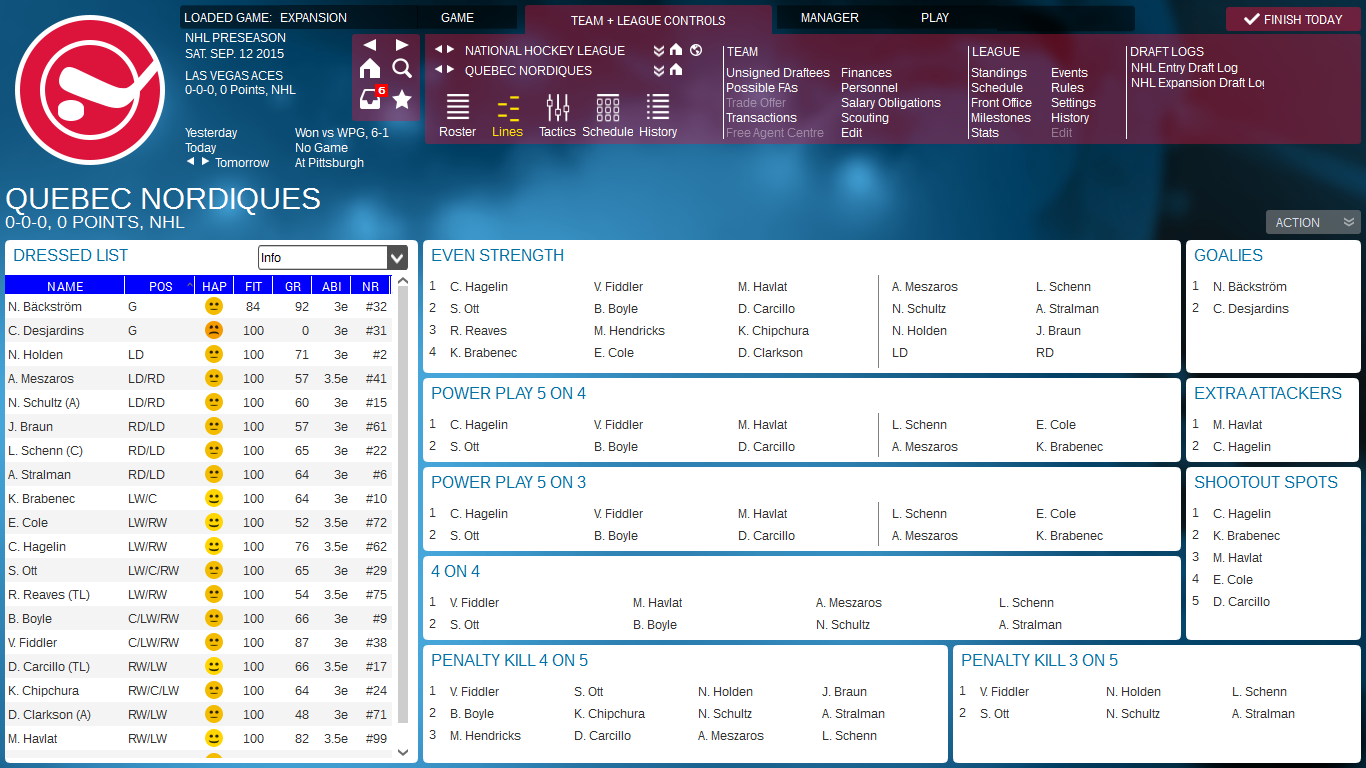 So let's play! Obviously no one is going to mistake either Las Vegas or Quebec for Stanley Cup contenders, but could either squad squeak into the playoffs? Play the role of spoiler or Cinderella story? Or play to respectability?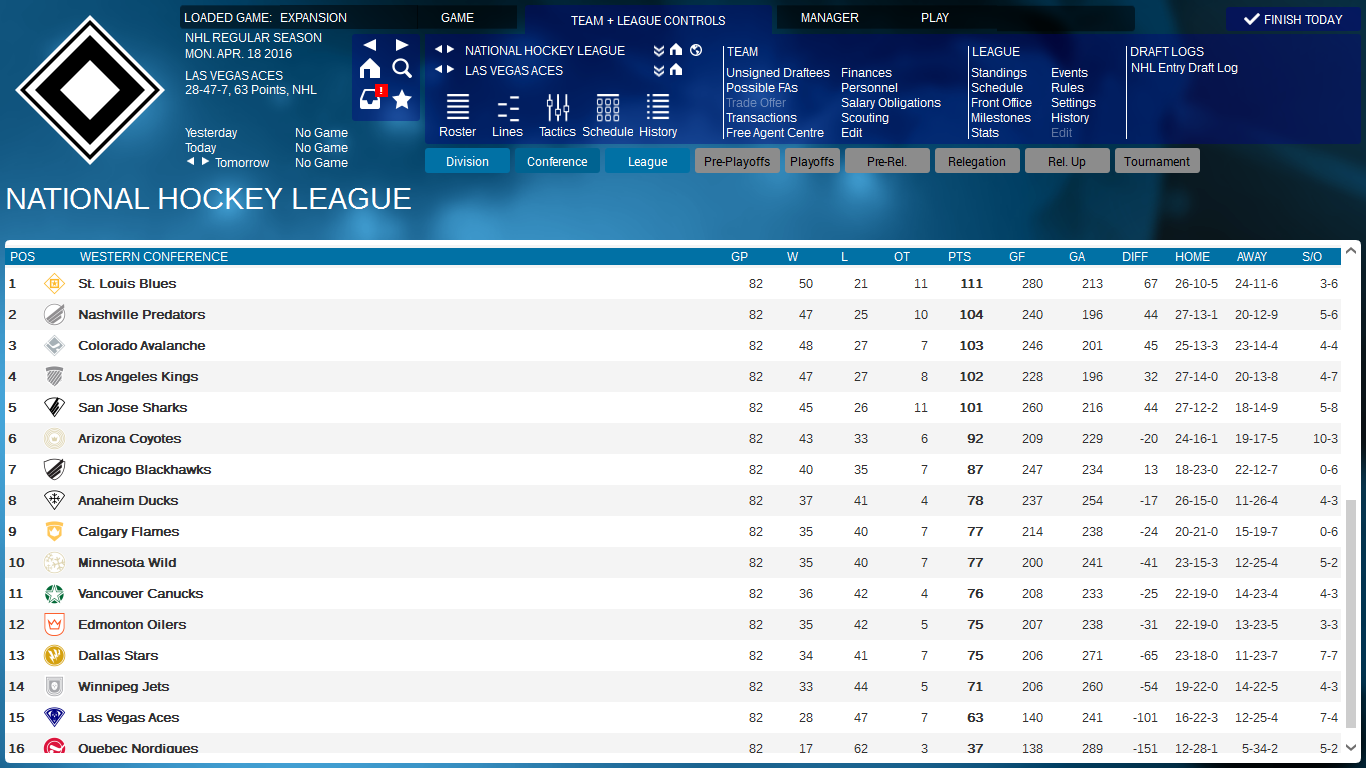 Not so good for either squad. It was evident that both teams have great difficulty putting the puck into the net. Here are the stats leaders for Las Vegas and Quebec: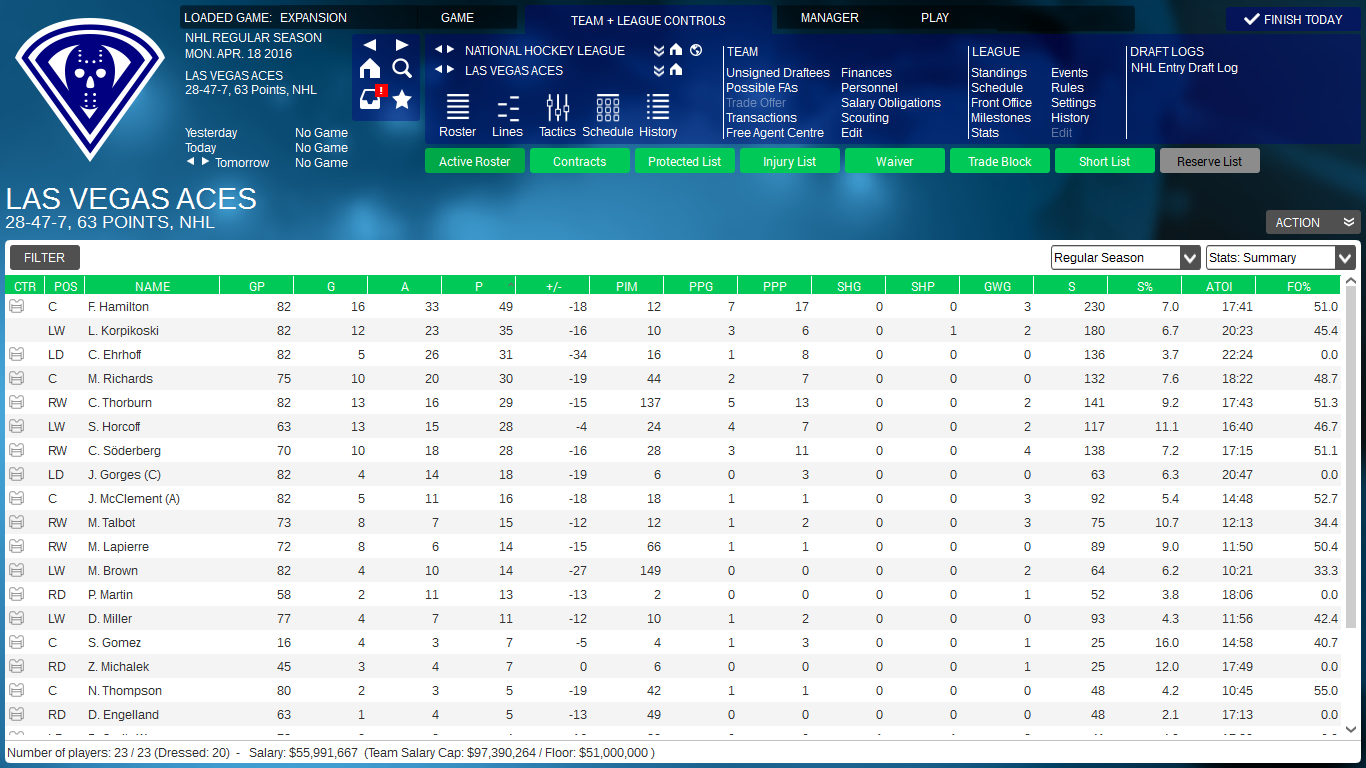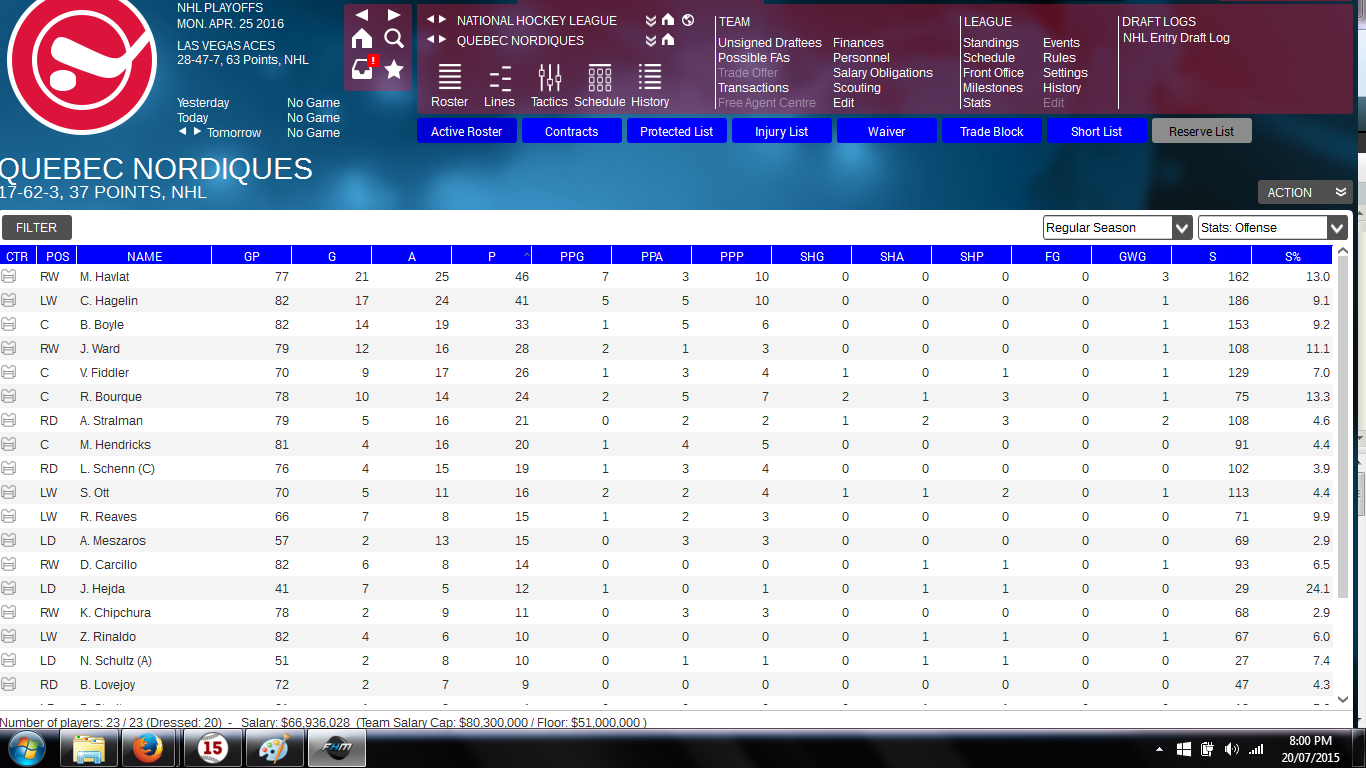 As you can see, it will take a cunning general manager – as well as some patience – to lead an expansion team to success year-in and year-out.
But it will no doubt be an enjoyable challenge for all Franchise Hockey Manager 2 users.  Do you have what it takes to go from expansion team to Stanley Cup champion?
Stay tuned for more details on the new game, coming soon in future blogs.