World War II was a massive conflict that disrupted millions of lives around the world. In the United States, hundreds of players in Major League Baseball and Minor League Baseball served their country in the armed forces, along with many umpires, managers, and others who earned their living through the sport.
As a result, the course of baseball history was forever altered, as future Hall of Famers saw their career totals diminished and other players missed the opportunity to prove their worth on the playing field. (How many who were killed or gravely wounded could have become Hall of Famers too? We'll never know.)
In the case of those career Hall of Famers, Ted Williams' name often comes to mind, but we thought we'd take a look at another who served too: Cleveland Indians starter Bob Feller.
"Rapid Robert," as he was known, was coming off a string of three amazing 20-plus-win seasons when he decided to serve his country in 1942. He topped the American League with 24 wins in 1939 and had led all of baseball with 27 and 25 victories in 1940 and 1941, respectively. For the purposes of this sim, though, we needed to replay the 1941 season and continue from there, since an historical league started in 1942 would not include Feller on Cleveland's roster.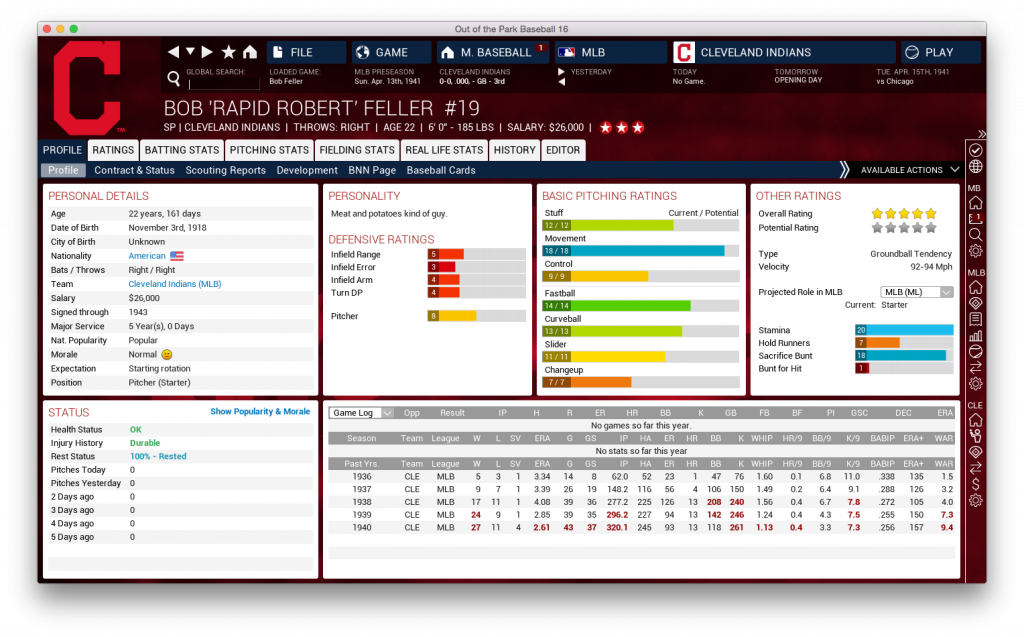 As it turned out, virtual Feller was a bit better in 1941 than his real life counterpart: He went 24-9, with a 2.54 ERA in 301 innings pitched, versus real Feller's 25-13 record, with a 3.15 ERA in an MLB-leading 343 innings. His virtual team even did a bit better than in real life: They were 78-76, compared to 75-79.
The full simmed season was eerily similar to the real world too: The New York Yankees prevailed over the Brooklyn Dodgers in six games in the World Series (these were pre-League Championship Series seasons), compared to a five-game victory over Brooklyn in real life.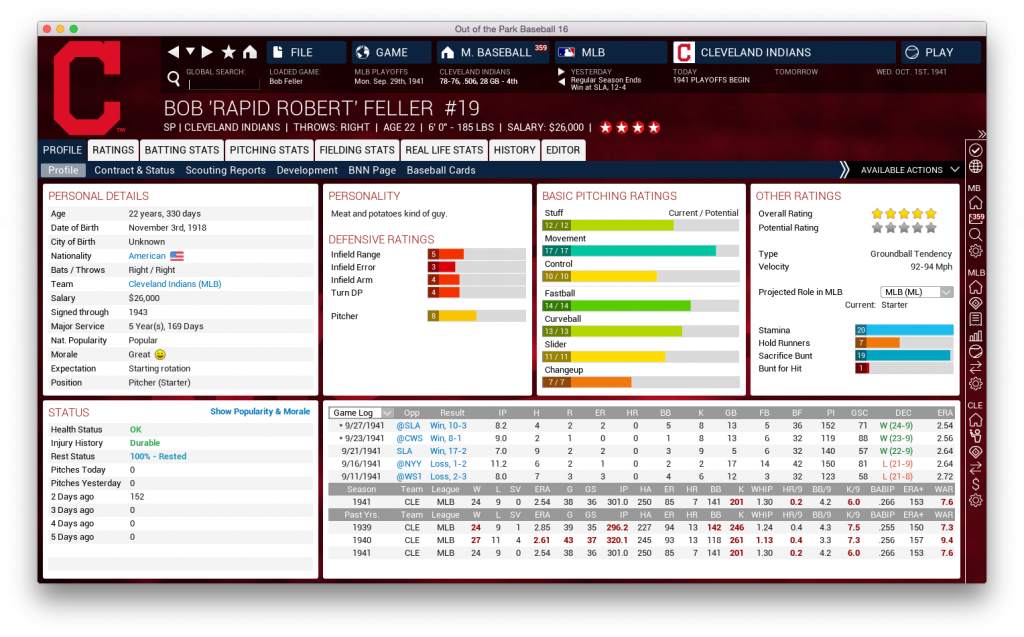 As December 1941 rolled around, something miraculous happened: Germany, Japan, and Italy ceased all hostilities, citing a misunderstanding for their previous aggressions (something about a misplaced comma in a memo), and the world celebrated peace that holiday season. Major League Baseball breathed a sigh of relief and headed into 1942 knowing their players' careers would remain intact and the biggest names on the diamond would continue to draw fans to the ballparks.
1942: Another All-Star Season
The 1942 season saw Feller compile a 22-12 record, with a 2.73 ERA. He tossed 293 1/3 innings and led the league with 219 strikeouts (and a 6.7 K/9 average) and 158 walks. The number of free passes he had allowed increased a bit from the year before, and his home runs allowed leaped too, from seven in 1941 to 18 that year.
Feller was an All-Star in 1942 and he tossed five shutouts that season, with four of his outings resulting in just two hits allowed. While he finished second in American League Cy Young voting in 1941, 1942 saw him unable to crack the top three. His team finished 80-74, 31 games out of first place but better than the 75-79 mark they posted in real life that year.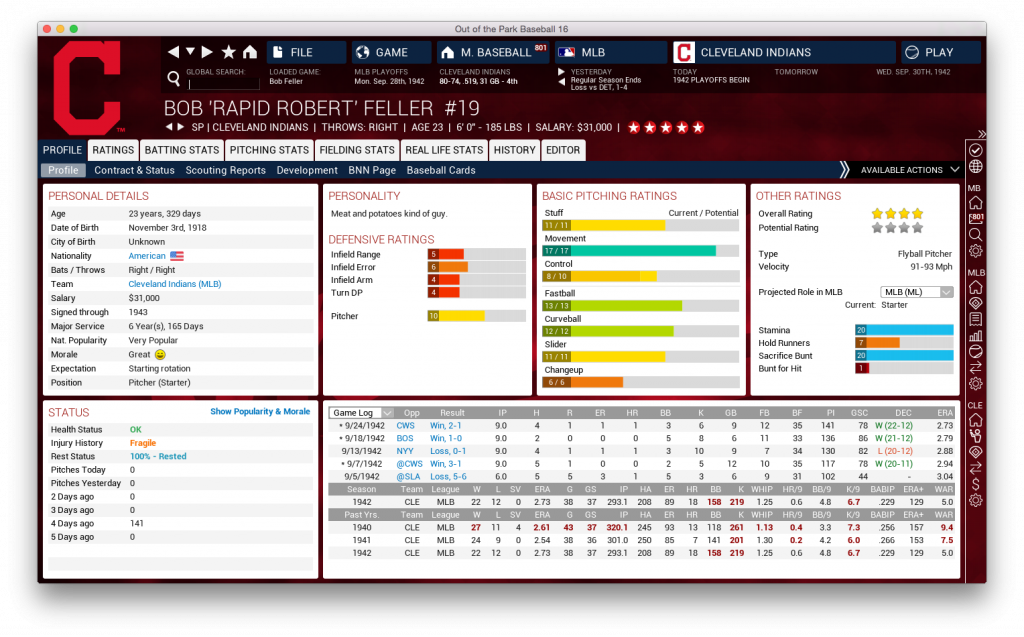 In the real baseball season that year, the St. Louis Cardinals defeated the New York Yankees in five games in the World Series, but our virtual world saw the tables turned and the Bronx Bombers prevailed over the Red Birds in six for their second straight championship.
1943: Still a Workhorse
Cleveland's virtual doldrums continued the following year and they ended the season 78-76, 27 games out of first place. That was worse than their real life 82-71 mark, when they didn't have Feller's services. The real world saw another New York-St. Louis World Series won by New York, four games to one, but OOTP reversed that result and St. Louis prevailed over New York in six games.
"Rapid Robert" Feller was 19-14 with a 3.13 ERA that year. He led the league in starts (39), innings pitched (381 2/3), strikeouts (207), and BABIP (.236), and he was again an All-Star. He tossed a pair of shutouts and four three-hitters. While he didn't appear in the top three for voting of any major awards, he did win the Great Glove Award at his position.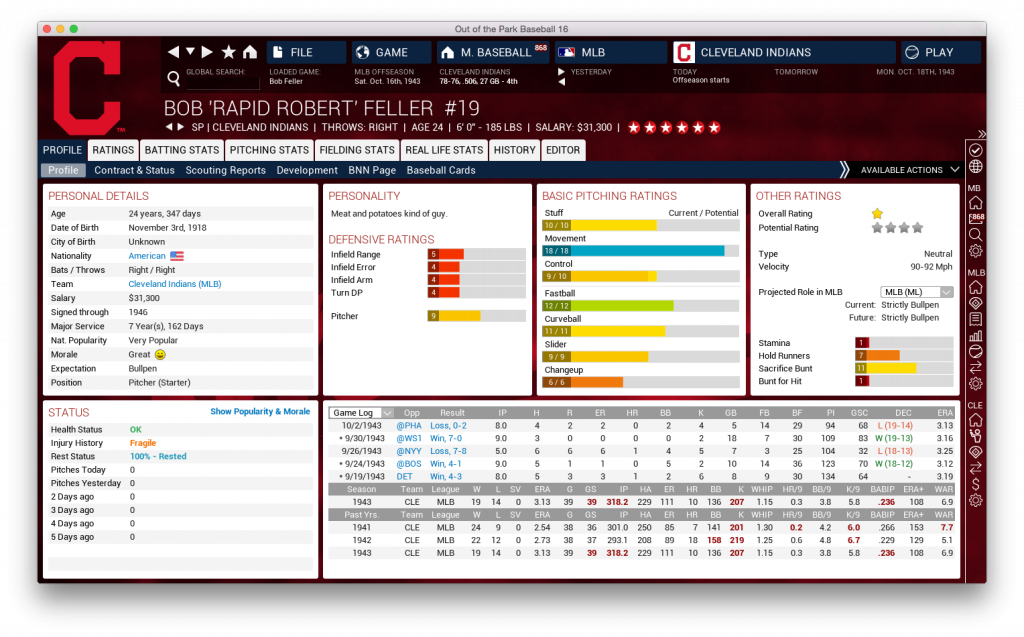 1944: A Lost Year
Unfortunately, Feller was diagnosed with a torn back muscle on May 31, 1944, putting him on the disabled list for six months and ending his season. He was 2-5 with a 1.90 ERA at that point, but he ended up being selected for the American League All-Star Team anyway that year. With their star pitcher gone, Cleveland limped to a 60-94 record.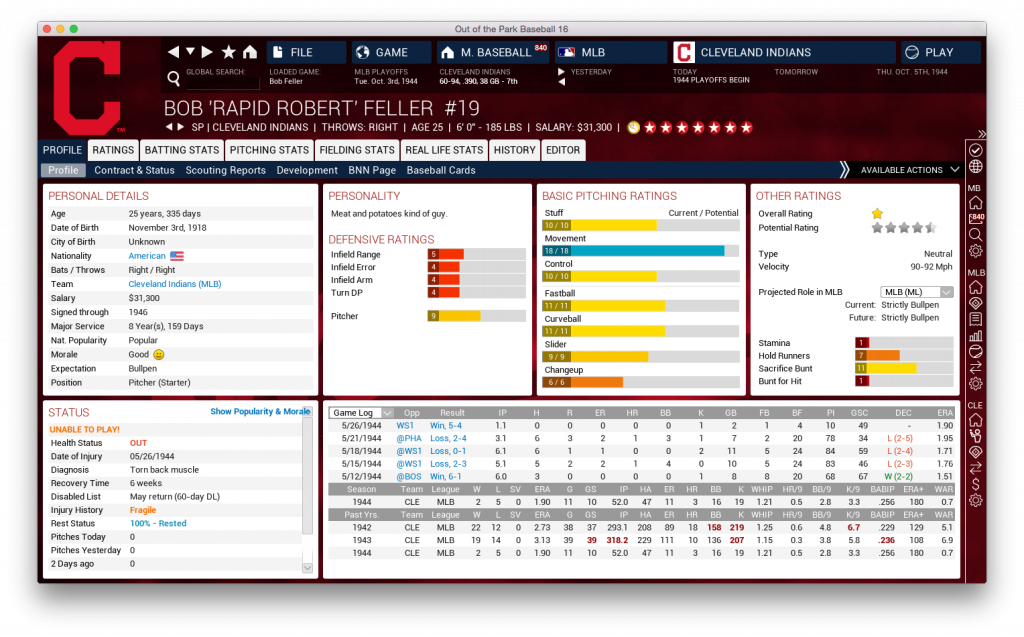 OOTP again had the same teams in the World Series as in real life, where the St. Louis Cardinals prevailed over their crosstown rivals, the St. Louis Browns, in six games. The virtual World Series produced the same winner, although it only lasted five games.
Filling in Feller's Career
Despite the season-ending injury early in his 1944 campaign, Feller notched an extra 43 wins and 31 losses during those three years, putting his career record at 309-193. He was a first ballot Hall of Famer in real life, so the extra stats would have simply been additional icing on his already delicious cake.
Here's how his career stats would have stood with those three simmed seasons included: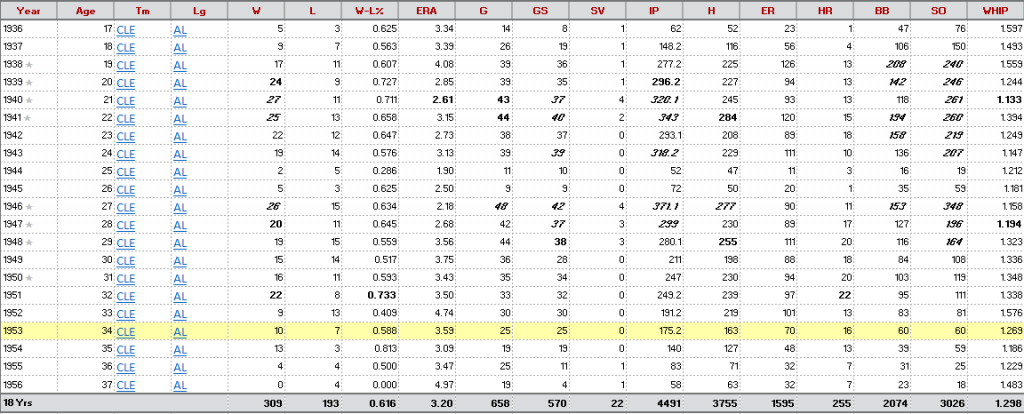 But … What If?
We couldn't resist seeing how the rest of virtual Bob Feller's career turned out, so we simmed it in OOTP. We had forced the AI to use him as a starter in his player strategy settings, so we disabled that option and let 'er rip. (We should note that in real life, Feller didn't resume pitching until August 24, 1945, so in this sim, he also had the benefit of a full season that year.)
Virtual Feller spent the rest of his career in Cleveland, retiring at the age of 37, after a disastrous 1956 season that saw him post a 2-13 record, with a 6.68 ERA in 19 starts (he also made six relief appearances). He cracked the 20-win mark twice during the rest of his career, and he only made the All-Star team one more time after 1944, in 1948. He also finished second in the AL Cy Young voting in 1945, which was as close as he ever got to winning a major award.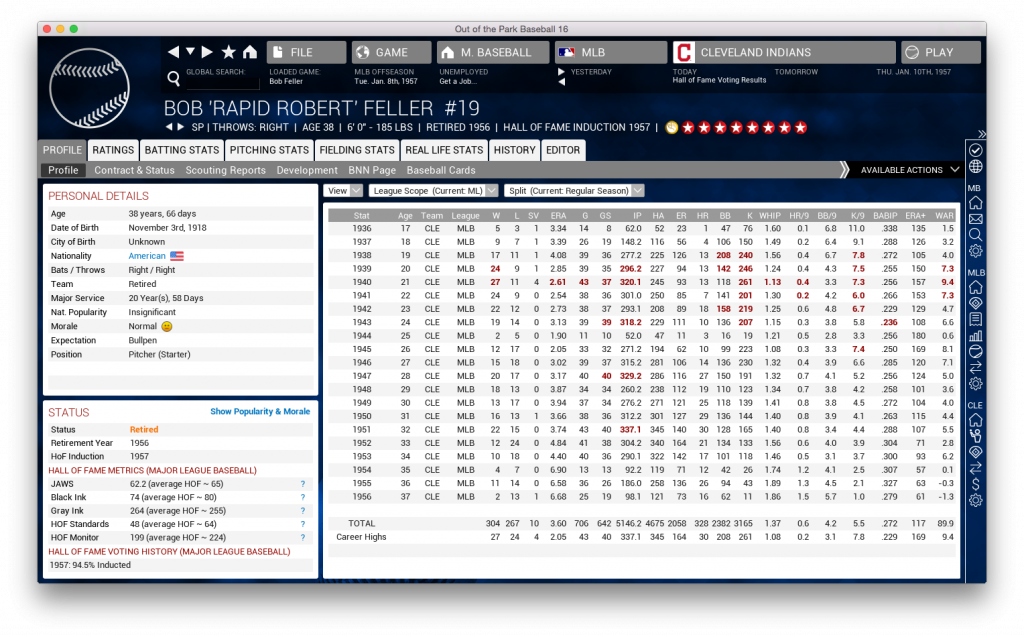 However, he proved that if a player sticks around long enough and puts up solid, if unspectacular, numbers during his career, the Hall will beckon. In Feller's case, he was inducted in 1957, the year after he retired. (We turned off the five-year waiting period.) Voters were obviously swayed by his 304-267 record, with a 3.60 ERA and 3,165 strikeouts in 5,146 2/3 career innings.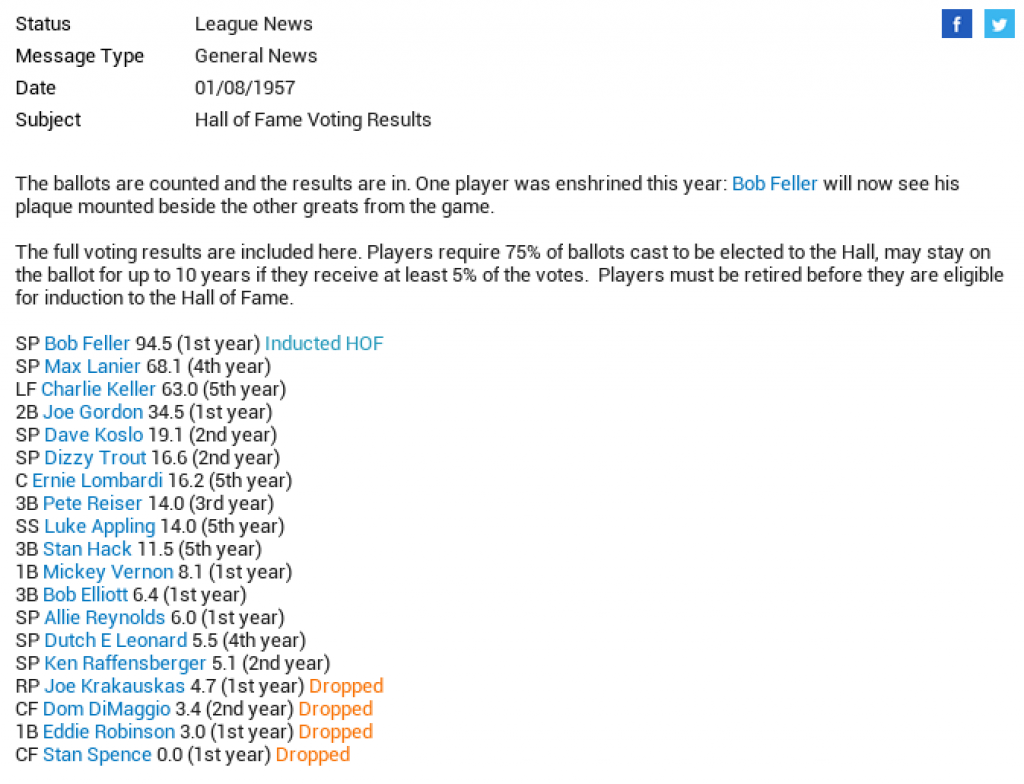 As for the rest of our simulated baseball world:
In real life, the Cleveland Indians won the World Series in 1948 and lost it in 1954, but the simulated club never came close to that stage. The one year they finished in second place, they were a dozen games out of first.
The St. Louis Cardinals won the World Series again in 1945 and 1946, giving way to the Brooklyn Dodgers, who were champs in 1947, before winning another two World Series in three years. From 1951 through 1956, however, the Brooklyn Dodgers were in the World Series every year, winning it all three more times.
In the American League, the Boston Red Sox and New York Yankees dominated the pennants, with each team winning the World Series twice between 1949 and 1956. The Philadelphia Athletics were the only other AL club to win a pennant, but they lost the 1950 World Series.
The major season and career records remained intact, although our buddy Rapid Robert managed to set two ignominious career records: Most home runs allowed (328) and most walks issued (2,382). His real life numbers in those categories were 224 and 1,764, respectively – It's hard to imagine he would have come close to those simulated numbers had he been able to pitch for the nearly four full seasons that he lost (he missed most of 1945 too).