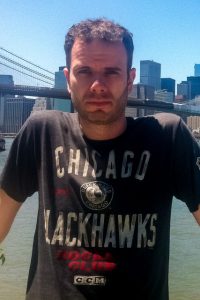 The Out of the Park Developments games roster expanded in 2011 with the release of iOOTP Baseball, now known as MLB Manager for iOS and Android. Developer Sebastian Palkowski was responsible for that game, and he used that experience as the foundation for a more ambitious project, Franchise Hockey Manager, which simulates not just the NHL® but also more than 20 other leagues around the world.
FHM 4 was released this past fall, and Palkowski took some time out of his busy post-release schedule, which has seen him release multiple updates to the game, and talk to us about his background and his thoughts on the game franchise.
Joining the OOTP Developments lineup
Like OOTP creator Markus Heinsohn, Palkowski was born and raised in Germany. He's a baseball fan too, but he got into hockey when he became a fan of the now-defunct Hamburg Freezers, who used to play in Deutsche Eishockey Liga (German Ice Hockey League), or DEL. He and fellow FHM developer Malte Schwartz were fans of the team and had previously tried their hands at a baseball management game, only to set it aside in favor of a hockey game.
He recalled: "After about two years, we had enough to show it to OOTP Developments co-founders Markus Heinsohn and Andreas Raht, who decided to add it to their game lineup. It was not easy in the beginning and we learned some valuable lessons along the way, including the most important one: it's impossible to write a game from the ground up in one year and expect it to match a game that is already on version 15. During the last two years, we've settled in and gotten into a nice groove."
Asked about his favorite new feature in FHM 4, Palkowski replied: "For me, it's 'Storylines.' It's a complex topic and so far we only have the basic system running, but it opens up many possibilities in the future. Over time, we can add much more complex storylines with many different possible outcomes. We can also add much more interaction for the user and make the day-to-day play much deeper and more interesting."
He added: "A close second place is the new schedule generator: the old one was just bad and it was holding us back. One weekend I sat down and wrote the new one and after it worked much better, we decided to use it in FHM 4, even if only in a limited way to start. But for the future it should make it much easier to bring more customization possibilities to FHM in new versions."
Looking ahead to this fall's FHM 5, Palkowski said: "I would love to put a priority on the coaching aspect, getting more depth into tactics, head coaches, and the in-game experience. I also think roster management — including trades, contract negotiations and drafts — will get some work, and I will definitely work on more Storyline features this year too. But as every year, all aspects of the game will see improvements, so no matter what you like best in the game, you should find something new in that area."
Early experiences with programming and sports management games
Palkowski came to programming in a roundabout way, having started and stopped the learning process a couple times. He recalled: "In 2000, I just came back from a work and travel trip to Boston and I discovered OOTP — I think it was version 3 — so I started another attempt to learn coding. This time I did not use any book but instead started to work on a small project — a baseball manager game like OOTP — and whenever I needed to know how to code something, I looked it up and learned it."
He continued: "I was also part of the OOTP Beta test team and had my own German OOTP online league, so I knew Markus a bit. One day he asked me if I would have interest in doing the mobile version of OOTP, so I quit my job and joined the team. Nearly eight years later, I still enjoy it."
Palkowski brought with him experience playing the football ("Soccer to you Americans," he says) and hockey management games available in Germany when he was growing up. He actually discovered the current champion of soccer management games, Football Manager, when he was on that trip to Boston many years ago. (The game was called Championship Manager back then.) "I've bought every version since then," he said.
He's a fan of the Chicago Blackhawks. Asked how he settled on that team, Palkowski replied with a laugh: "That is EA Sports' fault. NHL Hockey 94 was my first NHL game and I needed a team to play with. My friend (and now work partner) Malte took the Flames and I looked for a team with a good goalie. Chicago had Ed Belfour at that time so I chose them."
He added: "Back then, without Internet, it was hard to follow the NHL here in Germany, but in 1999 I got a pay-tv channel that had at least 2-3 NHL games per week. For a few years now, with NHL.TV, I've been able to watch all the Blackhawks games on my TV."