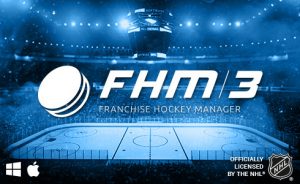 Franchise Hockey Manager (FHM) 3 gives armchair GMs the chance to call the shots on and off the ice, whether they want to take over a modern day team or travel as far back in time as 1931 and take control of an NHL or WHA club. It's a lot of fun, as OOTP Developments team members Jeff Riddolls and Adam B have shown during their weekly Twitch casts.
They've been alternating between two simulations, one with the 1967 Los Angeles Kings, an expansion club, and another with the 2016-17 Detroit Red Wings, who entered that season riding a streak of 25 straight Playoffs-bound years. We talked with each of them about their efforts.
1967 Los Angeles Kings: building an expansion team
"We wanted to start with an expansion team so we could build from the ground up, but that usually means spending a few seasons losing and the Playoffs, which isn't much fun to play or watch," explains Riddolls. "But starting in 1967 shortens the painful period. The NHL kept the expansion teams in a separate division, which allowed them to contend for a Playoffs spot immediately."
He adds: "It's also the start of a period of rapid growth in the size of the NHL — there are three more expansions in the next seven years, so, while you're at a starting disadvantage to the 'Original 6' teams, by 1974 you have a half-dozen more teams that haven't been building as long as you have."

He notes that he and Adam simmed a fictional 1966-67 season first, to give them a 1967 expansion draft with some players to choose from. While there wasn't a lot of offensive talent for the drafting, they did grab 25-year-old back-up goalie Gerry Cheevers, who was a real life Hall of Famer, along with "a credible group of young-ish defensemen." The forwards, though, "were mainly a collection of reclamation projects and very young guys, although we were lucky enough to grab Jim Pappin, who was our most dependable forward in the early seasons."
That defense-first philosophy was crafted to give the Kings "a chance against the established teams," as well as the ability to save roster slots for the star-caliber forwards who they knew would be entering the NHL in the late 60s and early 70s. (Sure, that gave them an advantage over the guys who really ran the Kings back then, but, as we all know, not every highly-touted player pans out.)
That strategy paid off, Riddolls notes: "The most effective moves we've made were stockpiling picks in the run of good drafts from 1969-1971. The first couple of post-expansion drafts were on the weak side, so we were willing to move some of our picks in those years for their equivalent in the later drafts. That put us slightly behind the curve on developing young players, or at least put us right back on the curve, since we drafted fairly young originally. But it's allowed us to build a core group of familiar 70s stars as we head into the middle of the decade: Borje Salming, Reggie Leach, Terry O'Reilly, and Anders Hedberg, among others."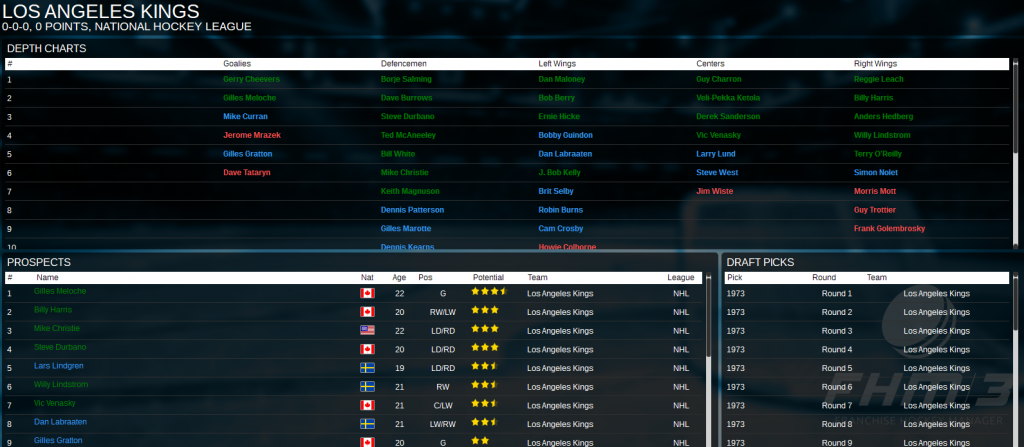 He and Adam even "made a few big trades, with mixed results," Riddolls recalls. "The biggest was acquiring a 41-year-old Gordie Howe from Detroit, who was productive for a while but unfortunately ran into a few injuries right when we needed him in the Playoffs. And Jim Pappin, the key to our early offensive success, was moved to Pittsburgh at the beginning of 1971 to get Dave Burrows, who shored up our blueline after some of our original defensemen got a little long in the tooth."
Highs and lows
The Kings are now embarking on the 1972-73 campaign and are coming off a string of Playoffs appearances every year except their first season, during which the team only had 51 points. "Playoffs success has been a little elusive so far, but we're coming closer," Riddolls says. "We've been a little short on individual accomplishments so far, although Cheevers is perpetually one of the league's top goalies and Guy Charron won the Calder Trophy as 1969-70's rookie of the year."

He notes that he and Adam have also run into an interesting phenomenon: "For some reason, in every game we stream, the Toronto Maple Leafs seem to have our number. It's probably some sort of karmic retribution for Adam and I not making it secret that neither of us is much of a Leafs fan, but we've had a ridiculous run of games where they've absolutely destroyed us. We almost managed to extract a little revenge in the 1972 Playoffs, taking them to six games in the semifinals in a very close series, so we may be ready to break the curse."
Looking ahead, Riddolls says that the team has to contend with the new World Hockey Association competing for the best players, as well as the effects of the 1972 expansion draft, which depleted the Kings' roster a bit. However, he says, "we're now a legitimate Stanley Cup contender, having made it to the semifinals last year, and we're still fairly young, so we've got a window of a few years where a Cup is a realistic possibility. We want to be the first of the 1967 expansion teams to win a Cup — in real life, the Flyers were the first to do so in 1974, so we have two seasons to beat or match that record."
Modern day Detroit Red Wings: trying to keep the Playoffs streak alive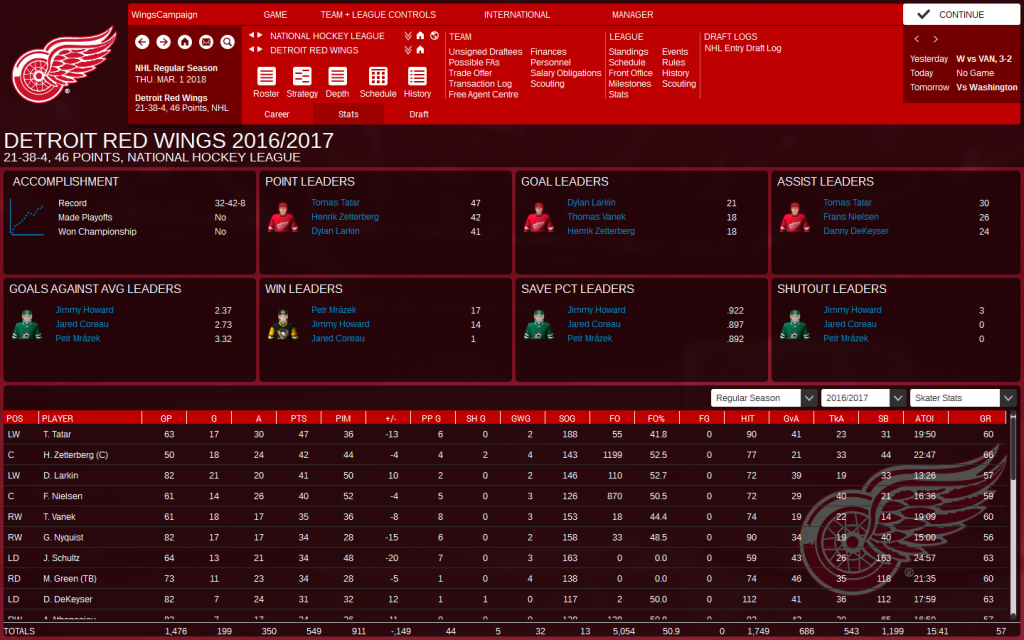 Adam notes that, in addition to the 25-year Playoffs run that he and Riddolls wanted to keep alive, the Red Wings were an intriguing team to GM because they are "in a bit of a transition period as they have some veteran players and young and up-and-coming stars, so there are a lot of moving parts on the roster. We want to make the Wings into a perennial powerhouse."
They created the sim in Path to Glory mode, a new feature in FHM 3 that offers a more streamlined way to play the game. Adam says that one of their first transactions was signing veteran free agent center Patrik Elias "to help bolster our depth at forward. We had several notable veterans on injured reserve, and knew it was going to be a tough season. We kept an eye on the waiver wire as well, eventually adding LW Quinton Howden to continue to bolster our forward depth."
Asked why he and Riddolls adopted that strategy, Adam replies: "It became very apparent early on that the 2017-18 NHL season was not going to be good for us. Despite our best efforts, including changing the lineup and tactics to a much more defensive first strategy, we quickly realized that if we were going to succeed in this game, we needed to do two things: get younger and dump salaries. The Red Wings are one of the teams in the NHL that does not have a lot of cap room right now, so we had to make some tough decisions about how our team was going to look in the future."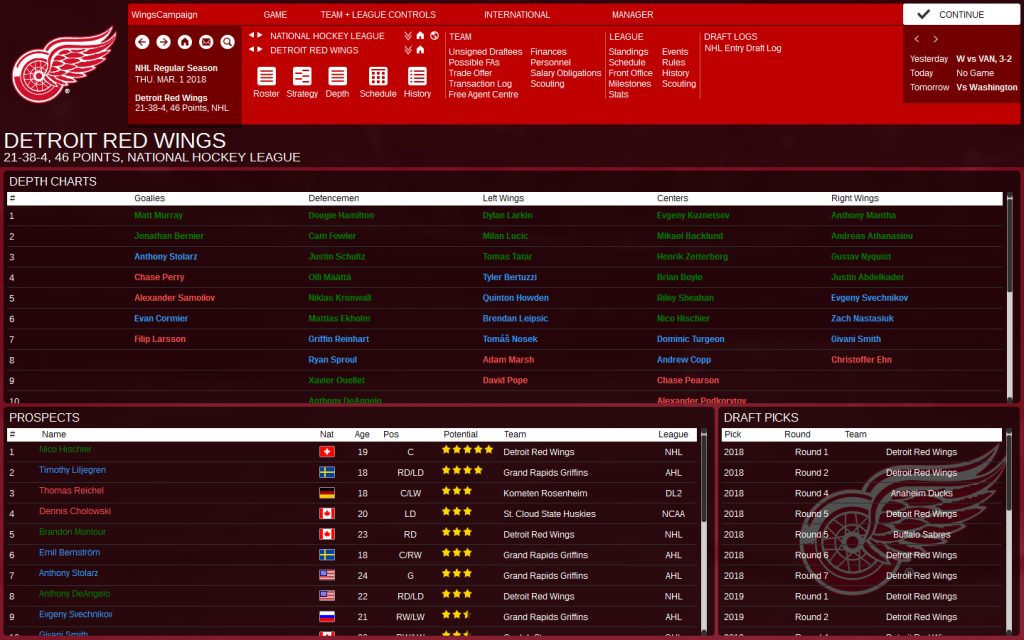 Adam says that they decided to beef up their defense first, signing Penguins player Justin Schultz and trading away players for draft picks. As the trade deadline approached and the season — and the Red Wings' Playoffs streak — seemed lost, "we made our biggest move," Adam recalls, "trading and then signing Evgeny Kuznetsov to a long contract extension. While neither move helped us in the short term, we felt it set us up for a much more successful run long term."
He adds: "We approached the 2017-18 draft with the #2 overall pick, grabbing real life #1 Nico Hischier, then traded back into the 1st round to grab defenseman Timothy Liljegren – two good prospects. We added some more veteran free agents and have made a couple of additional trades since as well."
Running a national team and rebuilding the Red Wings
FHM 3 allows you to run a country's national team too, and Adam says that he and Riddolls "received several offers" to do so at the end of their first year. They chose Team Belarus and rode a string of upsets, including wins over the Czech Republic and Germany, in the February 2018 Winter Games. "Unfortunately for us, that meant we met Canada in the quarter-final, which did not go so well, but we felt we had a very successful tournament for our first attempt at international play."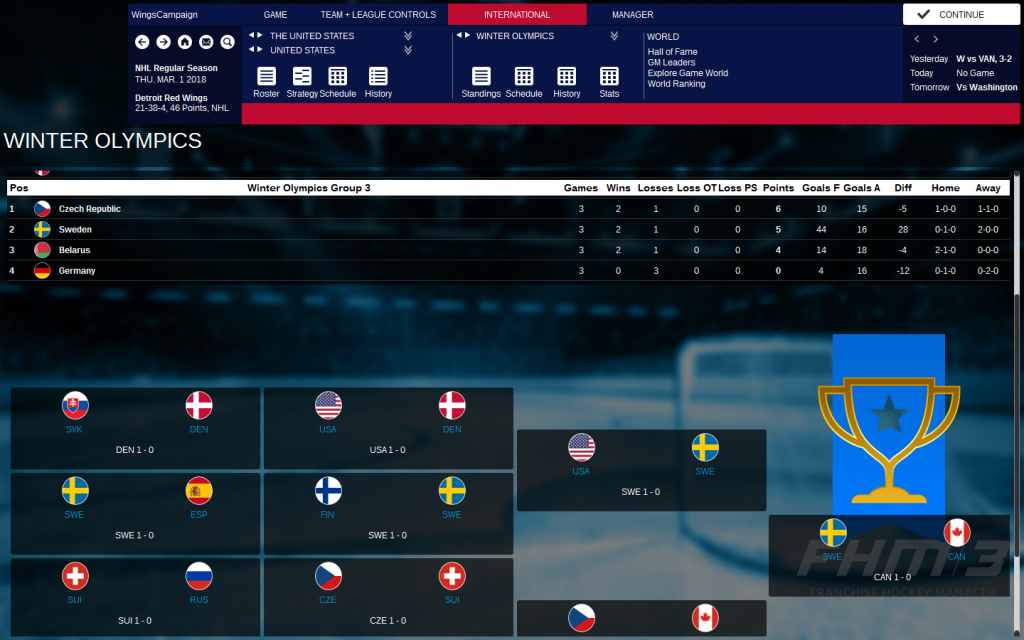 Meanwhile, the Detroit Red Wings are languishing below the .500 mark in the pair's second season running the club. Adam remarks: "Although our owner knows that this is a rebuilding year, we still may not survive our second season. However, what we are building is key to our success in the future.
The future of the streams
Riddolls and Adam say they will keep both sims going until the release of Franchise Hockey Manager 4. However, while they're in a comfortable place with the historical Kings, they feel that it's pretty likely they'll be fired from the Red Wings.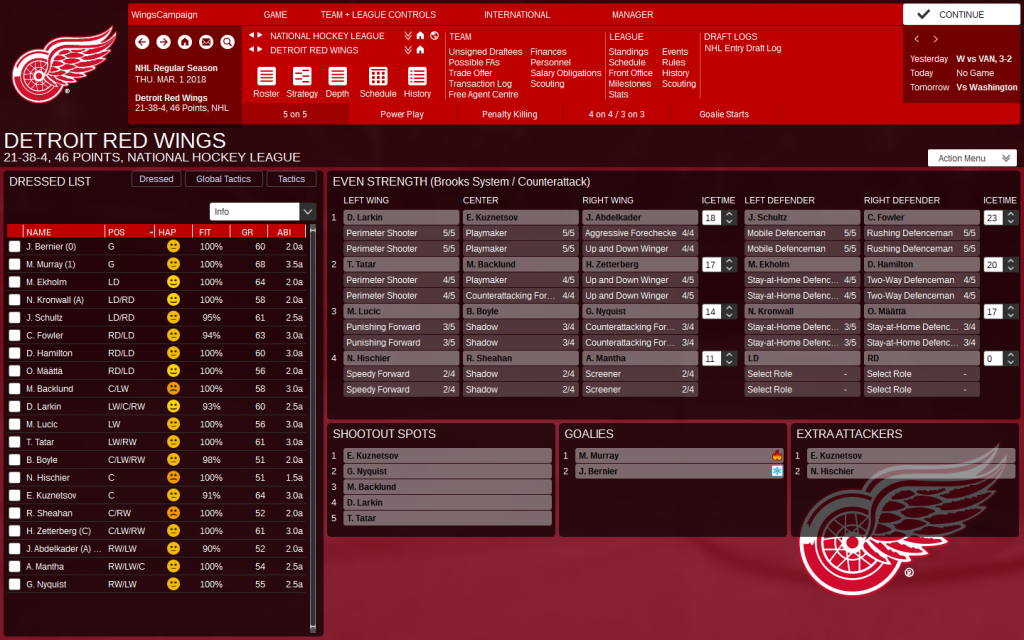 Both of them say the fans who watch the Twitch streams are enjoying what they see. "We have several people playing along side us and seeing if they can improve before we do," observes Adam. "They haven't been quite successful yet."
Riddolls adds: "We've had a small, but steadily growing, group of folks regularly watching the live streams, so it's nice to get their feedback and suggestions as we're playing – and to demonstrate a few techniques and tips for developing a team that they can then use in their own games."