Every winter brings with it a flurry of free agent signings, and this past baseball offseason was no different from years past. Opening Day 2016 saw many pitchers on the rosters of teams they didn't end the 2015 season with, including a group of ten starters who are among the best in the game.

The San Francisco Giants were the winners in that sweepstakes, nabbing Johnny Cueto and Jeff Samardzija to shore up their rotation as they hope to win another World Series during an even-numbered year. Meanwhile, the Boston Red Sox are hoping to bounce back with the help of free agent David Price, and the Arizona Diamondbacks nabbed Zack Greinke as part of a push to make some noise in the NL West.

We've put together a complete list of the top ten starters who switched teams this year, and we simmed the season to see how they might do. Here are the results:

Johnny Cueto

The dreadlocked one was a bit of a disappointment for the Kansas City Royals after they traded for him ahead of the deadline last summer, but he put up respectable numbers in two ALDS starts and was lights-out in his lone World Series appearance. He was crushed in his only ALCS start, though, which led many to wonder which Cueto would show up for the San Francisco Giants this year.

OOTP 17 sees Cueto struggling in 2016. He posted an 8-16 record with a 3.74 ERA and a 1.29 WHIP in 34 starts. He struck out 192 batters in 209.1 innings, but he allowed 214 hits and 56 walks.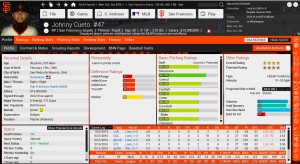 Jeff Samardzija

"Shark," as he's known, put up lackluster numbers with the Chicago White Sox in 2015 (11-13, 4.96 ERA), but OOTP 17 sees him returning to his past form this year in San Francisco: He was 15-6 with a 3.52 ERA in our sim. He whiffed 175 hitters in 196.2 innings and posted a 1.15 WHIP.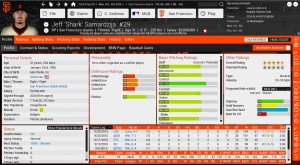 David Price

Price has been a highly coveted pitcher the last few years. 2014 saw him dealt by his original team, the Tampa Bay Rays, to the Detroit Tigers as part of a three-team deal that included the Seattle Mariners. Last year, Detroit was headed nowhere fast and shipped him off to Toronto, where he posted a 9-1 record and a 2.30 ERA as he helped lead the team to the playoffs.

This past winter saw intense speculation regarding where he would end up as a free agent and Boston turned out to be the big winner, signing him to a major deal that will last through 2022, assuming Price doesn't opt out after the 2018 season.

OOTP 17 says the Price deal will be worthwhile for Boston: He was 14-10 with a 3.42 ERA in our sim. His WHIP was just 1.08 as he struck out 200 batters in 213 innings.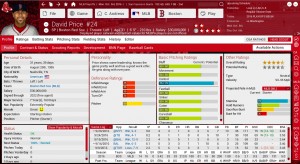 Zack Greinke

The Los Angeles Dodgers let Greinke leave for division rival Arizona, despite the pitcher's lights-out season in 2015. (Even big market teams only have so much money to spend.) Unfortunately, Arizona fans shouldn't expect a repeat of Greinke's past form: He was 12-11 with a 3.98 ERA in our OOTP 17 sim. His WHIP was 1.22 and he allowed 213 hits, along with 44 walks and 26 home runs, in 210.1 innings.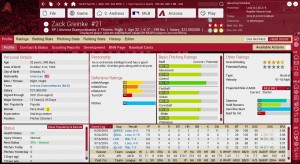 Ian Kennedy

Kennedy has struggled to regain the form that made him a 21-game winner in 2011 for the Arizona Diamondbacks, which is why San Diego let him leave for Kansas City this past winter. With Kansas City looking to replace the departed Johnny Cueto, the move seemed to be a relatively low cost, low risk way to plug that hole in their starting rotation, especially since there's a $6 million buyout clause after next season.

In our 2016 season sim, Kennedy didn't exactly thrill Kansas City fans with his 13-9 record and 3.90 ERA. He struck out 176 batters in 189.1 innings, but he issued 60 free passes and allowed 34 home runs.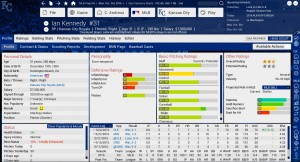 J.A. Happ

Happ's story is a curious one: His career began in Philadelphia with flashes of promise, but he was sent to Houston in a trade deadline deal in 2010. Two years later, the still-rebuilding Houston Astros dealt him to Toronto in another trade deadline deal, and in 2014, he ended up in Seattle after an offseason trade. The following summer saw the third trade deadline deal of his career when Pittsburgh acquired him to help with their playoff push.

Happ ended up in Toronto again this past winter, but his 2016 season sim didn't make the virtual fans forget David Price: He was 11-11 with a 4.30 ERA and a 1.27 WHIP.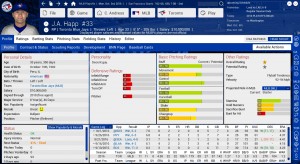 John Lackey

Lackey posted a 13-10 record with a 2.77 ERA last year at the age of 36, so the Chicago Cubs figured this past winter that he was a good bet for their rotation this year. Unfortunately, the fans at Wrigley Field didn't have a lot to cheer about during our simulated season: Lackey was 11-12 with a 4.90 ERA and a 1.34 WHIP. He allowed 202 hits in 182 innings, along with 41 walks and 26 longballs.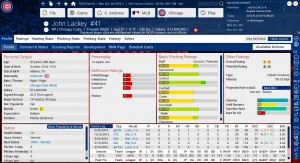 Mike Leake

Leake has shown flashes of promise during his career, but he was 2-5 with a 4.07 ERA for San Francisco after they acquired him from Cincinnati last summer. The St. Louis Cardinals took a chance on him this past offseason with a rich offseason deal, and in OOTP 17's virtual world, the team's front office may be wondering where they went wrong: He was 6-13 with a 6.05 ERA in 29 starts.

Leake was rocked by 189 hits, 15 of them home runs, in 153.1 innings, and he walked 35 hitters. His WHIP ballooned to 1.46 as a result.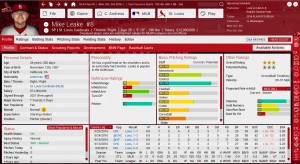 Scott Kazmir

The Los Angeles Dodgers took a flyer on Kazmir during the offseason to help offset the loss of Greinke, and in our sim, it paid off in a big way: He posted a 20-5 record, with a 2.88 ERA and a 1.13 WHIP. He allowed 191 hits in 212.1 innings and issued 48 free passes.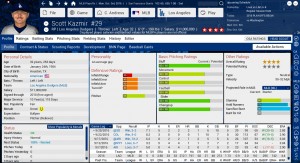 Jordan Zimmerman

While the Detroit Tigers try to decide if they should head into rebuilding mode, they signed first-time free agent Jordan Zimmerman from Washington. He received a handsome deal for a player with a 70-50 record in his career. He's just three years removed from his 19-win season in 2013, though, so the Detroit front office probably figured he could reclaim some of that magic.

Unfortunately, in our sim, Zimmerman turned in a disastrous 2016 campaign, going 14-15 with a 4.79 ERA and a 1.45 WHIP. He allowed 259 hits, 52 walks, and 27 home runs in 214.1 innings. Maybe Detroit should get what they can for him and embark on a rebuilding plan?